Collections Management staff at the Japanese American National Museum often provide photographs and scans of items from the museum's collections to highlight anniversaries, holidays, and current events on JANM's social media channels. Given the limited caption length allowed on social media, not all the rich details and intriguing stories that accompany these artifacts make their way online. When I discovered too many interesting pictures and handwritten photograph captions for a single Instagram post, I decided an article was in order.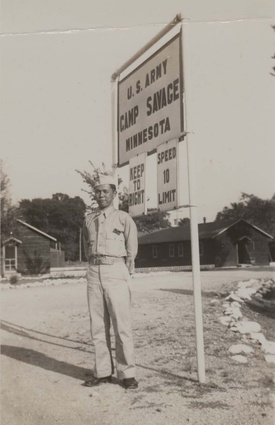 Many days over the spring and summer of 2020 mark the 75th anniversaries of pivotal moments in the final months of World War II, both for the European and Pacific Theaters. While some are familiar with the stories of Japanese American soldiers fighting in Europe in the 100th/442nd Regimental Combat Team (and other associated units), fewer people know about soldiers who trained with the Military Intelligence Service (MIS) to assist in the Pacific. This is partly because the military intelligence work was deemed secret and classified for a period of time, and partly because soldiers were spread out over such a large area and did a variety of activities using their Japanese language skills.
JANM has artifacts that tell the story of the MIS soldiers' work, including letters, documents, photographs, and personal objects. The items alone can't tell about their journey through the Pacific, but combined with their personal recollections, letters, and other references, we can get a great peek into the MIS experience and the final months of the war. In this case, objects donated by Lieutenant Yoshito Fujimoto (1918-2018) of California, and by Technical Sergeant Don Okubo (1919-2007) of Hawai'i, narrate the MIS experience in the Pacific.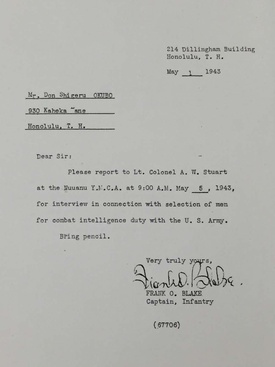 Japanese Americans living in Hawai'i and the mainland United States were requested to join or transfer into the MIS to use their Japanese language skills to assist in the war effort. Some, like Yoshito Fujimoto, were already serving in the military in 1941 before the attack on Pearl Harbor. He was initially assigned to medical units for nearly two years, then briefly an infantry unit, before finally landing at the MIS Language School at Camp Savage, Minnesota in 1943. Others were drafted later and sent directly to Camp Savage, like Don Shigeru Okubo, who was inducted into the army in June 1943.
While there were some Caucasian soldiers in the army skilled with the Japanese language, it became clear that thousands of soldiers who could speak, read, and write Japanese would be necessary. Nearly 6,000 soldiers passed through the training courses at Camp Savage to later translate documents, provide interpretation, and accompany combat troops into Japanese-occupied territory.
Don Okubo and Yoshito Fujimoto both graduated from Language School in mid-1944, and were sent on their separate ways, bouncing around bases in the Pacific. Don was transferred back to Hawai'i to join JICPOA (the Joint Intelligence Center Pacific Ocean Area) to translate captured Japanese documents and field orders for three months in 1944. By September 1944, he and a handful of other Japanese American soldiers were shipped off to the Pacific and assigned to assist with the invasion of Palau and Peleliu as part of the 1st Marine Division.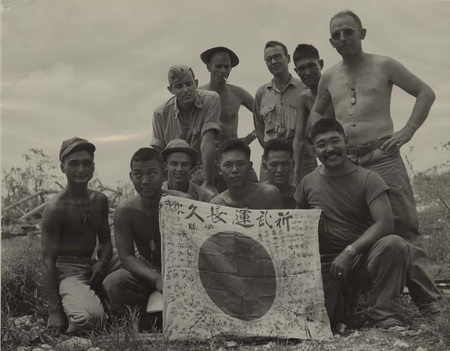 Yoshito went to California, spent a few months in Australia, and then joined the New Guinea campaign from October 1944 to May 1945. Life in the island jungles was tough, as he recounted in a survey for JANM's Japanese American Military Experience Database:
"We slept in the field tents after clearing parts of the jungle. Our rations consisted of dehydrated potatoes, hard biscuits, powdered eggs, powdered milk, K and C rations. Drank treated water, managed to scrounge some tropical fruits with the help of some natives. At times we were treated to rations left behind by enemy soldiers. Because of the high humidity in the jungles, our appetites were low and consequently most of us lost weight-anywhere between 20 to 30 pounds."
In May 1945, Yoshito transferred to the Philippines, where he stayed until the end of August 1945.
A document Yoshito submitted to the Library of Congress's Veterans History Project describes his experience and work following V-J Day (August 15th, 1945), with some amazing details. At the end of August, he received an order titled "Accomplishment of an Emergency Mission" to accompany the Allied Supreme Commander, General Douglas MacArthur to Japan (Yoshito was assigned as the personal interpreter to General Richard J. Marshall, who was MacArthur's Deputy Chief of Staff). Yoshito, MacArthur, and about 40 others left the Philippines on August 27, 1945, and later arrived at an airfield near Tokyo. They were "ushered into several charcoal-burning automobiles," and made their way to a hotel in Yokohama, where they were "ushered in by a Caucasian man later identified as the husband of the famed Tokyo Rose." He and two other American officers even had to share a hotel room with three Russian officers!
It turned out this "Emergency Mission" was an incredible assignment, which he recounts as follows:
"We immediately began the task of the preparations for the terms of surrender to be signed on our ship, the [USS] Missouri. At that time, there were four of us Nisei officers to do all the necessary translations and interpreting work, and at times it got to be very tense and strenuous. So much so that one officer actually passed out. As a result, I was asked to take over his part also. We worked day and night for four days and it was a great relief for us when the historical signing of the terms of surrender was completed on September 2, 1945."
While Yoshito was in the Philippines and then translating day and night preparing for the Japanese surrender in Tokyo, Don was moving in a completely different direction. After island-hopping, attached to the 1st Marine Division through the South Pacific, Don returned to Hawai'i for a few months of work translating documents again with JICPOA. He returned to the Pacific in August 1945 to interrogate prisoners to gather intelligence and details about troop movement. He also performed vital work in serving as an interrogator and translator before and during war crimes trials after the Japanese surrender.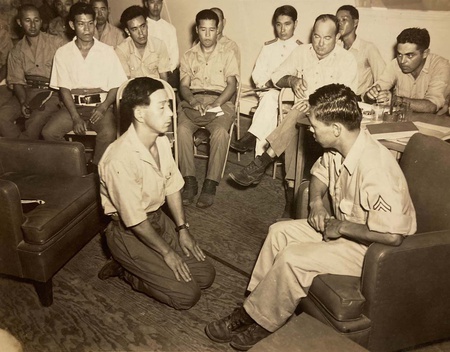 Don donated many photos to JANM documenting his service in the Pacific, with incredible images of close-up "in the moment" views of military trials, conversations between Japanese and American officers, herding Japanese and Korean POWs around, and other unique snapshots. Just as important as the images he collected, are the handwritten detailed descriptions about the events going on. He names people involved, dates, and even humorous anecdotes that explain "behind the scenes" information.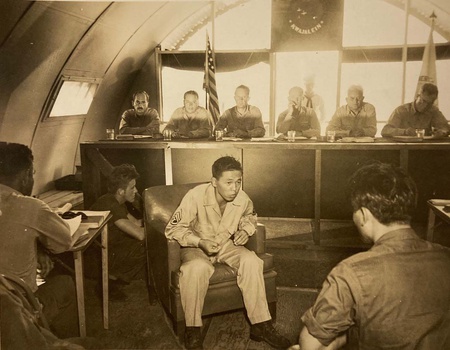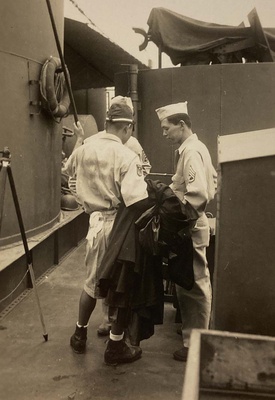 Don was present on the USS Levy, where Japanese Navy Captain Shiga was the commanding officer of the first Japanese garrison to surrender to Allied forces, on August 22, 1945. He was not assigned to interpret or translate for the event, but was assigned to accompany Captain Shiga's orderly (like a personal assistant).
I was so entertained to "hear" Don's voice, as I read the back of one photo: "[Lieutenant D.E.] Harris nervously interpreting to [Captain] Shiga what [Captain H.B.] Grow have said. Capt Shiga having difficulty in understanding his Japanese—Signing of surrender of Mille [Atoll] aboard USS Levy 22 Aug 1945—I'm having fun talking to Capt Shiga's orderly while Lt Harris is having a cold sweat."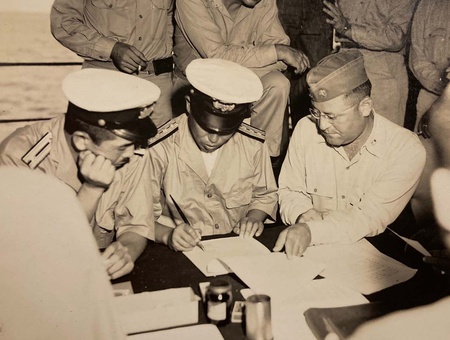 Don completed dangerous assignments in the Marshall Islands, including landing on Taroa island utterly alone to convince the Japanese area commander, Rear Admiral Kamada, to surrender. He described his high-stakes experience on the JAVA (the Japanese American Veterans Association) website:
"I rode a whaleboat and landed at Taroa late at night. Although the Japanese troops heavily guarded the dock area, I don't know why they didn't shoot me since they knew our boat was American. I must have been the only American on that beach in Taroa in 10 years. I went ashore alone and demanded to see the Admiral. This demand led to an argument with a Japanese Lieutenant, who thought 11:00 p.m. was much too late to awaken a rear admiral in the Japanese navy. But I finally gained audience with Rear Admiral Kamada and conferred with him for two hours. I confirmed with him Japan's surrender and urged him to surrender along with his Taroa garrison of 1,000 troops which he promised he would. Later he did surrender. Only after I returned to the destroyer escort after 12 hours of a most hair-raising experience did I realize what a big risk I had taken in going in to Taroa alone that night to convince Admiral Kamada to surrender."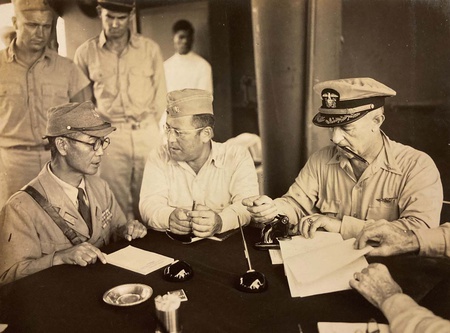 Don was awarded the Bronze Star on January 19, 1946 for his many achievements. His citation award describes his harrowing experience, and concludes with: "Through his exceptional language ability, Technical Sergeant Okubo aided materially in the trial of war criminals in the Marshall and Gilbert Islands. His courageous devotion to duty was in keeping with the highest traditions of the United States Armed Forces." Don's file was later reviewed, and in 2001, his award was upgraded to the Silver Star (the third-highest military combat decoration that can be awarded to a member of the United States Armed Forces). He donated his wartime photos to JANM in 1995, and his medals and later documents in 2003.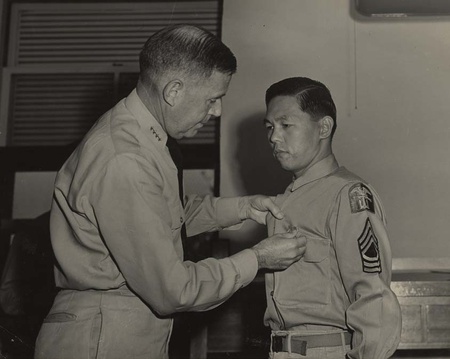 Yoshito reflected on his experience in Japan after the surrender, deeming his success in working with General Marshall and General MacArthur was due to hard work and his early years spent in Japan as a child which gave him a boost with cultural and language insight. (He was sent to Japan for twelve years at a very young age, as his mother died soon after Yoshito was born.) He returned to the United States on Christmas Eve, 1945. He retold his story frequently later in life, as he would be invited to speak about his experiences in the MIS, including Memorial Day in 2014 at the Los Angeles National Cemetery. He was presented with a framed facsimile of the Japanese Instrument of Surrender, including a transcript of his speech on the back.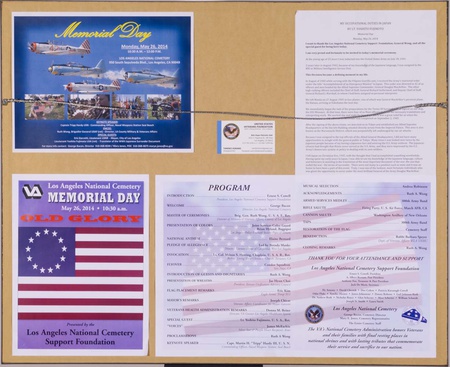 His family offered to donate this framed copy of the Instrument of Surrender to JANM, as a testament to his service. While the museum does not normally accept copies of documents, it would be impossible to acquire the original of this document, and it allows insight into one person's connection to such an enormous task vital to the formal conclusion of World War II. Mr. Fujimoto and his family visited JANM in 2018, when he was 100 years old, for an interview on ABC7 about his experience—it was such a rare treat for me to briefly meet a donor and a veteran who had such a unique story.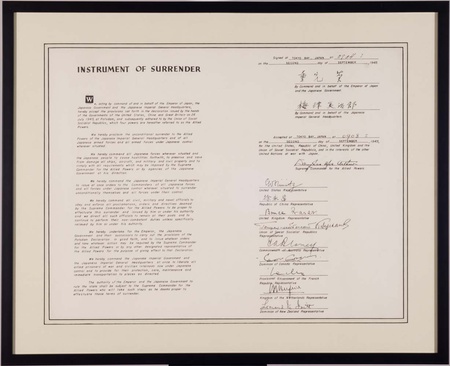 I am fortunate to be a part of the Collections Management staff, that I have access to such incredible historic documents and objects. I am thankful that our donors of personal collections entrust the care of their artifacts to JANM and allow us to share their stories. Without the care of those who came before to collect, document, and preserve, we would not have these amazing artifacts. I only became aware of these two collections after a reference request to find photographs of MIS soldiers—I know there are countless other collections just waiting to re-emerge into the virtual spotlight, and I can't wait to find the next one!
#BTS with Yoshito Fujimoto who was a translator during #WWII. His interview, filmed today at JANM, will air on the @ABC7 6:00 PM news on Friday, 5/18, as part of #ABC7Salutes. pic.twitter.com/8CcZUcmjzF

— JANM (@jamuseum) May 18, 2018

Sources and further reading:
Yoshito Fujimoto collection, Japanese American National Museum (Gift of the Yoshito Fujimoto Family, 2018.13.1)
Don S. Okubo collection, Japanese American National Museum (Gift of Don S. Okubo, 95.85 and 2003.153)
Fujimoto, Yoshito. "My Occupational Duties in Japan," via the Library of Congress American Folklife Center, Veterans History Project.
Fujimoto, Yoshito "Fuji." Entry on Japanese American Military Experience Database.
Okubo, Donald S., M/Sgt. "MIS in the Central Pacific Campaigns," via JAVADC.
McNaughton, James C. Nisei Linguists: Japanese Americans in the Military Intelligence Service during World War II. Washington D.C.: Department of the Army, 2006.
Nakamura, Kelli. "Military Intelligence Service." Densho Encyclopedia.
Nakamura, Kelli. "Military Intelligence Service Language School." Densho Encyclopedia.