TORONTO — As Canada celebrates National Fishing Week in July, a name that has become synonymous with the pastime is Bob Izumi.
Born in Chatham and raised by a single father in Blenheim, Izumi credits his father as the driving influence in life. His love of fishing was fostered by his father, Joe, who often took him, his three siblings and neighbourhood kids fishing.
"He worked several jobs at once to keep the family afloat," Izumi tells Nikkei Voice in an interview. "He worked seven days a week and any days off he would spend with the family and the local kids."
Joe was devoted to Izumi, his brother and two sisters. He coached youth bowling and girls' softball, both to Ontario Championships. But perhaps most passionately, Joe took his children to fishing derbies, which hooked Izumi on fishing. Joe pioneered the first professional-style bass tournament in Canada, the Rondeau Bay Bass Tournament on Lake Erie. Izumi was 15 at the time, but still remembers it well.
"The first year it hailed part way through the day and we went under a picnic table for shelter," he says. "Every penny he made, he spent on us and the neighbour kids. He was very generous, and died with nothing."
The tournament ran for six years until his father died of a heart attack. Izumi continued the competition as a memorial tournament for two to three years until he became Canada's first professional angler in 1979. Three decades later, Izumi earned his induction into the Canadian Angler Hall of Fame in 2009. He has now won more than 70 major fishing events, and amassed several Angler of the Year titles. Perhaps his best run was from 1994-96 where he won three consecutive Canadian Opens and in 1995 he became the only Canadian to win the Triple Crown of fishing; the Canadian Open, the Classic Championship, and Angler of the Year title in a single season.
Recently, Izumi helped bring the 2019 Pan American Sportfishing Black Bass Championships to Canada, hosted in Lake Saint Francis in Cornwall and captained the team to a gold medal, beating the U.S. by 1/100 oz.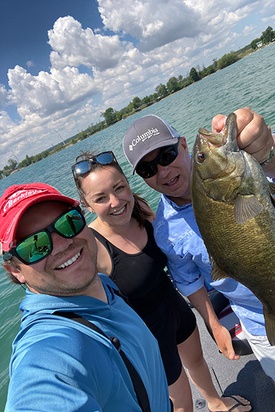 Canada's most popular fishing personality and one of the foremost spokespersons on the sport, Izumi has hosted Bob Izumi's Real Fishing Show for 37 years. A true family production, his brother Wayne, also inducted into the hall of fame in 2012, is the executive producer. Wayne's daughter, Mariko, made several appearances before earning her own show, Hookin' Up with Mariko Izumi, which ran for five seasons. His wife Sandy is the director of production and his son Darren also makes appearances and is an editor/director of production.
Originating from a partnership formed at Wayne's in-laws' picnic, Izumi met Bob McGuigan of Memory Bank Advertising. McGuigan asked Izumi what he did, and he jokingly responded "starving to death!" The early years of his professional angling career were difficult, and he would travel doing seminars, promotions and tournaments, sometimes sleeping in the back of his car to make ends meet. So when Izumi pitched his idea of doing a television show, they hired a cameraman and put together a pilot episode.
Izumi also hosted the Real Fishing radio show and published Real Fishing Magazine, which ran its final issue this winter. In addition, he is a conservationist, award-winning author, and regular guest/seminar speaker. For Izumi, "it's all about the experience," and meeting great people along the way.
But perhaps one of his most commendable accomplishments is his charity work. In 2000, the Izumi brothers founded, Fishing Forever, a not-for-profit conservation organization. The organization acts as a funding agency for worthwhile fishing, conservation and outdoor education projects, and has raised over $1 million for various fisheries projects throughout Ontario.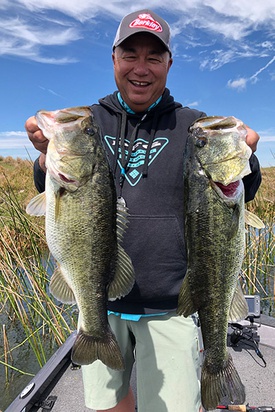 In 2003, Fishing Forever partnered with the Police Association of Ontario and Canadian Tire to develop the Bob Izumi's Kids, Cops and Canadian Tire Fishing Days Program. Joe, always said, "if it's for the kids, do it." So with their father in mind, the brothers started the program with over 50 events per year, providing 15,000 young anglers the opportunity to experience the thrill of fishing each year.
"It always was his motto and he ingrained it in our heads," says Izumi.
Now 62, Izumi's passion for fishing hasn't slowed down, still travelling the world to fish and compete. But he stands by Ontario as his favourite place to fish.
"Ontario has so much diversity, you can have any freshwater species available. There are so many bodies of water, the Great Lakes up to the Great White North, all in one province and you can fish anything," he enthuses. "There is great diversity for filming and lots of competitions all over Ontario."
On a personal note, host of the Real Fishing radio and television shows, Izumi really is the "real" deal. Genuine, friendly, enthusiastic and approachable with a smile on his face. I've always heard wonderful things about Izumi, and was nice to have the same experience. I requested a ten-minute interview and he took 70 minutes out of his busy day to speak to me. We laughed, got sidetracked talking about personal experiences and I learned a lot about him as a person and the roots he grew from.


For more on Izumi visit: www.realfishing.com or follow him on Facebook , Instagram, YouTube and twitter.
*This article was originally published in Nikkei Voice on August 7, 2020.