In May 1962, Utah State University professor Leonard Arrington delivered a remarkable lecture on Japanese American confinement to his peers in Logan, Utah. It was one of the earliest scholarly examinations of Nikkei incarceration camps. Just how a middle-aged scholar specializing in Mormon history came to research and write about the ordeal of Japanese Americans during World War II forms something of a saga in itself.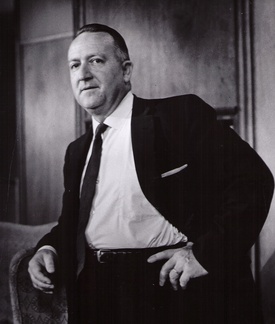 Leonard Arrington was born in 1917 and raised in the sleepy southern Idaho town of Twin Falls. His parents, Noah and Edna, had migrated to the area after the Bureau of Reclamation built a series of dams on the Snake River plain to encourage the agricultural development of the semi-arid region. Converts to the Church of Jesus Christ of Latter-day Saints, Noah and Edna Arrington raised their young family in the faith.
In 1925, Noah was called on a three-year church mission, leaving behind a pregnant wife and four children, who oversaw the farm in his absence. During his father's three-year absence and through his teenage years, Leonard actively participated in church activities and cultivated a deep connection to his faith and its history.
Hoping to become his father's partner on the family farm, Arrington briefly studied agriculture at the University of Idaho before changing his major to economics. After graduating with a bachelor's degree in 1939, the young Arrington received a prestigious Kenan Scholar fellowship at the University of North Carolina, where he pursued a Ph.D. in economics. However, his studies were soon interrupted by the Second World War. Drafted into the army in 1943, the young graduate student initially helped process Axis prisoners of war in North Africa; later, in recognition of his unique talents as an economist, Arrington was later transferred to Italy to work in the Economic Section of the Allied Control Commission.
While serving in Europe, Arrington determined that he would write his doctoral dissertation on the economic system of the Latter-day Saints from 1847 to 1900. He accepted a teaching position at Utah State Agricultural College (later Utah State University) upon his return, and spent successive summers conducting research in the institutional archives of the Church of Jesus Christ of Latter-day Saints at Salt Lake City. He then returned to UNC in 1950 to finish his coursework.
According to Arrington's later account, while studying in the university library one spring afternoon he experienced a "meaningful moment of insight and connectedness" that convinced him that God wanted him to devote his career to researching and writing about Latter-day Saint history, a topic that had been largely ignored by previous generations of professional historians.
As a result, in the late 1950s and 1960s Arrington embarked on a series of ambitious scholarly projects tracing the Latter-day Saints' role in developing the American West. In 1958, Harvard University Press published a revised version of his dissertation, entitled Great Basin Kingdom: An Economic History of the Latter-day Saints, and in 1966 the University of Washington Press published his book Beet Sugar in the West: A History of the Utah-Idaho Sugar Company. He also published dozens of articles on the economic and industrial development of the Mountain West in Utah Historical Quarterly and other scholarly journals.
In addition to contributing insightful original research, Arrington became a vital part of the region's growing intellectual community. In 1965, he helped found the Mormon History Association and served as its first president. Between 1968 and 1970, he also acted as president of the Western History Association—helping to establish the Western Historical Quarterly at Utah State University in 1969—and the Agricultural History Society. In November 1971, Arrington was offered an endowed chair in the history department at Brigham Young University; several months later, leaders of the Church of Jesus Christ of Latter-day Saints also appointed Arrington the church's official historian and director of its historical department, a position he held until 1982.
Even as he pursued these research projects, Arrington was inspired to take up a different field of historical study. In spring 1962 Arrington was invited to present Utah State University's 25th Faculty Honors Lecture. These lectures, sponsored by the university's Faculty Association, were designed to contribute to the "intellectual growth and development of its members" by offering a pair of yearly talks, one in natural sciences and one in humanities and social sciences. Each lecture was then published in bound form, with the cost shared by the University administration.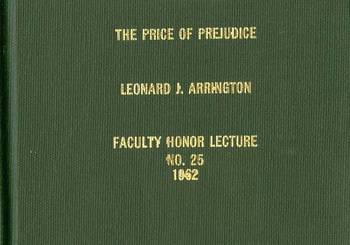 Arrington's lecture, entitled "The Price of Prejudice: The Japanese-American Relocation Center in Utah during World War II," took as its theme the history of the Topaz camp. Arrington started his text by providing a brief summary of the events following Pearl Harbor and the leadup to mass removal. He did not mince words in assigning prime responsibility for the exclusion policy to West Coast Commander General John DeWitt, and underlining DeWitt's anti-Japanese prejudice as a motivating factor in his policy. The largest share of his text described the origins of the Topaz camp and the nature of inmate life there, including sections on employment, housing, community government, and other matters. He also mentioned a few outstanding individual inmates, notably artist Miné Okubo—Arrington included illustrations that Okubo had produced for the literary magazine TREK alongside his text. After touching briefly on military service by inmates, he recounted the history of resettlement outside camp, then closed with the shutting down of the camp in late 1945 and the expulsion of the remaining inmates.
In a final section, Arrington sought to sum up the experience. For Japanese Americans, he insisted that removal and confinement, though "bitter and bewildering" at the time, had in fact been a blessing in disguise. "Many 'Japanese' today are grateful for the evacuation experience. By uprooting them from the West Coast, it paved the way for their residence and acceptance in the interior." While this was a popular narrative in postwar society, which no doubt helped salve the conscience of white Americans, Arrington's statement obscured the continuing damage and irreparable losses that the inmates had suffered. Interestingly, Arrington went on to assert that "Other Americans may also be grateful for the humility which this disturbing outgrowth of war hysteria has produced," suggesting that persons of Japanese descent and other nonwhites were henceforth accepted as Americans and hinting that such a "protracted and unnecessary mass incarceration" as was perpetrated might have helped avert other such episodes in later years.
It is not immediately clear why Arrington chose the topic of Japanese Americans for his address. It was an audacious choice in 1962, as by then the wartime confinement of Japanese Americans had become a distant event for most non-Japanese in Utah, one of which they had little or no memory. What is more, there had been hardly any popular discussion of life in the camps. Arrington later recalled that shortly before he was invited to give the faculty lecture he came across an encyclopedia article on Utah that briefly mentioned the camp at Topaz. Hoping to learn more about wartime incarceration, about which he knew hardly anything, he resolved to make it the subject of his lecture. Arrington quickly devoured every book on the subject available to him at the Utah State University library and spent two further weeks doing primary research at the Bancroft Library at UC Berkeley.
Still, how can we explain Arrington's deeper motivation for taking on and publicizing a topic that was not only little known but potentially controversial? It is tempting to suppose that Arrington' early years in prewar Twin Falls, Idaho, with its resident population of Japanese farmers, influenced his theme. However, he did not allude to the town in his address (nor did he make any personal reference in his presentation to the Minidoka camp, which was established nearby during the World War II years).
Conversely, Arrington's text referred repeatedly to members of the Church of Jesus Christ of Latter-day Saints. He compared the activities of the "Topazians" during their first weeks of confinement to that of the Latter-day Saint pioneers who had preceded them, and asserted rather doubtfully, "It is clear from all the records that the evacuees, as with early Mormon colonizers, were determined to build a city in this lonely desert region that America would be proud of." (p. 16) In a later section Arrington credited the dominant church's influence with ensuring a welcome to "returnees" settling in Utah. Beyond appealing to the Utah State University community, which included a significant proportion of Latter-day Saints, the reader might infer from such references that as a member of the Church of Jesus Christ of Latter-day Saints, a religious minority group who had in the past endured discrimination and horrific episodes of vigilante violence, Arrington may have felt a particular kinship with Japanese Americans.
In any case, Arrington's address was not his final expression of interest in Japanese Americans. Five years later, when he was named visiting professor of history at the University of California, Los Angeles, he joined in a conference on Japanese Americans that Roger Daniels and Harry Kitano put together to commemorate the 25th anniversary of Executive Order 9066. Many years later, in 1983, he participated in a successor conference in Salt Lake City, also led in part by Daniels. Arrington coedited the volume Japanese Americans: From Relocation to Redress, which grew out of the 1983 conference, and contributed a chapter, "Utah's Ambiguous Reception: The Relocated Japanese Americans."
Arrington's 1962 text, like the rest of the Utah State lecture series, did not sell widely in its initial edition. It nonetheless remained a beacon for scholars of Japanese Americans and for activists. Arrington later stated that his lecture was "reprinted by the Japanese-American Citizens League of Salt Lake City and later translated into Japanese and published in Japan," though there does not appear to be surviving evidence of any Japanese edition. The lecture was republished by Roger Daniels during the 1970s as part of his Arno Press series of Asian American reprints. In October of 1997 the Topaz Museum, thanks to a grant from the Civil Liberties Public Education Fund (CLPEF), reprinted Arrington's full text, along with 85 historic photographs and an afterword by museum board President Jane Beckwith.