"Our Mother's account of her childhood and adolescence in Vancouver, British Columbia paints a vivid picture of the plight of many Japanese-Canadian families during pre-World War II Canada and the injustices of the internment years. Her story is a testament to the courage and strength that she, her family and her community summoned to overcome the oppression of those times.

Rising above the adverse experiences of the past, Mom has always displayed an attitude of forgiveness, kindness, compassion, and a positive approach to life. Mom and Dad's devotion to their family assured a safe place for their children, providing food on the table, a roof above our heads, support in our education and the career paths we chose. Never did I experience the shortcomings that they themselves had to endure.

It is with reverence and deep affection that I give tribute to our loving Mom and to the Japanese Canadian community, a great culture of humility, perseverance, and spirituality."

—Robert (Bob) Mende, son (Austin, Texas)
"Although I've always recognized the hardships that my mother and her family endured growing up and appreciated the efforts and sacrifices that she and my dad made in raising our family, I never fully appreciated the extent of her perseverance, strength, and dedication until I read her story. I realize now, more than ever, how much I owe her for providing and caring for me and my brothers. I have encouraged my three children to read my mom's story so that they can understand, appreciate and admire the incredible "Obaachan" that they have."

—John Mende, son (Toronto, ON)
"It was only after reading mom's story that I was able to learn certain aspects of her life for the first time. I'm sure other Canadian Sansei have similar experiences of our parents' reluctance and reticence to shed light on their pasts, especially with respect to their internment years in camps following Japan's surprise attack on Pearl Harbour. Knowing her history certainly gives me a better understanding of the influences that shaped her psyche, of the person she is today."

—Fred Mende, son (Toronto, ON)
* * * * *
Our father, Mataichi Usami, was born in 1878, the eldest son of a well-to-do family in Ehime-ken, Shikoku, Japan; not wealthy, but privileged in an upper-class family, generation after generation. He had two younger brothers, Mineitsu and Akira, the younger becoming a school teacher. The older one had to take over the responsibility of the upkeep of the property and the well-being of the parents when Dad left Japan illegally on his cousin's passport (if my understanding is correct). According to his "koseki tohon," he did have a wife. I believe he became a widower, otherwise, his family's existence in Canada would not have been legal (although it has been known that many Japanese men had two families, one in Japan and one in Canada because of the strict immigration law to prevent the influx of people from Asia). In my opinion, he came to Canada wondering what the new world was like with a young man's adventurous spirit.
I do not have any idea when my maternal Grandfather Gennosuke Nishimura came to Canada. He was married twice in Canada, first to Matsu (who died in the year of Meiji 41, 1909), the second time to Nobu (who died in Vancouver years later in 1956). Our mother, Fumiko, the eldest of the Nishimura family, was born in Steveston, B.C. in 1900, had two younger sisters, Yae and Osae, one younger brother, Kanichi, and one younger half-brother, Gengo. Since grandfather married both grandmothers in Canada, the offspring were all Niseis (second generation). Mom was said to be the first female Nisei in Canada. It is unusual for people of different ken (prefecture) to marry outside their own ken if they were living in Japan.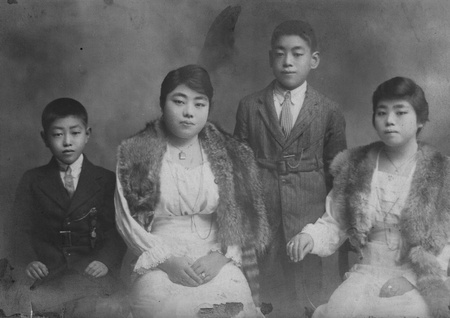 The Nishimuras (from Hikone, Shiga-ken), were shrewd businessmen and many emigrated to Canada and opened up shops. Most of them were involved in stores dealing with Japanese food (rice, shoyu, etc.) and dishes. One opened on Powell Street, one in Kitsilano, one in Marpole—all related to each other. (I had visited all three locations before WW2).
Grandfather Nishimura took the three daughters to Japan at a young age to give them their basic education where Mom said she did well. After completing their education in primary school, grandfather brought them back to Canada. I guess the youngest daughter (mother of Toyo Hayashi who now resides in a senior's home in Banff, Alberta) did not wish to return and remained in Japan with her mother's relatives in Fukuoka. I don't know much about Mom's upbringing in Japan as she did not talk too much about the time she lived there. I, myself, think grandfather exploited his daughters to make a living for himself after they returned to Canada.
Mom's father opened up a barbershop and confectionery store on Powell St. where Mom and her sister worked as barbers. I remember Mom saying that she and her sister worked hard at the shop and grandfather appropriated cash from the till and ran off to play the horses! All this is hearsay as it was way before my time.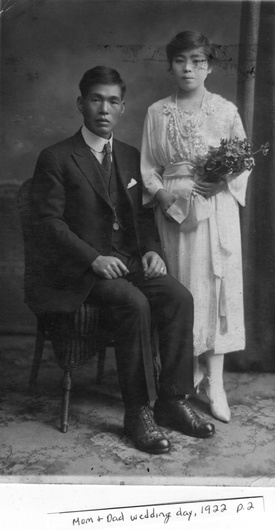 I do not know what Dad did after he came to Canada. He probably did not settle down until later on; perhaps, that's when he became a seasonal fisherman and had an opportunity to meet Mom. According to the date stamped on the back of their wedding picture, Mom and Dad were married on October 22, 1922.
I think Grandfather started a boarding house for seasonal fishermen at 122 Powell Street as the house was fairly large with several bedrooms upstairs with a washroom; that's when I realized the house was a business venture. It had a fairly large, double frontage, barbershop on the left where Mom and her sister worked as barbers. There were four cubicles behind the barber shop, partitioned, each with a western-style bath, three for clients to use it at 25 cents per; the fourth for the family. I recall us girls sitting in a row in the bathtub for our baths years later.
The right side of the premises was constructed to hold a confectionery store, later converted to a cleaning/pressing business for Dad when he gave up his seasonal fishing career. The living quarters were behind the partition on the right side of the house. I remember a large dining room table sitting there, I guess for the boarders and later for the family. A huge hot water tank was mounted in the next area (hot water for the bath business), also a sitting room and a kitchen and cooking area with a sink, stove, etc.
The hallway ran down the centre of the building to the back door which opened to the outside, still private property, with two laundry tubs, two small rooms used for storage, a corner facility, (at least not an outhouse which we had to endure during the war years). There were wooden stairs built leading to the upper floor bedrooms. It was from the top of these stairs that younger sister Betty fell down late in the '30s. We thought this fall may have affected her to struggle with a severe case of chronic asthma throughout her life.
I don't remember the house being utilized as a boarding house; it was before my time. It was a family home as far as I can remember with the family using the upstairs bedrooms. Occasionally, a boarder did rent a room temporarily. Besides the immediate family, Mom's brothers had a room. They went to work from this location. (I don't know where they worked but I think Uncle Kanichi worked with cars and Uncle Gengo was in the cleaning business). I remember Mom making huge onigiri for their lunch. I remember Uncle Kanichi had a bad case of emphysema and was swallowing namekuji (live slugs) daily hoping for a cure. (I am glad Mom did not go that far for Betty's asthma!)
Uncles often said that the time they lived at Mom's and worked out of this location was the best time of their lives. It was before the Great Depression. They worked and played hard. Mom used to say that the uncles and his friends went through Mom's carefully prepared New Year's Japanese cuisine on the night before the Big Day and she had to cook once again for the next day so that the visitors who made their annual New Year's calls had enough to eat!
I remember the time the two larger front rooms upstairs were occupied by our cousins, the Ishikawa family, until they moved out and went to live in Celtic Cannery, a company housing settlement. Uncle owned a 'collector's boat' which he used to collect salmon from small fishing boats working along the Fraser. They moved out of our house when they lost their older son, Fujio, who was born with severe mental and physical defects and passed away when he was about six years old. He was unable to function normally, just lying in his crib and having to be looked after like an infant. I guess the memory of him passing away in our house was too painful. They lived in the cannery housing with very primitive sanitary facilities. The outhouses were built on a sandbar a few feet from all the houses which showed a very unsanitary appearance during low tides. Children in the village swam in this water all the time. (I don't think present-day authorities would allow such a situation to exist, come to think of it.)
On the other side of the stretch of water was an island (I think - or a stretch of sandy terrain). A family, the Kanos, lived there with two sons, a quiet mother (I think she was a school teacher once upon a time), a boisterous father, and a beautiful shepherd dog. I had visited them by going around the waterway across a rickety bridge to get there. There was no electricity and the outhouse was in the barn, and all around them was sand, sand, sand, everywhere you looked!
When the war started, the family had to leave like the others; I think they moved to Coaldale, Alberta. Mom used to correspond with them at their new home as she was a diligent woman keeping in touch with families that have moved away. I mention this family's existence as I thought it was such a primitive life they lived in Canada and wondered what kind of former life they had before they came to Canada. They seemed very well-educated and the sons were well-mannered boys older than the other boys in the neighbourhood. I mention this scenario as I found how strange that people in different situations and upbringing move in strange ways.
To visit our cousins, we had to take a street car to the affluent Kerrisdale area with high walls built around mansions. We had to walk down to the cannery housing area, quite a distance from the streetcar line. There was a farmhouse about halfway down to the settlement owned and operated by a Japanese family, the Minamides, although I had never met the family. At present, the area must be well developed, but then it seemed like it was out in the country.
We enjoyed visiting our cousins. Auntie had a fairly large home. She was involved in the "moonshine business" for personal use because Uncle Ishikawa liked his drinks. She had a secret space built behind a closet, so when the Mounties made regular inspection checks, they did not discover the clay crocks she had behind the camouflaged wall. They must have known about this illegal activity, however—how could they not have suspected something with the odour of 'dobu' permeating throughout the household. One thing I liked about the visits was that Auntie had a Japanese-style bath built where you would soak yourself in the tub, almost overflowing with hot water, after washing yourself outside the tub.
We lived at 122 Powell St. until the house was demolished when it was condemned for termite infestation in the late 1930s, having to move to 254 Powell St. a block east. We knew almost everyone in the old neighbourhood. There was a group of businesses built together—Asae Shoe store; Kawajiri Rooming House; Sawada Barber Shop; Ohi Rooming House, BC Hardware store; our barber shop/store; and another barber shop.
These shops were built next door to each other around the centre of a long stretch on Powell Street. At the end of the group of shops was an empty lot where once a building must have stood. It was covered with piles of broken concrete, weeds, a lot of garbage. However, it was like a playground for the neighbourhood children.
We did not live in a residential area so the children of the business owners became our friends. It was an industrial area with ironmongers, warehouses, etc. Not much socializing was done; but we knew almost everyone operating these businesses; Pat Adachi, the author of Asahi, the Legend of Baseball fame is the elder daughter of Kawajiri, and the younger daughter, Toshi-chan, was my friend. The only daughter of the barbers Sawada's, a few years older than me, was also my friend. I remember helping her in the back of the barber shop where they had living quarters folding linen she had laundered.
Further east on the same block were many Japanese we got to know. The Koyanagis had their rooming house; around the corner in the lane lived the Iwata's, and on the corner of Main and Powell Streets was the Wakabayashi Confectionery Store whose only son, Jin (Eric) was one of my classmates in the Japanese Language School. He had moved to the States and became a doctor years later, a fact I found out when we invited him to one of our reunions here in Toronto. Along Main Street were many businesses operated by the Japanese—Idenouye Barber and Bath, like Mom's, Tanabe and Matsubayashi Jewellers, and many more.
One well-known establishment was the Fuji Chop Suey House where most of the Japanese bridal couples had their wedding receptions - our two uncles did as well.