When my Facebook friend suggested a submission for Discover Nikkei's Oshogatsu photo activity, it simply opened up a floodgate of cherished memories. In my family everyone calls me Scrooge McDuck because I dread the Christmas hype, from gift giving to tree decorations, cookie-baking, and the card exchanges that for me, are simply "over the top." Oshogatsu, on the other hand, is something I love and anticipate each year. Oshogatsu—the way my family celebrates it—is an event imposed by me in reverse to my family as if in repentance for the Christmas extravagances.
It dawned on me some years ago that Oshogatsu carries the same expectations my dad dropped each year on my mom and on us kids. Now that he's gone we are liberated from all the over-bearing rituals that came with my dad's annual doings. Ironically, rather than run away from it, I have embraced and carried on his mantle, fearing that a dilution of these traditions may erase this important legacy which I want to pass on to my children and nieces and nephews.
Still recovering from the weeks of Christmas celebrations, the family is somewhat less enthusiastic about rekindling the energy required to keep going—but just like in my dad's time, we manage to just "do it" and miraculously Oshogatsu happens each year, right on cue. I think about my dad at the sound of the first door bell as we greet our first guest and think how happy he would be if he were still here, commanding this production—which it is.
Oshogatsu to Dad, was about inviting his entire "village" of friends and family to cook traditional food for days in preparation, to sing old Japanese songs and retell the same stories that seemed to get embellished over the years. But to us kids, it always ended the same year after year—all we could recall the next day was an anticlimactic haze of exhaustive voices and my dad yelling at us to heat the sake and cut more sashimi.
Yet, I still love Oshogatsu. When I think about this one day, and the multiple days it takes to cook the foods and prepare the table, I can think of no other dishes I would rather be cooking. I get deep pleasure to hone skills and techniques required for mastering Japanese recipes; and I really am intent to learn the nuances of the Japanese palate. After all these 60-plus years of celebrating Oshogatsu annually, I still marvel at something new I pick up each year; and am amazed how my mother maintained all of these recipes in her head without writing one word down on a piece of paper. Most of all, I am amazed at how much food in quantity and quality she was able to push out from her humble little kitchen for this one day, every year.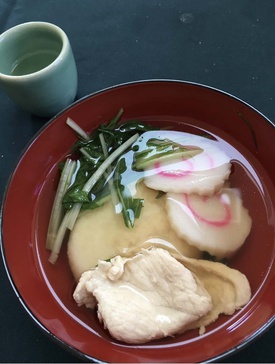 This year, I went back to some of our old family photos. There was no one ringing our doorbell in 2021. We brought our traditional ozoni to my 92-year-old mom to be shared outside in her back yard. A far cry from my normal dining table filled with children's voices yelling out their orders for one and two mochi—some even NO mochi—and my sisters and I telling the kids to come help serve.
This year, my son helped his grandma with the mochi in the masked environment imposed to still serve a great bowl of ozoni.
I was still not finished cooking—which alone is a failure. In Japan, one must be completed with cooking and cleaning at the stroke of midnight to enjoy toshi-koshi soba and welcome in the near year.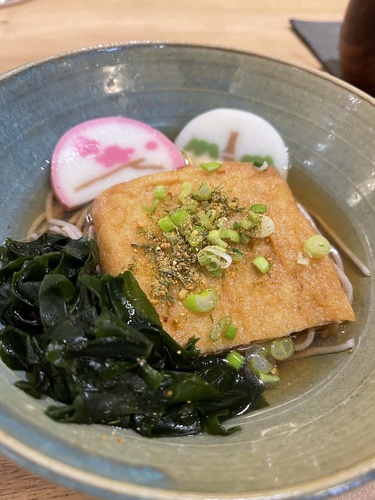 Another new lesson this year was with the kuromame. I could not believe the beautiful outcome using an instapot, thanks to a recipe I got online. My mother's reaction was priceless. "NANI?," like it was a bit heretical to use a short cut. But even she agreed it was so delicious.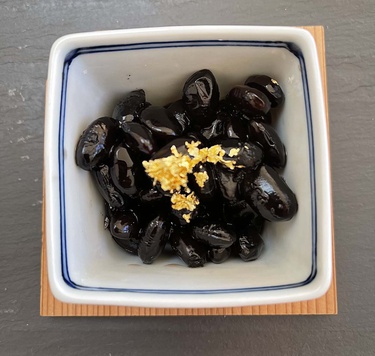 These adorable dishes are "finds" from a friend's garage. They belonged to her grandmother and needed to find a home. Glad it found me.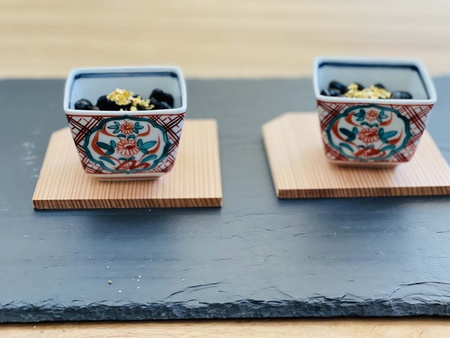 Maki-sushi is a must for me although I rarely make it at other times of the year. This year I really had a good time rolling it with all the fillings—uneven number count, for sure.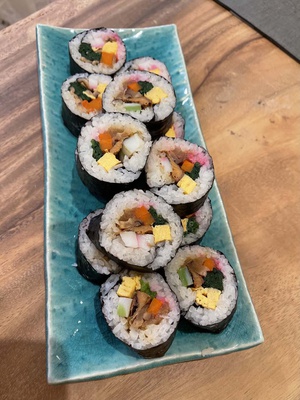 Something my true-blue sansei husband enjoys, having not grown up with some of these dishes, is the kazunoko (herring roe) and kobu-kazunoko (roe on kombu). I made a bit for us this year although usually, it is my cousin and I who consume most of it.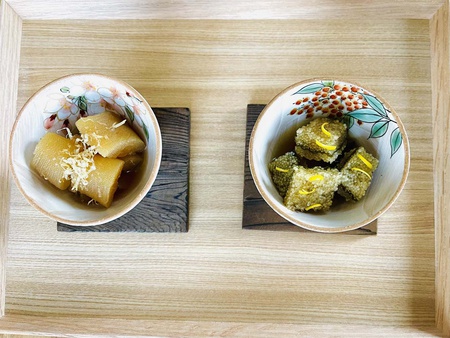 I purchased these adorable dishes online from Etsy—it came straight from Japan, from a nice young lady who said she got it at a "swap meet" in Tokyo. There are many variety of flowers but I chose the Ume (plum), for the traditional Sho - Chiku - Bai (pine - bamboo - ume) although it might be a Sakura (oops) and the red berries of the nandina heavenly bamboo which are seasonal for this time of year.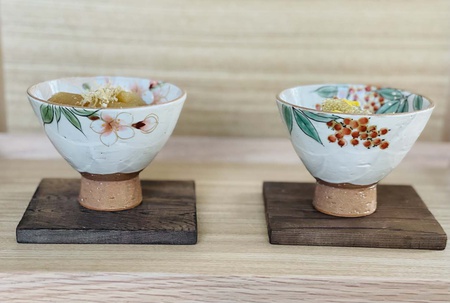 I still made a bit of osechi—and making these dishes reminded me how much I missed the family around our table. As much lamentations are heard about the time and effort and energy it takes to make Oshogatsu happen each year, I truly hope that 2021 is the one off year that the family could not be together. We all do our share of "monku" and then shout a big Kampai with a sigh of relief and great thanksgiving .... another year opens with all of us still healthy enough to cook and grumble and lovingly serve our friends and family whom we don't get to see but once this day on Oshogatsu. It gave me comfort to make "take out" osechi for my mother and several seniors who are equally, missing their children, grandchildren, and great-grandchildren due to COVID.
| | |
| --- | --- |
| | |

Some photos of our traditional seafood is missing—but I'm so happy to say, both of my sisters, my daughter, and nieces all participated from their own homes to remember and honor Oshogatsu. Thank you dad, thank you Grandpa and Grandma, for instilling these traditions that we still treasure.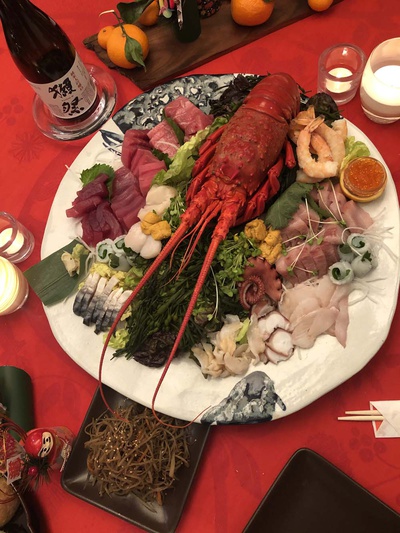 We all did our best to re-create our gathering as we sheltered in place. It is my deepest hope that we can all be together again next year and our mother will be with us to raise the first KAMPAI!
Happy 2021.
Editor's note: These photos were originally submitted for Discover Nikkei's Nima-kai 2020-2021 Oshogatsu Traditions photo activity, but we decided that the accompanying story deserved to be shared as well.