Leaving the end of a long 2020 while entering 2021 with a combination of uncertainty, excitement, determined joy, and perpetual angst, I thought it fitting to have this month's theme derive its inspiration from the writer and the title of his latest book of poetry, Seize. This month's feature, Brian Komei Dempster—a Sansei author and educator based in the Bay Area of California—graciously provided us with a handful of beautiful pieces from Seize, based upon my request to think on the ideas of "transformation" and "renewal." The two we are able to present here are striking moments from his book that had me reaching for more of his storytelling—in wonder of what comes to and from a family in concert with dis-ease and taking care of each other through struggle and beauty, pain, and comfort. Enjoy…
— traci kato-kiriyama
* * * * *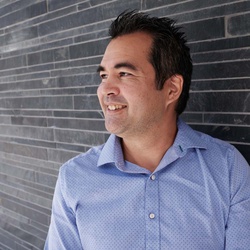 Brian Komei Dempster's second poetry collection, Seize, was published by Four Way Books in fall 2020. His debut book of poems, Topaz (Four Way Books, 2013), received the 15 Bytes 2014 Book Award in Poetry. Dempster is editor of From Our Side of the Fence: Growing Up in America's Concentration Camps (Kearny Street Workshop, 2001), which received a 2007 Nisei Voices Award from the National Japanese American Historical Society, and Making Home from War: Stories of Japanese American Exile and Resettlement (Heyday, 2011). He is a professor of rhetoric and language at the University of San Francisco, where he serves as Director of Administration for the Master's in Asia Pacific Studies program.
Broken
The park below gives us fire, orange leaves
crackling
over green. I gulped coffee as I drove, Grace held
the cold cloth
on his head. I do I do he babbled
his mantra. Our mouths chalked, minds chipped
and torn
away. He never gets better
I said. Her lips tightened, That doesn't
help us. Back to our corners. Another night
in ER. Two bags of fluids
through our eight-year-old son. A flock sweeps
over, shadows
the flame, spiking mercury,
the night cracked
into ice chips, his skin
paling, seizing
stopped. Some couples like us
end up broken Grace says, rubs
my back. Not us I tell her, my hand
on his chest
as he sleeps. Through
the window, I see
kids swinging
into the sky, gulls rising, wings white
as Brendan's shirt, the silk
of Grace's gown. The long field flickering, she leans
against me, our forms resting with his
in glass. A whole life of
I do
I do.

* This poem first appeared in Boulevard (Vol. 35, No. 1, Fall 2019) and was later published in Seize © 2020 by Brian Komei Dempster. Appears with permission of Four Way Books. All rights reserved.


Brendan's I Am
A close flash,
quick torrent.
The sounding
near. It happened
in time. The path
deepened, water reached
the house. Our son, 14, walked alone
to his blue stroller chair. Wheels
locked, we strapped
him in,
his body still
as Buddha
beneath the tree.
I steadied the bowl.
Grace raised
the spoon
of broth
to his lips. Her words Brendan,
we just want you
to have
a happy life.
Silver
touches his tongue.
Two syllables
gush from
his mouth.
Rain
gathers, our eyes close,
the current flows
through us.
His first real
sentence.
I am.
* This poem is from Seize © 2020 by Brian Komei Dempster.
Appears with permission of Four Way Books. All rights reserved.