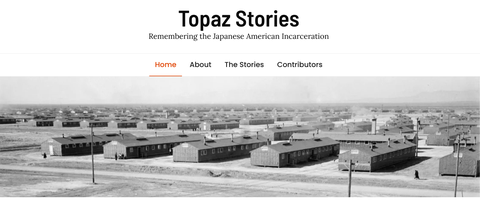 As a college student at UC Berkeley in the 1990s, I was searching for Sansei writers who wrote about the wartime incarceration of Japanese Americans. I was delighted to find the work of Janice Mirikitani and Ruth Sasaki. Sasaki's book, The Loom and Other Stories, is one that I've kept close to my heart and on my shelf for decades now. So it was a delight to see that she had started a blog in 2015, and to see that she was editing a new project in 2020: Topaz Stories, a collection of first-person stories from camp survivors and their descendants. (Sasaki's mother was incarcerated in Topaz during the war.)
In this two-part interview, Sasaki spoke with me over e-mail and over Zoom about the origins of the project, what she learned while editing the stories, censorship, and about the crafts behind writing and editing. Thus far, 63 stories have been published on the website through September 2021, and new stories will be added as they are developed. In addition, an exhibit featuring Topaz Stories is planned for 2022 at the Utah State Capitol in Salt Lake City.
* * * * *
Tamiko Nimura: Can you talk about the origins of Topaz Stories?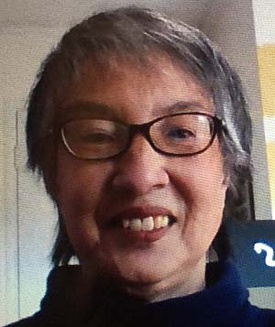 Ruth Sasaki: Before it was ever a website, the Topaz Stories Project was an effort by a few members of the Friends of Topaz, a group of volunteers who donated and raised funds to build the Topaz Museum in Delta, Utah. They wanted to collect and preserve their own family stories about Topaz. In 2016 they had a program at the Berkeley Methodist Church and presented a few stories.
I came on board at the beginning of 2018, invited by Ann Tamaki Dion. I'd retired in 2017 and needed another outlet (besides protesting) to vent my frustration with what was going on in American politics. Motivated by the Trump administration's incarceration and demonization of immigrants and refugees, and the separation of families, I had just started writing about the letters my mom had received from friends while she was in Topaz, so Topaz was very much on my mind.
My first question to the Topaz Stories team was, "What are you going to DO with these stories?" Publish a book? Mount a digital exhibit at the museum? Create a website? The team I met with (Ann, Kimi Kodani Hill, Kay Yatabe, and Barbara Saito) didn't really know at the time. In the two years since the [Berkeley Methodist] program, the project had not progressed. So I told them to send me a few stories and we'd see if I could add value to the project. Ann sent about eight short pieces, so I took a look and made a few suggestions. They said they would like me to join the team, so I said, "OK—send me everything you've got." That's when I found out that the eight stories represented the entire collection to date.
So we got busy "milking" our relatives, friends, and networks. The others had networks in the East Bay, but mine was in San Francisco. In October 2018 we held a "Topaz Stories Workshop" at J-Sei, facilitated by Grace Morizawa, to try to expand our scope and reel in some people who were not related to us. We had about 15 participants, and ended up getting four stories from it (three from non-relatives), so that was good.
The J-Sei Exhibit: Meanwhile, J-Sei [a Nikkei senior services and cultural organization in the San Francisco Bay Area] agreed to host an exhibit in June 2019, so I selected 20 stories (out of about 56) for it. Jonathan Hirabayashi, who we had all met at the Topaz Stories Workshop, turned out to be an ex-museum exhibit designer and offered to help—which was great, because the rest of us knew little about the specifics of printing and mounting exhibit panels. Jonathan was a godsend! The exhibit was successful and was up for four months. We were interviewed by the East Bay Times and word spread. More stories trickled in.
The Utah Exhibit: Then in the fall of 2019, the Utah Poet Laureate, Paisley Rekdal, contacted me through my website saying that my name had come up in a discussion of writers who wrote about Topaz. I asked her if she knew of any organizations that might be interested in sponsoring a Topaz Stories Exhibit in Utah, and she connected me to a guy named Max Chang, who was on the board of the celebration of the 150th Anniversary of the Transcontinental Railroad. He's the one who had the contacts to get us scheduled at the State Capitol in Salt Lake City (rescheduled due to COVID for January 18-December 31, 2022).


Tamiko: So from smaller exhibit, to website. What prompted you to create the website?
Ruth: From the outset, as early as spring 2018, I had advocated for a website, and created a mockup of how it could look. The team was excited, but the museum had other priorities at that time. The J-Sei exhibit was a great chance to share the stories, but we might have had 200-300 visitors; a website would enable us to reach anyone, anytime, anywhere in the world. In March 2021, with the pandemic of anti-Asian violence erupting all over the country, people were clamoring for more information about Asian Americans and I said, "IT'S TIME."
So I spent pretty much all of April updating my Wordpress skills and building the website, aiming to launch on May 1 in time for Asian American Pacific Islander Heritage Month. I also had to figure out the publishing schedule, create a template for email notifications, and somewhat reluctantly (social media phobe that I am) create an Instagram account to publicize each week's additions.
I should add that the rest of the team are all retired folks like myself, and none of them by their own admission are especially tech-savvy. At key points in the development I would share screen shots with them for their input. A couple of days before launch, I gave them all admin access and they helped test the site with their various devices and operating systems. But I basically created and manage the website by myself.


Tamiko: What have you learned from editing and curating the stories? Have you noticed common threads?
Ruth: First, I sensed, but hadn't figured out how to articulate that what we are looking to present is not oral history. As a fiction writer, I was looking for anecdotes and memories that presented the facts through the techniques of fiction in order to create empathy. We know the statistics: the dates, numbers, locations; I wanted specific details that convey emotion and bring the experiences alive, make them relatable. The stories vary quite a bit; some are short, some much longer. Some have plots and others don't.
What they have in common, I feel, is an authentic voice recalling something that impacted their lives, how they felt about it, and what they want us to remember/feel.
For the most part, knowing how protective we all are about our family stories, I tried to mess with the contributors' words as little as possible (and if possible, not at all), maybe occasionally suggesting a slightly different sequence of presentation, or asking the contributor to add to or clarify what was written. In some cases, I received a piece that was ready to go with no edits. In others, it was very much a back-and-forth process, more like a consultation than the blue-pencil process we think of as "editing." The objective was something you might call "enhanced oral history"—but I prefer to just call them "stories."
Second, I have sometimes felt that camp stories are a bit heavy on stories of resilience and optimism (probably because those are what was required to survive, and that was the brand that JAs wanted to promote after the war), kind of like the Dorothea Lange photographs that the WRA allowed the public to see. These are important—but they are not the whole story.
I saw the term "white gaze" mentioned recently in an article about Spike Lee's movie about Malcolm X (Spike ignored [the white gaze], and the movie was great!), and it resonated with the way I feel when I read some accounts of the camps—told as if always conscious of a white listener.
So I consciously sought out stories from Kibei voices, from those who experienced family separation or the death of loved ones, from those labeled "disloyal" for arbitrary and sometimes unknown reasons. I wrote one story about the kind of stories that no one talked about, because of their subject matter: an attempted sexual molestation and a lost baby. Ironically, this story was deemed "not suitable" for the Utah exhibit; and a story about censorship was censored.
I guess what I learned was that we need to stop self-censoring and present a more diverse, truer portrait of what the camps were like. At the same time, people outside of the Japanese American community can't ask us why the stories were never told and in the same breath, censor the stories when we tell them.