Japanese "skebe" on Chicago's Armour Avenue
According to a "red-light district" map of Chicago made in 1910, there were two Japanese brothels on Armour Avenue. One was between Cullerton Street (20th Street) and 21st street, and the other was between 21st Street and 22nd Street. Next door to each of these Japanese brothels were Chinese brothels. There were about thirty-five Japanese prostitutes in those brothels. "Japanese and Chinese whorehouses … catered only to white men"1 and Japanese prostitutes were strictly prohibited from accepting Japanese customers.2
On the West coast, Japanese prostitutes who catered exclusively to white men were called "hakujin-tori" and distinguished themselves from "Shinajin-tori" who served Chinese customers and "Nihonjin-tori" for Japanese men. This was a necessity due to the white American prejudice that white men must not frequent brothels patronized by Asian men.3 It is unknown whether there were "Shinajin-tori" in Chicago or not.
To keep the prostitutes under control, the Chinese frequently used opium. They cut a nut in half, "the kernel being removed, the hollow shell is then filled with opium, and the two parts of the shell are glued together"4 and sold these hidden narcotics to prostitutes.
The notorious, high-class Everleigh Club was located on Dearborn Street between 21st Street and 22nd Street, one block east of Armour Avenue. It was reported that the Everleigh Club had a Japanese throne room "with its ornately carved teakwood chair resting upon a dais, a gold silk canopy hovering above" and The Chicago Tribune noted that the Japanese parlor was "a harlot's dream of what a Japanese palace might look like inside."5 It was nearly unimaginable that the Japanese throne room at the Everleigh Club could have had Japanese prostitutes, given that it was a brothel catering to foreign celebrities and other wealthy men such as Marshall Field, Jr., son of the Chicago capitalist.
The Japanese brothel at 2026 Armour Avenue must have been more established than the other one, because the 1900 census reported that eight Japanese women lived there. They were Shunima Winnie, 26 years old, who entered the US in 1890; Shima Lucy, 32 years old, who entered the US in 1893; Urata Daisie, 23 years old, who entered the US in 1899; Mamie Kato, 20 years old, who entered the US in 1898;Hachi Eva, 22 years old, who entered the US in 1896; Tokyo Jessie, 20 years old, who entered the US in 1898; Kio Floro, 23 years old, who entered the US in 1899; and Ski Emm, 20 years, old, who entered the US in 1899. Additionally, Sam Kato, the pimp or bouncer, who was a 25 year old, single Japanese man who had entered the US in 1899, and Maggie Williams, a 28 year old married black woman who was a servant, lived at the brothel. It was a common practice for Black women to be hired as maids at brothels.6 Next door at 2024 Armour Avenue was a brothel with white girls, but the house on the other side at 2032 was a Black residential home.
In October 1906, religious activists from the National Purity Federation visited a "Japanese resort" to investigate it for possible prostitution. According to a reporter of the Chicago Tribune, "seated about the round tables in the first room entered were several Japanese girls clad in native costume and drinking beer and fancy drinks with the patrons of the place. Singling out the girl who seemed to be the center of interest a young woman investigator walked up to her and, touching her on the shoulder, asked if she was a Christian. 'Why-er-wot you want to know?' stuttered the astounded girl as she looked at her questioner. 'I mean, do you know God?' persisted the investigator. 'O, you mean that. How'd you get in here?' was the reply of the levee habitue who for the first time understood the situation."7
The talented writer Karen Abbot, must have read this article and elaborated on the description to create an even more colorful depiction in her book Sin in the Second City:
A group of Japanese courtesans lounged at a table in the front room, bare legs tucked into high heels, dainty fingers curled around glasses of beer. The missionary women huddled behind their hoods, clutching Bibles and prayer tracts to their chests. For a long, clear moment, the two groups of women exchanged stares. One missionary stepped forward and tapped a harlot's shoulder. "Are you a Christian?" she asked. Behind her, another purity worker swayed, her face pale, eyes roving and unfocused. The harlot turned, confused. "Why-er-wot you want to know?" she stuttered. "I mean, do you know God?" the missionary persisted. The harlot's face crumpled. "O, you mean that," she spat. "How'd you get in here?" The missionary was poised to answer when there was a loud "thunk" from behind. Her colleague, poor thing, had fainted.8
Both white and Japanese proprietors operated "skebe" houses in Chicago. In fact, a man named Chujiro Shibata ran a restaurant called "Number One" at 72 Harrison Street in 1906 with other two Japanese, I. Toyama and Z. Noguch and apparently engaged in a prostitution business near the restaurant. Above the restaurant was Meyers Hotel (356 State St)9 and maybe one of the hotel rooms as well was used for his business. As it was reported that he was its third operator, the brothel must have existed for a while.10 72 Harrison Street was located in "the Old Levee" and Fourth Avenue in "the Old Levee" was where the Custom House Place, once Chicago's largest red light district, was located. According to reports, one of the resorts on the Custom House Place "kept between thirty and forty women 'all colored, but all for white men."11
Chujiro Shibata was born in January 1864 in Aichi Prefecture,12 and was a thirty year-old merchant when he arrived at Tacoma, Washington in June 1896,13 but it is unknown whether this was his first visit to the U.S .or not. At the time, Shibata was possibly employed by Kushibiki, Arai and Company,14 an importer in Tokyo. He was on assignment with a technician to bring a vitascope (an early film projector) back to Japan, which Peter Yumito Kushibiki had purchased in the U.S. Kushibiki was a well-known show proprietor and had been called the King of Fairs. Shibata also brought back a film when he returned to Japan, which was shown for the first time in Tokyo in 1897.15
Kushibiki participated in the 1893 Columbian Exposition as the builder of the Japanese garden with a teahouse for the purposes of promoting tea. After the Expo, Kushibiki and his partner, Saburo Arai, were commissioned by the Japan Central Tea Association to build another Japanese garden and tea house in Atlantic City, New Jersey.16
In 1904, Saburo Arai and Yumito Kushibiki went to St. Louis to organize a private concession booth for the Fair Japan Company at the Louisiana Purchase Exhibition's Japanese village on the "Pike." Shibata, who had returned recently to the U.S. from Japan, and Arai ran a restaurant located just east of the gateway of the Japanese village. The restaurant was said to be "where one may secure good meals, served both in Japanese and American styles."17
After the Louisiana Purchase Exhibition was over in St. Louis, Shibata went to Chicago and resumed running his restaurant business there, although it is possible that he may have met the owner of a Japanese "skebe" house in St. Louis or Chicago. According to Naoki Kikuchi, who worked at the "Number One" restaurant as a waiter from 1907 and was not involved with skebe business at all, the previous owner of the skebe house had been a man named Umetaro Hashimoto.18
Hashimoto was from Fukuoka and had earned his law degree from Georgetown University in 1901.19 Though he had returned to Japan in 1903, he went back to St Louis in 1904 as a commissioner for the Exhibition. On the manifest of passengers of a boat arriving in Vancouver, Canada, on April 19, 1904, he was listed as a thirty two year-old married merchant. Aboard the same boat were eight more Japanese and two musicians from the Philippines, all of whom were bound for St. Louis, to attend the Exhibition.20 In his many years in the Midwest, he may have engaged in the prostitution business as one of the odd jobs he had tried in order to survive, before returning to Japan in 1908. When he was interviewed about his business successes many years later, he refused to talk about his Chicago days and even apologized to Shibata's decedents.21
With the real truth about Hashimoto's involvement in prostitution shrouded in mystery, Shibata took over the business and kept about twenty Japanese prostitutes there, who catered only to white men. Japanese men could not even enter the house. Kikuchi remembered that Japanese women sometimes left the house and came to the "Number One" restaurant to drink coffee.22
Whether or not he knew about Shibata's hidden business, a Japanese priest once came to "Number One" restaurant and asked Kikuchi for a favor. He explained that he had rented a house for his missionary work serving Japanese students and women, but there was no furniture in the house. Kikuchi ended up donating some unused furniture to him.23 Could the Japanese priest have been Magojiro Furuya, who rented a house around that time to start the Japanese YMCA in Chicago?
On July 16, 1908, five Japanese women and two Black men were arrested at 2026 Armour Avenue. The nom de guerre that were published following this event were Mrs. Mamie Shima, 25 years old, proprietor; Helen Teru, 18 years old; Rose Hana, 19 years old; Jania Kama, 20 years old; and Tama Shibata, 30 years old.24 Two men were charged with the violation of immigration laws Section 3 Act of Feb 20, 1907—unlawfully harboring alien women. Among the Japanese women, Kiku Shima was imprisoned in the Kane County Jail and a subpoena was issued for Tei Yoshimi.25 One of the arrested women, Tama Shibata was the wife of Chujiro Shibata. Also found in the house was a girl under eighteen, who was deported as a result. Tama Shibata was acquitted because she did not know her age.26
In January 1909, another brothel at 2186 Armour Avenue was searched and a Japanese woman, Sarah Ipo, who claimed that she had been placed in the resort by her Japanese husband, was arrested. Her husband, George Ipo, was charged with vagrancy, but also found to be seriously ill and sent to the county hospital.27
About a year after his wife's arrest, Chujiro Shibata died at Chicago's St. Luke's Hospital, on September 27, 1909, at the age of 46. The rumor among family members was that he had been murdered by his friend through slow poisoning. But according to mortuary and burial records, the cause of his death was carcinoma of the head and pancreas and hemorrhage of the stomach.28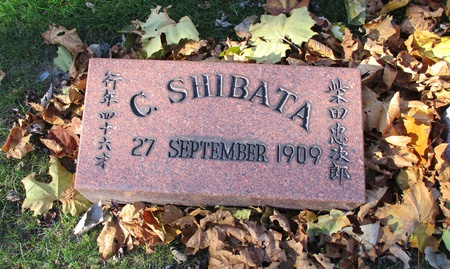 The 1910 census still listed the Japanese brothel at 2026 Armour Avenue. The names of residents recorded were Lydia Homa, age 28; Rubia Highte, age 20; Tamashima Lea, age 39; Hanna Rosie, age 26; and Hanna Dassa, age 22. But all of the neighboring houses bordering the Japanese resort down to 22nd Street had white residents. No Chinese brothels were recorded in the census. Were there still Chinese prostitutes at the Japanese resort? Clark Street, one block west of Armour Avenue, was now already fully occupied by Black residents.
The "levee" was closed in 1912 and Japanese "skebe" disappeared from the Chicago headlines. Also, in October 1912,Tama Shibata, wife of Chujiro Shibata, fell sick and died on the way to visit a friend to ask for money in Seattle that she needed to cover court expenses.29 It wasn't until 1950, after World War II, that Tama and Chujiro Shibata's granddaughter Hamako Watanabe, who became a famous singer, finally visited Chujiro's grave at the OakWoods Cemetery in South Side Chicago for the first time.30
Notes:
1. Abbott, Karen, Sin in the Second City, page 13.
2. Ito, page 127.
3. Ichioka, Yuji, "Ameyuki-san: Japanese Prostitutes in Nineteenth-Century America", Amerasia Journal, volume 4, Number 1, 1977, page 10.
4. The Social Evil in Chicago: a study of existing conditions with recommendations, page 86.
5. Abbot, pages 67 and 70.
6. Social Evil in Chicago, p.38.
7. Chicago Tribune, October 12 1906.
8. Abbot, page 109.
9. Ito, Kazuo, Shikago ni Moyu, page 133.
10. Ibid.
11. Heap, page 42.
12. Ito, Shikago Nikkei Hyakunen-shi, page 132.
13. Washington, Passenger and Crew List.
14. 1897 Atlantic City City Directory.
15. Ito, Shikago Nikkei Hyakunen-shi, page 135, Mazawa, Shigemi, "Strange Story of a Lost Grave", Scene, August 1950, page 17-19.
16. 1897 and 1899 Atlantic City City Directory.
17. Hoshi, Hajime, Handbook of Japan and Japanese Exhibits at World's Fair St. Louis, 1904, Bowen Papers, Box 50 Folder 1, Chicago History Museum.
18. Ito, Shikago ni Moyu, page 131.
19. A catalogue of the officers and students of Georgetown University.
20. British Columbia, Border Entries.
21. Ito, Shikago Nikkei Hyakunen-shi, page 130, Mazawa, page 19.
22. Ito, Shikago Nikkei Hyakunen-shi, page 124-125.
23. Ito, Shikago Nikkei Hyakunen-shi, page 128.
24. Chicago Tribune, July 17, 1908.
25. U.S. Commissioner Docket Vol 7, RG 21.
26. Ito, Shikago Nikkei Hyakunen-shi, page 129.
27. Chicago Tribune, January 19, 1909.
28. Mazawa, page 19.
29. Ito, Shikago Nikkei Hyakunen-shi page 129.
30. Mazawa, page 17.