"I think the main thing is that they had themselves had nothing to do with the problem between the two countries. There's nothing you can do to promote or diminish it. It's out of your hands. It's almost like God's will. What can we do?"

— Leland Inaba
Leland Inaba grew up on a farm in Riverside, California, a city nestled in the larger Southern California area known as the Inland Empire. Before the war, it was humming with Japanese American presence and community, as Issei and Nisei farmers borrowed and bought land to cultivate various crops. Leland's uncle was strategic in that he continued to add on to the family's original farming property on Jurupa Road, buying acreage as it became available. They diversified their crops and grew a little bit of everything when it came to vegetables, and even branched out into supplying grocery stores with eggs.
In talking to Leland, it appears that his pre-war childhood memories are clearer and more definitive than the memories of wartime and camp. It's understandable, however, given his family's experience and particular trauma. His father, a dentist with his own practice in Riverside, was apprehended without warning by the FBI after Pearl Harbor and shuffled to various detention centers, never returning home until after the war. Leland, his mother and his twin brothers, were sent north to Manzanar.
When asked what vivid memories he recalls about living there, he simply comments on the unforgiving elements found at the base of the Sierras. "We had big mountains on one side and desert's on the other side, and it was all flat desert. Atmosphere, that's all. It's just flat, dusty, windy."
Also present for this interview were Leland's son and daughter-in-law, Mark and Holly Inaba, as well as their two young daughters, Greer and Alexis, who already share a genuine and sweet connection with their grandfather.
* * * * *
Can you talk about how your father immigrated to the United States? Do you know how they met? Do you know what brought them to the US?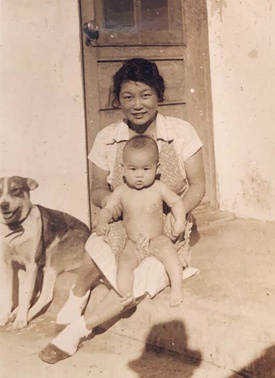 I don't know the details but they met while my dad, Hideo, was in dental school before he graduated dental school. And my mother, Chiyo, worked in a flower shop at the time. I was born at the height of the Depression, 1932.
What is your birthday?
July 7, 1932.
Did you have other siblings?
Two brothers. Dennis and Dale. They were twins. I was the eldest.
Are your brothers still around?
One is still around, the other passed away five or six years ago.
Where was your father from in Japan?
Ibaraki. Outside of Tokyo. He immigrated when he was something like 10 years. And after that he says he saw his parents working from dark in the morning to after dark at night. And he says, I was too lazy to work that hard. He said he was determined to go to dental school and do something a lot easier.
Because they were farming?
Farming, yeah. And I remember still remember my grandfather. He was up really early and he worked all day and come in at night and he'd still be doing some cleaning up, like the vegetables he would take to the market to sell. He wanted to keep that horse moving to plow the fields.
So your father's parents were here in the States, but did they bring your father as a young boy at ten years old?
That I don't even know.
So I'm assuming they didn't own their land?
No, no they didn't. They were foreigners and by law they were forbidden to buy land. So they had to buy land in the name of their children.
What were they farming?
It was called truck farming. A little bit of everything. That was the safest way to have an income because you don't want to specialize in some vegetable that didn't have a market this coming year. And they're so cheap that you couldn't make much of a living. So just to protect themselves, they [grew] a little bit of everything: green beans, dry onions, asparagus, celery, lettuce.
And my uncle, to balance out things because he had seven kids, a lot of kids to feed, he didn't want to take a chance on specializing at any one vegetable to feed the family. What happens if he planted something that everybody else had? And he wouldn't get much for it. So he bought a lot of land as it became available. So he ended up with quite a bit of land for his farming.
And to spread his risk, he decided, well, I think I'll go into raising chickens. First they came up with these cages, they're just barely enough, they couldn't even turn around. But rows and rows and he ended up with quite a few, I forgot how many thousands of chickens, all in cages, all lined up with water trickling down all the way down for them to drink. And food was distributed the same way — a wagon with feed and he'd just sprinkle it all the way down. And that way he figured by the time they started laying eggs that it would be spreading their farming risk instead of vegetables and that kind of stuff, he had chickens.
And as it turned out, he says it stabilized his income, made it much better. So he expanded that and he became a Safeway egg producer. So he had a contract with Safeways in order to provide them a supply of eggs.
He became very successful then.
Oh, yeah, he did alright. He did alright. He bought a lot of land as it became available to him 'cause I don't think he even had a credit card. He was just like my dad, he never had a credit card. He didn't believe in it.
So your father's family was in Riverside.
Yeah. Washington is where they immigrated to from Japan.
And your mother, where was she born?
She was born in Washington state.
Where did she grow up?
Kingston.
And so she was Nisei?
Yes, that's right.
And was her family also farming?
Actually they were big time farmers. He had a milk cows, that's what he did for a living.
So we're going to jump a few years. So by the time that the war broke out, you were about ten, do you remember that day of Pearl Harbor?
Not really, no.
Is there anything around that time that you remember? Do you remember when you started hearing about a war between Japan and the U.S.?
Well, yeah, vaguely, because I didn't understand the concept of what was going on. I just remember my dad saying that the FBI came up to his office when he was working on a patient and they waited until he finished and then took him down to the jail and fingerprinted him and arrested him that day.
So he opened his own practice?
Yeah.
Were your parents involved in other community activities? Were they teachers or Buddhist?
No, nothing like that. He did support the Japanese community church in Riverside by donations. And I know he made friends with some ministers of other churches and he volunteered to help the poor people get their teeth fixed for free. He never talked about it. You know, I actually came across that part by accident. He never talked about that, the charity work that he was doing.
How did you find out?
I was paid, I forgot what it was, five dollars a week, to go to his office on Sundays to clean it up, fix the magazines and all the other stuff, and mop the linoleum floors. And I went there one time and he had patients and I must have looked kind of puzzled. So that's when he told me what was going on: that he would get patients referred to by some church ministers and he would donate I think one Sunday a month to do dental work for free.
Oh, wow. And were these other Japanese people?
No, anybody. Yeah. Referred by the ministers of the various church. He didn't like to talk about it. He says I'm not doing it to get publicity. That's why he didn't do any of that through the Japanese church because everybody would hear about it.
Your community that you were in Riverside at this time, was it diverse? Was it mostly Japanese American families?
No, no. It was a very minority Japanese community.
Do you remember anything that changed for you at school after Pearl Harbor? Did anybody say anything to you?
I remember that the first friends I made after we came home to Riverside were a group of Mexican kids because I guess they had more sympathy for what was going on.
And you're talking about after the war?
After the war.
They could feel an affinity to you.
Yeah, they put themselves in our shoes saying, "It could be us." We were born here and yet it didn't make any difference. When the war started we were all considered aliens. Even if you're a U.S. citizen born here, raised here, never left the country.
Did your parents speak to you in Japanese? Did you grow up speaking Japanese?
No because my dad was an Issei and my mom was born here, so English was spoken at home. It was our language except when we had visitors like Grandma or Grandpa visit because they spoke very little English and it was broken English.
So could you communicate with your grandparents?
Not bad. You know, we knew generally what they were saying.
* This article was originally published in Tessaku on June 17, 2021.