In October 2011, I received an email from Mr. Rysuke Kawai, who is a famous non-fiction writer and has published many excellent books, including Yamato Colony: The Pioneers Who Brought Japan to Florida. The email read:
I'm researching the history of Japanese American in Florida. Recently, I found a very interesting woman. Her name is Kaku Sudo. She passed away at the age of 102 years old in Saint-Cloud, Florida in 1963. She was born in Hirosaki, Aomori, Japan and her father's name is Tsuidi Sudo and mother's name is Yeuri Fujita according to her death certificate. Do you have some information about her?
I answered to him quickly saying I didn't know about her, but would try to find some information for him. However, I was at a loss because there was little information about her. Neither Kaku Sudo nor Tsuidi Sudo surfaced when I went through my own resources.
I then started researching them over the internet. Only one result came up. It was a Chinese auction site that had an old book, titled Anzai Maru sensho Sudo Katsugoro no shogai: Hirosaki hanshi no shinko no kiseki (A life of captain Katsugoro Sudo of Anzai Maru: the religious life of a samurai from Hirosaki), (Koichi Sato, 1992). The word of "Kaku Sudo" was found in a picture in the book contents on the website. This thin book seemed to mention Kaku Sudo.
This book shows the life of Katsugoro Sudo, who worked as a captain of a Western type sailing ship of the Hirosaki Domain. Kaku Sudo was entered as a daughter of his younger brother, Shinkichiro Sudo, but the story of Kaku Sudo winds up with her departure to Yokohama for learning English. Subsequently, I searched her information in the old American newspapers with a keyword, "Kaku Sudo." Gradually, I could come to understand her life in the United States; and thus connected the dots of her life from Hirosaki to the United States. I found out that Kaku Sudo was the first Japanese female immigrants who served as a physician in the United States.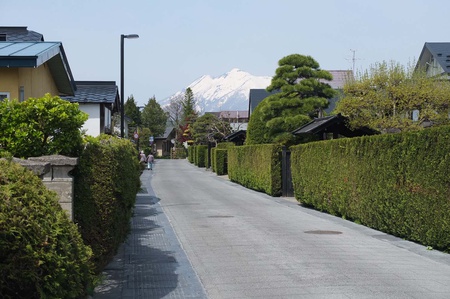 Background of Kaku Sudo
Kaku Sudo was born on January 26, 1861 at Ohura-shoji, near Hirosaki castle. Her father Shinichiro was born in 1821, as the second son of Kumasaburo Sudo and had three children—one son and two daughters. Kaku was his eldest daughter.
The root of the Sudo family goes back to Chozaemon Sudo who was employed by the third feudal lord, Nobuyoshi Tsugaru (1631-1655). In the late Edo period, the head of the family was Katsugoro Sudo, Kaku's uncle. Katsugoro, by the real name Shigenori, worked as a head of horse guards and was a middle-class samurai with kokudaka 100 koku1. His father Kumasaburo was a master of Tsukahara Bokuden Kendo school and probably had his sons go to neighboring Oyama Gisaburo Kendo school. Katsugoro studied European science and technologies, and became the captain of the Anzai-maru of Hirosaki domain. He participated in the Noheji War and Hakodate War2.
Shinkichiro, Katsugoro's younger brother by three years and Kaku's father, also participated in the war, and later was sent to Hakodate, Hokkaido. There, he learned new knowledge of Western civil engineering. After the Meiji Restoration, he became an official of new Aomori prefectural government and was involved in the Aomori city planning. He changed his name to "Tsuiji" during the Meiji era. He married with " Yuri," "Euri," or "Uri" (nee: Fujita) and have three childen: eldest son (his name is unknown), eldest daughter "Kaku," and the second daughter "Mayu". His eldest son died early.

Yokohama Kyoritsu Women's School
Shinkichiro learned Europe science in Hakodate in the early Meiji era. He thought it was important for his children to learn Western knowledge in the new era. An article in The Cincinnati Enquirer (March 3, 1895) reported:
When Miss Sudo was only 10 years old, her father took his only son from the little town up in the Aomori mountains, a town which he had founded, to Tokyo, that he could have educational advantages. Miss Sudo pleaded to accompany them that she, too, might study in Tokyo. The trip was a very laborious one of 520 miles, a part of the way traveling in kagos, or mountain chairs, drawn by men, and the remainder of the distance in boats. The father did not wish his daughter to take such a journey, but, being very fond of her, he finally granted her wish, and then on arriving in Tokyo the disappointment awaited here that girls could not be educated at the school. Almost by accident it was heard that two American ladies had opened a girls' school in Yokohama, and Miss Sudo was made very happy by being admitted there, where she met Dr. Kelsey, who so greatly befriended her.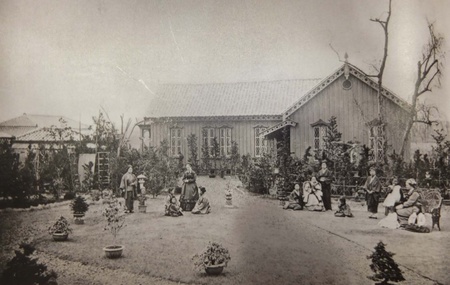 James Hamilton Ballagh was one of the first missionaries from the U.S. and was busy in missionary work in Japan. He also was interested in women's education by influence of his wife and invited three female missionaries from the U.S.–Mary Putnam Pruyn, Louise Henrietta Pierson, and Julia Nellson Crosby, who were dispatched from the Woman's Union Missionary Society of American For Heathen Lands (WUMS). These women rented a room of Ballagh's house and started a women's school, American Mission Home, on August 26, 1871. The school was soon moved to Yamate 211 Street in Yokohama the next year and changed its name to Kyoritsu Women School in 1875.
Jyunzo Sasamori, who was the president of Aoyama College, described Kaku Sudo as follows:
She wished to study at school, but there was no school in Tokyo where women can enroll. She disguised herself as a man to enter a school, but she got caught by her real gender and couldn't stay in the school. Then, she enrolled an American mission school in Yokohama where she was able to enroll and learned general education and medical sciences under Dr. Kelsey.(Aomoriken Kaigai Ijyu-shi. 1971)
Kaku Sudo probably came to Tokyo with her brother in 1871 and entered Yokohama Kyoritsu Women School in October 1872 on the recommendation of Yoichi Honda, who was a student of Mr. Ballagh and from Aomori. Almost all lessons were done in English by using English textbooks. The curriculum included Bible studies, music, English, mathematics, geography, history, and ethics. Their two-years curriculum was the same level of the Albany Normal School in New York State.
At that time, females were educated at terakoya3, and focused on reading and writing. Considering the first public elementary school in Hirosaki was founded in October 1873, I was really impressed by the advanced thinking of Kaku, the only 10 year old little girl from Aomori, who went to Tokyo on her own will and studied English.

A Meeting with A Missionary Doctor, Adeline Kelsey
Adeline DeMontall Higbee Kelsey was the daughter of Asa and Amanda Kelsey and was born at a home farm about one mile from Westdale, Camden, Oneida, New York on February 26, 1844. Asa was a hard-working and religious farmer and had a 150 acre farm. Adeline Kelsey graduated from Mount Holyoke College in 1868 and a year later she completed the Woman's Medical College of the New York Infirmary of New York city with a medical degree. She spent two years as a resident physician at Mount Holyoke hospital; she then went to China as a medical missionary in 1878, but lost her health and returned home in 1882. Dr. Kelsey arrived in Yokohama in December 1885 after recovering. She served as a missionary doctor of Yokohama Kyoritsu Women School as well as examined over 1000 patients in a year. Dr. Kelsey planned to send some outstanding students to the U.S. to learn medicine and becoming Japanese medical missionaries. She selected Kaku and Hana Abe4, who later went to the US together with Kaku.
Before they went to the United States, Dr. Kelsey visited Aomori with Kaku. The Cincinnati Enquirer (Mar 3, 1895) reported as follows:
Dr. Kelsey accompanied Miss Sudo, on vacation, to her home in the quaint town of Aomori.

She did not receive a warm reception from the parents, who are very old and decrepit and living in the mountain. They had seen few foreigners, and were greatly prejudiced against them. She was never invited into their living rooms, but courteously given a room by herself.

Her Christian faith was one reason of the aversion, but all was changed by the "one touch of nature which makes the whole world kin." She (Dr. Kelsey) received a letter from her father in West Camden, New York, and gave it to Miss Sudo who translated it for her father.

He listened intently and was greatly pleased and surprised that an American father could love his daughter. He wished to show his appreciation and send a present to such a good father, for he didn't believe there were many foreigners who were loving.

The present proved to be the most valuable thing in his possession, the ancestral sword, which had been worn by his father, grandfather, great grandfather and through generations for 350 years.

He could not have parted with it if his son had lived, but there was no one to inherit it. 
Kaku got permission from her father to go to the U.S. This trip was the final chance to meet her parents. She had never returned to her home, Hirosaki, until her life ended at 102 years old.
Notes:
1. Kokudaka refers to a system for determining land value for taxation purposes under the Tokugawa shogunate of Edo-period Japan, and expressing this value in terms of koku of rice (from Wikipedia https://en.wikipedia.org/wiki/Kokudaka)
2. Hakodate War was the final war between the remnants of the Tokugawa Shogunate army and the army of the newly formed imperial government.
3. Terakoya were private educational institutions that taught writing and reading to the children of Japanese commoners during the Edo period. (From Wikipedia: https://en.wikipedia.org/wiki/Terakoya)
4. There is not much information about Hana Abe. She was probably born around 1866 as a daughter of Sadaemon Abe in Tokyo area. She entered the Kyoritsu Women School in 1879 and graduated in 1886.