1945-46 Yearbook
A message from Mayor W.E. McArthur Sr.:
Most of you are of Japanese origin, and although you are Canadians in every sense of the word, you had to undergo hardships which were caused by the hatreds which sprung up during the war. During the past four years, you have stood up under this burden in a manner which is very creditable. As the Mayor of the Town, I have found you to be very fine children indeed, and I will always be keenly interested in your future welfare. You have heard me say these things many times before, but I am sure they bear repeating.

In time, the hard feelings caused by the war will wear away, and I am sure you will be happy to live in such a splendid country as Canada. I know with your industry and integrity, you will, no doubt, stay in B.C. and others may go to Japan with their parents. But, wherever you may be, I wish you to keep a warm spot in your heart for the City of Greenwood.


Mayor's message to the Sisters:
I know we are all in accord in giving the Sisters of the Atonement our every thanks for what they have done. I also want to express the appreciation of the City Council, for I know they realize that the Sisters have been doing a very good job in this school.

I do not know what would have happened to our public school if they had not come, because it is now over-crowded. I think the Sisters are old-fashioned, however, for they do not go on strike in a modern way. In fact, they do not get any pay.

This Greenwood is a funny place. We have had considerable opposition for the stand we have taken in connection with the Japanese. You people came here under hard conditions as far as you were concerned, and I want to thank you for the splendid way in which you stood up to under them. We have had no court cases, nor drunks and you have been law-abiding. We want to thank you for your cheerful manner of living in the City of Greenwood.

There is one unfortunate thing, however, in four years we form certain friendships, and I am sorry to say that in many cases these do not continue for you move away; some going East and some to Japan...it is a sad thing. These friendships all seem so temporary...we are here today, gone tomorrow. I will always regret it.


A message from Reverend Father Robert O'Farrell, S.A. Pastor:
I am thinking back some four years to the time I came to Greenwood. It was shortly after the arrival of the first band of Sisters. Those were sad days with the future so uncertain. How the months and years brightened as you were able to unload those heavy trials and burdens and sorrows of the day. I like to recall through it all can be seen now the finer fibre of your nationality with its thoroughness for understanding and appreciation of our work.

Mayor McArthur has made it clear that Greenwood has not suffered by your presence. Certainly, Greenwood has not lost materially by your being here. And, on your part, you may say you have lost neither in education nor in religion. So, whereas Greenwood has gained economically you have reaped spiritually.

May I propose before ending my talk this evening, a word of thanks to Mr. McArthur. There is among you in Greenwood no man more beloved than he. His sincere concern for you has been amply shown in three past years. That he has a heart of a father and the understanding of a mother is beyond question. He has been good to you all. He has listened to your difficulties and has helped you. You have been not only just but also fair, without partiality. That is the way we want to live with all in the community.


From students:
My Home in Steveston:

My former Canadian home was in Steveston. The school I went to was called Lord Byng School. On my way to school, I used to pass the home of the Franciscan Sisters of the Atonement. Many little children were taken good care of by the kind Sisters while their mothers went out to work.

After school my friends and I would play tag or hide-and-seek until the sun would sink in the west. During the summer, we had lots of fun swimming in the Fraser River. Just across the river there was a beach and we often went there in our rowboat. We used to carry our lunch with us too.

We were all so happy there, but suddenly we had to leave our beloved home. That was in 1942. Now, even with my eyes closed, I can see our home clearly, with that old apple tree swaying in the breeze. I know I will never see our home in Steveston again, but I shall always carry memories of it wherever I go.

— Sakaye Tamoto, Grade VIII
Why I Like Greenwood:

I like Greenwood because it is a nice place. In spring we can go into the mountains and pick flowers. In summer, we can go to the park, where it is nice and cool.

Not far from Greenwood there are some waterfalls. We went there once. It is quite far from where we live.

I like to think that this place is named "Greenwood" because of the many tall green trees that are here.

— Midori Aoki, Grade V


Class of 1946:
Tommy Tanaka, Kiyoe Sakai, Mitsuko Sokugawa, Nobby Hatanaka, Yukio Nasu, Tsuruyo Shigematsu, Madeline Kuramoto, Yoshio Ishii, Dorothy Otani, Matsuko Murakami, Clare Fukumura, Jessie Shimizu, Martha Takemoto, Rosie Okano, Setsuya Nishimura, Jimmy Aura and Mitsuyo Sakura.


1946-47:
A message from our Mayor W.E. McArthur Sr.:
I know from discussions with your teachers that you have worked hard and have tried your best to fit yourself for becoming good Canadian citizens. It has been a long, uphill road, but the tip is in sight at last; and I feel sure the new Citizenship Act will eventually settle all your difficulties. A few obstacles remain to be overcome, but it is merely a question of time and patience.

While you have been in Greenwood, your conduct has been worthy of the highest praise; and I feel sure, that in life to which you are entitled. You may rest assured that I will give you every assistance possible.


Graduating Class of 1947:
Shigeko Ishida, Fumiko Otani, Jeanette Okamoto, Francis Toda, Tsuneo Miki, Patrick Nakagawa, Ritsuko Imoo, Agnes Fujisawa, Peggy Honda, Jimmy Mukuda, Bernard Yurugi, Ichio Miki, Asaye Kitagawa, Clare Fujimoto, Nagako Murao, Susumu Shinde, Masamitsu Oye, Shigeru Uyeyama, Mabel Nitsui and Irene Kariya.

Mail Bag From Japan:
George and I have been working for the Forces ever since August and we're both doing fine. If it was not for going to the Commercial and the Sisters teaching typing and short-hand, I would not be here with this job. George is employed as a messenger in the Mail Room.

— Kazuko Nakamura
Thanks to the Sisters, I have a very nice position as secretary in the Engineer Topographic Battalion, U.S. Army. The work is easy and everybody is so kind to me.

— Hisako Tabata
I'm working here in Osaka as a switchboard operator. The job is alright. All my family is living in Wakayama.

— Sakaye Tamoto
It is nearly two and a half months since I left my home in Canada. I am having a hard time over the difference in manners, in work and everything. There is a shortage of food and clothes. It is a good thing we have a little garden. The ones who have no garden are suffering. I am so lonely by myself with none of my friends. I am praying that I may go back to my country (Canada) again.

— Betty Murakami
Japan, as I find it now is a beaten and lost country, slowly recovering and gradually moving on to the road to democracy.

A cloud of gloom hangs over everything and that is the critical food situation. The only bright spot is the occasional emergency rations which come from the U.S. It is a full day's work just to gather enough food. Black market is rife. Since no one can live strictly on rations, most of the food is bought in this manner. The main subject of conversation is food.

Heating, clothing, housing and transportation are the other big problems of the 80 million people of Japan. Coal is scarce, but it is gradually increasing. Even electricity is cut down. Clothing is something the population is doing almost without at present. Often there are former soldiers still wearing their old uniforms.

Since the Allied forces are occupying Japan, there are soldiers stationed in almost all fair-sized towns. The Occupational Forces are lending a helping hand to the Japanese. This can be seen by how they look up to General MacArthur and seek his guidance.

These are my impressions of present conditions in Japan, and seeing what I have seen, our class motto of '43, "Sufferings are Lessons", should be a fit motto for all the people of Japan.

— Shigeru Tabata

Our First Japanese Sister:
On Ascension Thursday, May 15, 1947, there took place at Graymoor, N.Y., a touching ceremony which was closely followed, in spirit by the people in Greenwood. Miss Catherine Fujisawa received the holy habit of the Society and the name Sister Catherine Marie. Miss Fujisawa left Greenwood July 18, 1946 to become a postulant of the Franciscan Sisters. She is the first Canadian Nisei young lady to enter this Society.
1949-50 Yearbook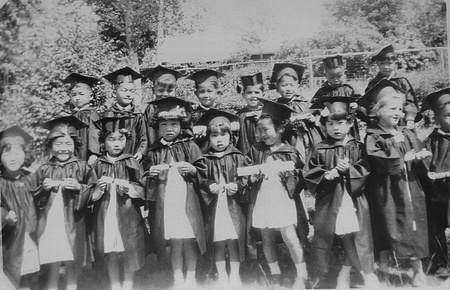 A message from Mayor W.E. McArthur Sr.:
Many of the things which could have been said in years past do not now apply. The restrictions and shortages which existed during the war years have been removed, and I am sure the graduating class in particular can look forward to a Canada which has many opportunities for them.

I am sure you will look back in the future years with fond memories to the Sisters who have been so interested in your welfare and have worked so hard with your best interest in heart.
A message from P.T.A.:
We are very happy to any "Congratulations" to you, the graduating class of 1950 because you are the first class to complete your eight years of school at the Sacred Heart School in Greenwood.

— Paul K. Morita, President, P.T.A.
Graduates of 1950:
Nobuko Shinde, Virginia Murao, Daniel Imoo, Margaret Nishi, Shiyoko Murao, Mary Miki, Amy Otani, Akio Tanaka, Patricia Uyede, Joyce Nitsui and Keiya Oye.


Congratulations Clara: November 12, 1949
Dear Clara (Tsuruyo Shigematsu):

Father Payton told me that you are one of the winners in the Diocesan High School poster contest for the Family Rosary Crusade. I want to offer my congratulations.

I am sending you a Rosary to commemorate the occasion, and I hope that God and Our Lady will bless you always with every success and happiness.

When you say the Rosary, don't forget a little prayer for me sometime. I'll appreciate that.

Sincerely yours,

Bing Crosby
New Students from Japan:
Midori Tani and Kazuichi Tasaka

1952-53 Yearbook
Graduating Class:
Jitsuyo Hamaguchi, Osamu Ishida, Sammy Murao, Lurana Tasaka, Nobuko Murao, Marcelline Shinde, Rita Hamaguchi, Augustine Ishida, Tosh Tanaka and Chiyo Nitsui.


1953-54-Yearbook (Final year)
Graduating Class:
Akihiro Murao, Mary Tanaka, Thomas Hamaguchi, John Inouye, Sumiko Oye, Lucy Sarah Yamaguchi, Teresa Nishi, Makoto Ishida, Kiyomi Hamaguchi, Sylvia Shigematsu and Jack Campolieto.


Messages to Graduates:
As another school year draws to a close you are bound to look forward to the future and at the same time to look back on your year in Sacred Heart School.

— Fr. Myles Muller, S.A.
Another year has passed and we must wish the graduating class a successful future in their efforts to obtain a complete education, which will be found necessary these modern days.

Therefore, make the best of your opportunity so ably and generously provided for your school by the Sisters of the Atonement.

— Mayor W.E. McArthur Sr.


Post Office Essay Contest:
Last fall, Greenwood was visited by W.L. Lemon, Public Relations Officer and he urged students to participate in the Postal Essay Contest.

Children of SHS submitted essays from which six were selected by Ottawa as worthy of awards. Mr. Summersgill, Postmaster of Greenwood, recently received the prizes which he personally presented to the fortunate students of SHS.

Each winner received a large photo depicting Canada's various early Postal Systems, plus the rare possession of a personal letter from Canada's Postmaster General, W.T. Turnbull.

The happy and proud possessors of the trophies are the following students of SHS: Mary Tanaka, Teresa Nishi and John Inouye, Grade VIII. Monica Tasaka and Ron Hatanaka, Grade VII.

The big event ended with a tour through the local Post Office and a surprise treat of refreshment.