VANCOUVER — Beautiful, otherworldly domes, filled with artistic displays of lanterns, light, tulle, and wings, illuminated downtown Vancouver this March.
Called "The Love Bubble Project," the pop-up art installation included over a dozen "love bubbles" placed around downtown Vancouver for the public to discover each Thursday, Friday, and Saturday. On Fridays, the love bubbles came to life with dancers performing inside. Within one of those love bubbles, creating improvised dance by responding to the music, people passing by, and the night's energy was dance artist Jennifer Aoki.
"They've created these little worlds," Aoki tells Nikkei Voice in an interview. "It's more of an art installation, [and I am] using my artistic expression of dance as a response to it."
Aoki is a Japanese Canadian dance artist, choreographer, and teacher based in Vancouver who has been dancing for 35 years. With a BFA in dance from Simon Fraser University, she currently teaches at the Shadbolt Centre for the Arts, is the co-artistic director of two dance collectives—The Body Orchestra and Voirelia, —and, on top of that, balances multiple creative projects.
The love bubble project was presented by Vancouver dance company, Small Stage, in partnership with Tourism Vancouver, Downtown BIA, Robson BIA, and Sheraton Wall Centre. The project aimed to restore vibrancy to downtown Vancouver while respecting public health safety guidelines.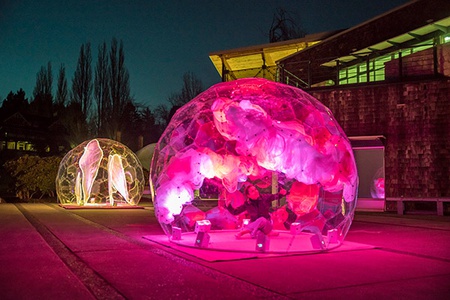 Performing in the love bubbles has felt like coming out of hibernation for Aoki. It was a reminder of a time before the pandemic when she could perform live in the theatre or collaborate with her colleagues and students in the studio. After a year of working, performing, collaborating, and teaching through digital platforms, the love bubbles were joyful and exciting, she says.
"For so long now, I've been creating work in the digital realm, like dance films and rehearsing online. There's just something so beautiful about being in an art installation," says Aoki.
At the beginning of the pandemic when her classes abruptly ended, and she couldn't go into the studio, Aoki responded by adapting. As a result, she has been creating thoughtful and reflective work despite—or more fittingly by creatively adapting to and working with safety restrictions.
As co-artistic director of The Body Orchestra, a collective of independent dance artists who create accessible work, she proposed a challenge for her dancers. They worked on a project called Please Don't Hack This Stream, a month-long research process of creating collaborative dance through video calls.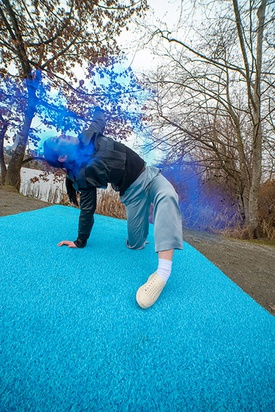 Aoki also applied for and received a Digital Originals grant from the Canada Council for the Arts to help artists shift their work onto digital platforms. Aoki received the grant to choreograph, direct, and video edit a dance film. She created a piece with Natasha Lutz for the Shadbolt Centre for the Arts, called We Can Still Go Viral, about the exhaustion of working from home.
"Opportunities have popped up, and I think that's something really nice about the resilience of the arts community," says Aoki.
Aoki also performed in Japanese dancer and choreographer Tomoyo Yamada's piece, Emergency!!, for the Powell Street Festival 2020 Telethon. The comical dance piece expresses the hopelessness and frustration everyone has experienced at least once—waiting in a long line for the bathroom.
Performing in the festival's telethon, as well as studying traditional Japanese dance with TomoeArts, have offered Aoki the opportunity to explore her Japanese roots. Recently, Aoki has been exploring her Japanese Canadian identity and family history through contemporary dance.
For Aoki, a fourth-generation Japanese Canadian, language was not passed down and her family did not talk about her paternal grandparents' history with Japanese Canadian internment. However, she celebrated her heritage by going to the Powell Street Festival every August and eating Japanese noodles on New Year's Eve. As a child, Aoki would proudly tell people she was Japanese Canadian.
"I remember having this grin but not really knowing what it means to be Japanese Canadian. So that stemmed the beginning of my heritage-based research, of questioning what does it mean to be Japanese Canadian? Where do I belong, and how can I, through my art, create a sense of belonging and understanding," says Aoki.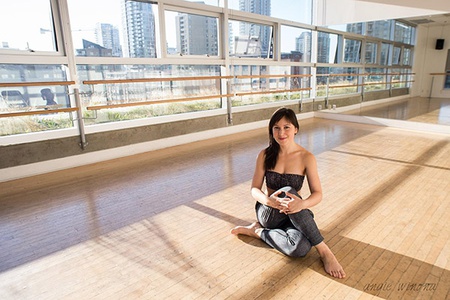 Part of this research included participating in the Powell Street Festival walking tour last fall, where Aoki learned about the history of the Vancouver Japanese Language School and Japanese Hall (VJLS-JH). Inspired by the school's history as the only building not confiscated from the Japanese Canadian community during the war, Aoki is currently working with VJLS-JH to create a dance film with music created by Onibana Taiko, a Vancouver taiko troupe.
"At that moment, I [decided] I wanted to perform in this space. The act of actually performing in this space speaks to the resilience of Japanese Canadians, the fact that it's still there," says Aoki.
Aoki's heritage-based research has led to deep reflection within herself to create personal and vulnerable work. Up until this point in Aoki's career, she has created ensemble dance work. With her mentor, dance artist Jill Henis, Aoki has been working through how to carry the weight of and honour her family's history through her dance, which has been heavy and challenging.
"This heritage-based research was also a place for me to be vulnerable and explore being the author of my own movement, which I find for myself as an artist is scary, but at the same time it is exciting to learn how to trust yourself and that your movement language has power behind it," says Aoki.
As Aoki searches for answers, digs deeper into understanding her own identity, and sharing and discussing her art with other Nikkei, she is finding a sense of belonging in the community.
"I find that my feelings and my thoughts go beyond the words, so that's why movement is the hidden language where I can explore and speak," she says.
*This article was originally published in fhe Nikkei Voice on April 20, 2021.