These Covid times, emerging from our third lockdown in Ontario, as well as teaching online, has given me some pause to dwell upon our next generation of mentors/leaders as the times necessitate. In 2021, there has been a lot to celebrate nationally in the JC community with the news of artist, curator and activist Bryce Kanbara (Hamilton, ON) winning a Governor General's Visual Arts Award and fashion executive Sansei Susan Langdon (Toronto), whose parents were interned in New Denver, BC being appointed a member of the Order of Canada on December 31st, 2020, Canada's highest honour. Born and raised in Toronto, Susan was recognized for her contributions to Canada's fashion industry as a mentor, educator at Ryerson University and executive director of the Toronto Fashion Incubator.
I am mindful that we have arrived at this good place because of the leadership that so many have demonstrated through the generations. In this chapter, I'd like to recognize two more Japanese Canadian role models who have helped to clear the paths of progress for us all.
Ron Korb, a graduate of the University of Toronto, is a Grammy nominated and multi-award-winning flautist Ron Korb is well known for playing a wide variety indigenous woodwinds from around the world. His critically acclaimed music has been released in 20 countries. He has toured extensively throughout Europe, Canada, the USA, Central America, Australia, Taiwan, Thailand, Vietnam, and Hong Kong, Mainland China, Singapore, and Japan.
Yusuke Tanaka immigrated to Canada in 1986. He was the Japanese editor of the Nikkei Voice newspaper (Toronto) for more than 20 years (1989-2012), working alongside filmmaker and writer Jesse Nishihata. He continues to perform with Katari Japanese storytellers. His translation Horonigai Shori, the Japanese edition of Bittersweet Passage by Maryka Omatsu was awarded the 4th Canadian Prime Minister Award for Publishing in 1993.
* * * * *
Musician Ron Korb (Toronto): Grammy nominated flutist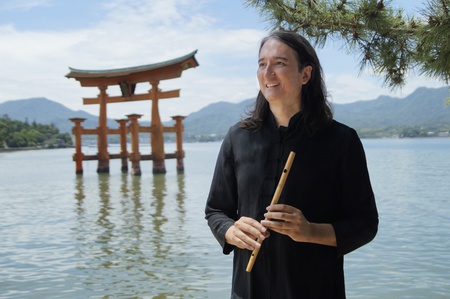 How is COVID-19 affecting how you do your art?
I was very lucky that I just completed a major tour in Asia and had returned to Canada just before the pandemic. Had it been even three weeks later everything would have been cancelled and all the months of organization and preparation would have been forfeited.
I did have some other upcoming events in Canada but logistically they were much simpler and easier to let go. As far as the music community in general, COVID has been devastating as it not only has cancelled all live concerts but all events that hire musicians. My friends who teach music for a living were also greatly affected because a lot of their students didn't want to continue via Zoom lessons.
I have been lucky because a lot of my recording work I can do from home. I have been playing on a lot of film and television projects as well as album projects for people around the world. I do miss going into a studio because I am a gregarious person and love to play music face to face. On the positive side, however, COVID has forced me to become more self-sufficient when it comes to recording technology which ultimately was necessary.
How is Covid affecting how you think of yourself as an artist?
This past year is the first time in decades I have not done any concert touring or travelling. I've done a few online events but that is about it. I miss it a great deal but it has also forced me to slow down and take stock. Many of my musician colleagues are redefining the way they think of music and the role of the artist.
I led a project this year to help musicians learn how to improve their discoverability online. Eighty percent of fans are now listening to music via streaming services which many musicians think is terrible because the pay rates are so low. However, the silver lining is that everyone in the world can hear your music by simply logging on Spotify or YouTube. It is very gratifying when I look at the stats and see people from all parts of the globe are listening and have playlists of my songs. It makes me feel there are reasons to be optimistic for the future of music.
Are there themes that are preoccupying you at this time?
We are ruminating a lot about what is really important in life. My wife and I really enjoy thinking about the next chapter. It is nice when all the chaos of urban life is stripped away we really can see the gold left in the pan. Taking a lot of long walks in the forest trails and the lakes nearby I am thinking a lot about the mystery of nature. I am also exploring my Japanese heritage again with my cousin. We are trying to solve some long unanswered questions about our family lineage from Fukuoka through correspondence and research.
I would like to do a project about the Japanese internment as well and work with other Japanese Canadian artists and musicians.
What is one societal change you would like to see when we emerge from the Covid pandemic?
COVID has been an incredible disruption especially to the performing arts. On the bright side, with less CO2 emissions from reduced commercial flights, rush hour commuting and many other things I feel it gives the planet a chance to heal.
Many of us have got accustomed to Zoom meetings and that is one societal change I hope will become the norm. Even in Toronto where a half hour production meeting downtown may take 3 or 4 hours of your time after fighting traffic and finding parking. Now we know virtual meetings work well but before we never considered it even though the technology existed. I particularly think this is true of the majority of business travel. I know corporate employees flying from Asia to North America on a weekly basis for one day meetings who frankly admit a phone call would be just as effective. The carbon footprint for this type of travel is huge and I hope it will continue to be cut back even after the pandemic is over.
Just to be clear, I am not against travelling where there is real meaning, or even a holiday that brings joy or even a life changing perspective to a traveller, I just am just against superfluous flying that could easily be replaced with a Zoom, Messenger, or Skype call. We all have been trained through COVID to live with less and I hope it will have some impact on the fight against Climate Change.
Website: www.ronkorb.com
YouTube: youtube.com/flutetraveller
His music is also available on: Spotify and Apple Music under Ron Korb.
Yusuke Tanaka (Toronto): Katari Japanese storyteller, regular columnist for the Nikkei media
How is Covid affecting how you do your art/writing?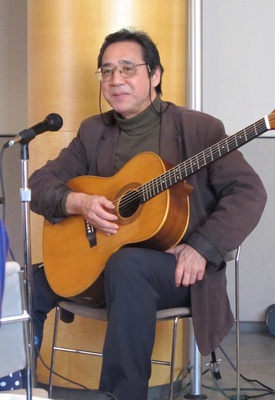 I have been wearing three layered masks for the past over three decades; I am a performer (a storyteller), a writer, and a human rights activist. Covid-19 did not affect me much and people do not know my real face yet. But it did affect me in terms of associating with others physically, holding public events, such as annual Katari Japanese storytelling shows at Japan Foundation (we've never missed it for the past 26 years. This year, we switched it to a YouTube event. Check here.), and human rights activities such as holding Hiroshima-Nagasaki Day at the Peace Garden in front of Toronto City Hall. We switched it to online last year, then, and we had a larger audience and more donations than ever.
But as a writer, I got tons of extra time to think back, dig up Nikkei history only to discover lies and false historical recognition; it gave me many topics to write about in my regular columns in some Japanese Canadian media outlets for which I have been writing almost every month since 2012.
In the meantime, since March 2020, I have been translating some of the folktales of the Ainu Indigenous people in Japan with the help of my kids and friends. In Ainu's view, "Covid-19" could be called "an evil god" or an uncontrollably wicked spirit; this god fools us, hurts us, kills us, and punishes us. Chickenpox, an old evil god, killed the majority of Ainu people in the 19th century in Hokkaido, just like it had done to the Indigenous people in North America in the past. We should be aware that it's an unavoidable subsequence after all as we started associating with foreign people, culture, which had always endangered local people, as human history tells us.
In the Nara period of the 8th Century, half of the total population were killed by Chickenpox. It was caused by the encounter with a more civilized people from the Korean Peninsula. Ancient Silk Road brought Persian glass, jewelries, etc. to the Emperor's Palace and even a Persian teacher visited to teach mathematics at the university in Nara, the capital city in the 8th Century. But then, the chickenpox virus might have been brought by their horses or oxen as well and the virus attacked ancient Japan again and again.
How did the ancient Japanese cope with this malicious disease?
After the Fujiwara clan lost four sons—Emperor candidates—due to the pandemic, Emperor Kanmu, a descendant of Bekche Dynasty from Korea, was enthroned. He simply moved the capital city to Kyoto from Nara, leaving all the rotten establishment, Buddhist authorities behind. I think this brave decision was made possible because Kanmu did not have any strong ties with his kinships, or nepotism. That was the start of a new era.
How is Covid affecting how you think of yourself as an artist?
We really should do something to make a change anyway. This has to do with your question "What is one societal change you would like to see when we emerge from the Covid pandemic?
In 2011, people started "Occupy Wall Street." They tried to control the "Bull" on Wall St., but the raging stock market started their revenge on the poor people one year ago. Trump tried to become the bull but it seems he failed (or he is just taking a rest in his bullpen). China won the bull fight in the meantime, maybe, and the Bull's role is now played by China.
What an irony of history! The communist state has become the capitalist monster now. I feel convinced that the catastrophe of the capitalist world is one step closer to its dead end.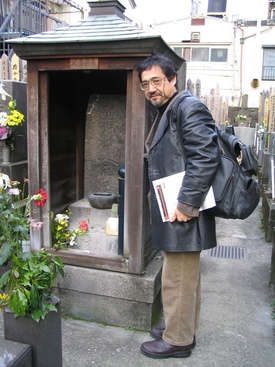 In February 2012, I became a freelance writer, or just a retiree. But I have never thought I was an artist. In Japan, a writer and an artist are categorized separately. To me, an artist refers to a person who keeps challenging conventional values. I don't deserve this title. I am afraid not. Getting involved in "Discover Nikkei" is more like a historian or researchers' work to me.
I used to do these works as the Japanese editor for a Japanese Canadian community newspaper for 22 years. I had interviewed over one hundred Nikkei, mostly Issei and Kika Niseis. I still have some cassette tapes to be transcribed. I need more time to do that extra work. One single difference today is that I am now a free person, I can write about anything, for any media. No string ties me to an organization. In other words, I enlarged my own "playgrounds" from a tiny ethnic community newspaper to even south of the border such as Discover Nikkei and to Japan and to South Korea during the Covid pandemic.
Are there themes that are preoccupying you at this time?
First, it got me to think about the history of Japanese Canadian (JC); how the pandemics affected the building community (1890s to 1930s).
Then, I found again, JCs did a good job each time when they were attacked by different pandemics: the first one in early 1890s, which was typhus. The lives of Japanese migrant workers were in total chaos, even self-defeating with gambling, drinking, and buying prostitutes. A Christian dentist named Umejiro Yamamura saw it and deeply lamented. He then put out his money to build a church in Steveston. Immediately after the church was built in 1895, the Typus pandemic attacked them but St. Mary Hospital refused to take JC patients. The leaders established their own fishermen's union and rented the church as their field hospital, hiring a doctor from Japan. Eventually, they had their own Japanese hospital built in 1903.
In 1918, when the Spanish Flu pandemic attacked the JC community—again—public hospitals declined to take Asian patients. So, Dr. Ishihara and Rev. Akagawa supported by Council Ukita negotiated with the authority to gain the permission to use Strathcona Public School (in Vancouver) as the ad hoc hospital for three weeks. It was totally managed and run by the JC volunteers. After the pandemic, based on their experiences, they built a JC community clinic which served free of charge, being run by a non-profit institution. Lastly, when the tuberculosis pandemic attacked in the 1930s, Dr. Shimotakahara had a JC business owner and philanthropist donate an expensive X-ray machine to the local general hospital and made them promise that they would treat Asian patients as well. Finally, white society started treating Asian people equally.
What is one societal change you would like to see when we emerge from the Covid pandemic?
This time of "War against Covid" agitated racism as we know, first Chinese, then, against Blacks and then, it jumped on to any Asians. Then, people arose and started BLM and then, Anti-Asian Hate campaign.
I am sure it's the best timing for us to build an Asian Canadian community in Canada. Meanwhile, Asians in America did it after the Detroit incident when Vincent Chin was murdered in 1980.
In the 1970s, Rikka(六華) magazine attracted Japanese and Chinese descents and started a cultural movement. As I read the back issues, for sure they had the potential to start a human rights movement together. Then, Asianadian magazine was inaugurated by Chinese and Japanese descents (April 1978-1985, quarterly) but somehow, it faded away into the movement of multiculturalism which divided Asians in Canada into their own ethnic community movements. It's totally fine that each ethnic community continues to promote their own cultural activities but the problem is politics, human rights issues. It requires power to make a change in politics. I think we should consider, together, how to build an umbrella organization that can lead the anti-racism movement in Canada. What do you think?