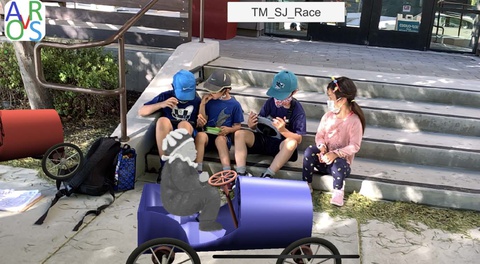 Carp flags (koinobori) are floating in front of me, their mouths open. Tanzaku are fluttering in a virtual wind. Fragments of the "Instructions to Persons of Japanese Ancestry" poster are floating around an empty lot. Black-and-white photos of a Japanese American doctor float by the Issei Memorial Building. In one space I hear strains of "We are the Children" by Chris Iijima and Nobuko Miyamoto; in another space I hear the thunder of taiko drums and watch community dancers celebrating at a Bon Odori. And there is more, much more, as I watch video after video of art superimposed on the streets and near the buildings in San Jose's Japantown in California. It's a virtual art and history museum, an augmented reality exhibit called Hidden Histories of San Jose Japantown, presented by the Japanese American Museum of San Jose.
Many might know San Jose's Japantown as an area for Japanese American community festivals, churches, temples, and organizations. But the neighborhood is also rich in layers of hidden stories, including the neighborhood's history as a Chinatown and a Pinoytown. It's these layers that the project founders, Susan Hayase and her husband Tom Izu, set out to uncover.
The project represents an exciting collaboration between artists, local historians, community activists, and history-focused organizations. Nine different Asian American artists (some Japanese American, some Filipino, some Chinese American) have created augmented reality art pieces. Each piece works with different parts of the histories and communities represented within San Jose Japantown.
After downloading an app for smartphones, viewers can walk around the neighborhood and view the pieces, which activate at specific locations. In the technology-saturated place that is the Silicon Valley, the Hidden Histories project hopes to draw new audiences and raise awareness of the area's rich history.
In a conversation with project founders Susan Hayase and Tom Izu, I learned more about the project, its origins, and some of the challenges of historic preservation, community-grown history and community-facing art. As someone involved with similar community history projects about the historic Japantown in Tacoma, Washington, I was eager to learn more about how Susan and Tom grew this impressive project.
Though the project's website details much of the Hidden Histories backstory, in our conversation I wanted to back up even one step further. I knew that Susan and Tom were involved in the redress movement. Among their many activities and accomplishments, Susan worked with the Nihonmachi Outreach Committee, San Jose Taiko, and the NCRR (National Coalition for Redress and Reparations). She eventually became chair of the Civil Liberties Public Education Fund. Tom recently retired as Executive Director of the California History Project and Foundation at DeAnza College in Cupertino, California. I learned more about how their activist work in redress grew into Hidden Histories.
We talked a bit about their relationship to the Japanese American community. Somewhat to my surprise, both Susan and Tom grew up in different ways feeling alienated from the community.
Susan was born on the East Coast, where her parents had lived and met after camp. Tom was born in Seattle, but moved to the San Jose area. Susan grew up in Orange County in Southern California, which was predominantly White then. "I have this thing about Japanese American identity," Susan told me. "It's not just a personal attribute. It is social. You have to be with your community. That takes on a really important meaning when you start to understand how the Japanese American community was dispersed, and all the terrible impacts of that. I feel like I grew up experiencing that."
Tom grew up visiting relatives in San Jose Japantown, but his mother didn't encourage him and his brothers to participate in community organizations. "She felt that the community was too parochial," Tom says, "and she wanted to be professional, to have a career."
Both Susan and Tom experienced political awakenings during the Asian American movement of the 1970s. At Stanford, Susan majored in electrical engineering and met other Japanese Americans at the Asian Student Association. In her major, she met Tamiko Thiel, who would go on to become an artist; Thiel helped the Hidden Histories team with the augmented reality part of the process.
In 1979, Susan attended her first Tule Lake pilgrimage, which was starting to evolve with an increase in student involvement. "[That] was the first time I heard the concept of redress," Susan says now, "and I was— my mind was blown. And there was nothing that you could do to stop me from participating."
At UC Santa Cruz, Tom took classes in Asian American studies, meeting other Sansei at the Asian American Student Association. He returned to San Jose, trying to put the principles from ethnic studies into practice: serve the people, serve your community. Susan joined San Jose's Nihonmachi Outreach Committee, devoted to the preservation of the neighborhood's historic character despite gentrifying forces. The two met during their involvement with the redress movement.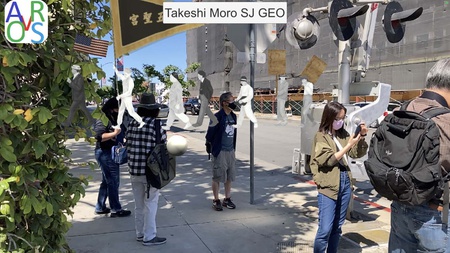 After stints at community institutions like San Jose's Yu-Ai Kai Senior Center, Tom's deep interest in local history led to being Executive Director at the California History Center at DeAnza College, which "sounds huge, but it's tiny," he says. He had not known the world of local history, which he describes as a world that "has changed a lot, but it's a real battleground" with many competing interests and deep investments in master narratives of founding fathers.
What surprised me the most—though perhaps it shouldn't have—was the way that Susan and Tom described the Hidden Histories project as another step, an outgrowth of the redress movement. The Hidden Histories project has a multiracial, multiethnic focus that's exciting to see in a Japantown history project, it draws on lessons and solidarities developed from Tom and Susan's work in the redress movement. "Many people don't realize that redress was a critical struggle," Susan says, "and it's kind of glossed over in the history books."
"We're very political," she adds. "We've been doing a lot of things for many years and we didn't view ourselves as just turning it off. So we thought about, what would our goal be, and you know, one of the things we thought we could do was keep the redress movement alive. Keep the understanding of the redress movement alive and the lessons, the approach, of the NCRR [National Coalition for Redress and Reparations], and use that to keep the Japanese American community from drifting to the right."
"Back then [in the Asian American movement of the 1970s]," Tom says, "we worked with Chicano's (that's what we called them then, you know), Latinx community, African Americans, Blacks, all these different communities because it made sense—like, of course we would work together, because we're fighting for equality, we're fighting for justice. And so it was kind of perplexing because it seemed like that wasn't happening as much," During Tom's work at the California History Center, he developed several successful Days of Remembrance programs, bringing in multiracial and cross-generational perspectives to be in conversation with Japanese American history.
When Tom and Susan joined the Japanese American Museum of San Jose, they wanted to create programming that was explicitly cross-racial. They brought experts from Latinx communities to talk about immigration policies, deportation and mixed-status immigrant families, Muslim American attorneys to talk about racial profiling and 9/11.
"Japanese Americans did not exist in a vacuum," Tom says, and points to the neighborhood's Chinese American and Filipino American inhabitants as histories that many do not know. These cross-racial histories are featured in the Hidden Histories project. The team worked with community historians like Curt Fukuda, Connie Young Yu, and Robert Ragsac, who have been gathering and documenting local stories for decades. During the process of developing programs and then developing the Hidden Histories project, they used a grassroots approach the whole way, involving community members and asking them to tell their stories as well. "We were really fortunate," says Tom, "that we just found the right people to work with."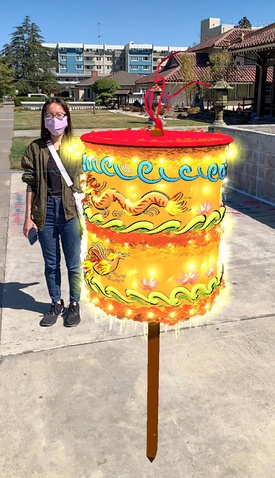 The nine Asian American artists selected for the Hidden Histories art use different elements of Japanese and Japanese American culture, history, and community, but they also involve Chinese American and Filipino American cultural traditions and histories. They are a mix of Japanese American community artists who are more established as well as recent graduates and up-and coming artists. Some were very familiar with the community and history (but less familiar with AR technology) while other artists knew the technology but needed to learn more about the community and its heritage.
The site suggests several versions of a self-guided walking tour with the art. However, the Museum has also begun to offer small in-person programs which lead visitors on guided tours with the technology.
With funding from the Knight Foundation and other community organizations, the project hopes to be a model for other place-based history projects. However, the founders reminded me to grow any project from within the community. "Not all Japanese Americans are the same," Susan told me. "Not all Japanese American communities are the same. That's another part of the foundation for Hidden Histories—we feel very strongly that not only should you join your community, but your community has its own character. That's how you work with your community, by learning what that character is."