My first recollection of catching a fish was when my dad took me to the San Joaquin River, just below the massive 544-foot-tall Friant Dam, which is located 20 miles east of Fresno. For a 12-year-old, fishing was boring since I had yet to catch a fish. But Dad taught me how to tie a hook, to bait the hook with salmon eggs, how to cast out the line, and to be patient. So, he sat me down under the concrete bridge over the river as he wandered around the bend of the river where he could find a spot.
As I gazed over the cold, clear, slow flowing river, I threw my line out into the river and sat down and waited. My mind began to wander about school when I felt a sharp tug on my line and I quickly reeled in my 4-pound test line and soon landed my first fish, a 9-inch rainbow trout. I carefully removed the hook and attached my prize catch to a metal stringer. When my father returned from his fishing spot, he was surprised and impressed with my catch. I was now hooked on fishing and had earned my status as an expert angler and proud of it!
My dad was a gardener by occupation, so after we completed our lawnmowing and gardening work on Saturday, he often took me fishing. We went to another favorite fishing river, which was the fast-flowing Kings River below another gigantic concrete dam, the Pine Flat Dam, located 30 miles east of Fresno, in the foot hills of the Sierra Nevada Mountains. The Kings River is characterized by cold, swift-flowing waters with large and small boulders.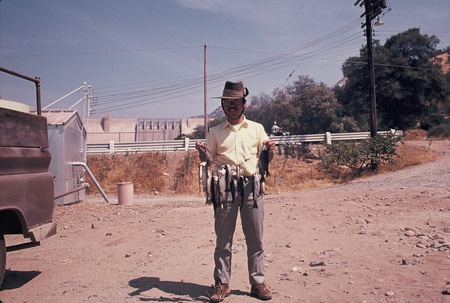 We had our favorite spots so the key was to get there early or just wait until the spot opened up. Since the Kings River was much more rapid than the San Joaquin River, Dad had to keep a close watch on me as I ventured into the water. After an afternoon of fishing, whether we were successful nor not, I always had an enjoyable time with my father as we returned home, driving into the setting sun.
Later in life, when I moved to southern California, I periodically returned to visit my family. Dad would always ask me if I wanted to go fishing at Pine Flat Dam, and my answer was always yes! So early in the morning, I drove Dad and myself up over the same road that we travelled many years ago. It was fall when we went, so the dam operator had reduced water releases from Pine Flat Dam, so we were able to walk up to the base of the dam where deep pools were located. Here we found a spot and prepared our fishing gear and made our cast into the pool.
After setting our poles down, we began to talk about whatever was on our minds. The state of the world was always a popular topic between us. Dad and I had these talks when I was in high school. Dad had lived through a lot and gained a lifetime of experiences, so when we had these discussions, I listened and tried to learn from his experiences. At the end of the day, a few fish were caught but I had a great time connecting with my father.
As I became an adult, I was thankful to my dad for teaching me how to fish. It was a combination of learning various techniques, to persevere, to be patient, and finally the appreciation of Nature. I think Dad enjoyed fishing just to be part of Nature, of listening to the rushing river, the gentle breeze blowing among the willow and cottonwood trees. I realized that catching fish was not the ultimate goal but to appreciate life. I also came understand how my father addressed life's challenges and the meaning of responsibility in raising a family. With a family, he instilled in his children the value of education, of being true to yourself, to never give up, to honor your parents and ancestors.
When I got married, I taught my wife to fish and she became a better fisherperson than me! She watched and learned from me to be patient. Maybe it was because she was a school teacher that she was such quick learner.
When our two sons were growing up, I wanted to teach them how to fish, but then I wanted them to learn from my teacher, my dad. When we visited my parents in Fresno, my dad again asked us if we wanted to go fishing. I jumped at the opportunity for my sons to learn from the master!
So, on a sunny summer afternoon, grandparents, parents, and grandsons ventured to our familiar haunts along the San Joaquin River. Once we found our favorite spot along the banks of the slow-moving river, grandpa brought out the fishing gear and began to prepare the fishing line by showing the grandsons how to string up a fishing line to a fishing pole, to tie a hook to the line, to tie a lead weight to the line, and to bait the hook with red salmon eggs.
Then he showed the grandsons the art of casting the line. He told the boys the importance of practice and patience. Somehow my oldest son managed to catch a small trout and he was overjoyed! After that bit of excitement, the entire family had our lunch of teriyaki chicken, inari sushi (nicknamed "footballs" for their shape and color), tsukemono, and potato salad. That was a very memorable afternoon at the river!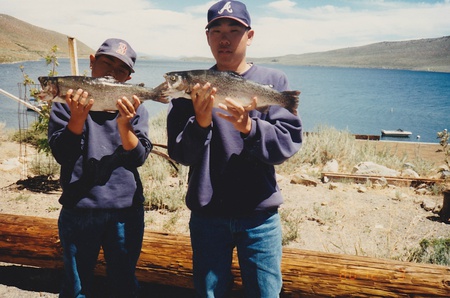 Now when I take my wife and two sons fishing, instead of fishing the San Joaquin and the Kings Rivers, we travel the long highway 395 to the Mammoth Lakes and June Lake Loop areas. My dad told me years ago of the great fishing in the eastern Sierra lakes such as Crowley Lake and Convict Lake. He came back with his friends with limits of one- and two-pound trout.
As my sons were growing up, I tried to instill the lessons I learned from my father. That one need to have patience, perseverance, develop the right technique, appreciation of Nature and your family. As I sat along the banks of Grant Lake in the eastern Sierras, some memories of fishing never change, such as the glee and excitement that my sons expressed as they reeled in their catch.
I hoped to have passed on some of life's lessons to my sons through fishing, something that was passed down to me by my father. That one needs to have determination, patience, and to never give up—for success does not come easily.