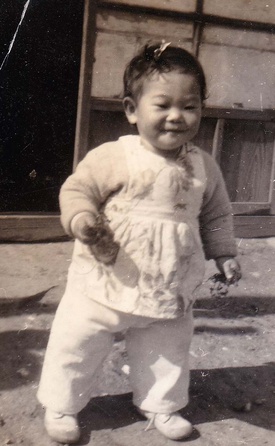 Since my mother's diagnosis of Alzheimer dementia and her passing, I have been looking through some old family albums with pictures glued onto the pages or fitted inside photo corners. I was amazed to see so many baby photos of myself with Mom, Grandmother, and my cousins, but only a few of Dad. No one ever talked about Dad to me. He was just a ghost in my family album.
My eyes happened to focus on a page without pictures, just four black photo corners and other pages with pictures of people that I did not recognize. I wanted to ask Mom questions about these photos but never did. I wondered about those missing photos and also the strangers in the family albums.
Mom was known for saving important documents for me. She always kept Dad's military records, their marriage license, and my birth certificate in a zipped-up notebook. I made an effort to search for my father, Yoneto Nakata, who I never knew. I learned many interesting facts about him.
He was born in Sanger, California on November 25, 1918. His parents were Rie Dehari and Suetaro Nakata from Hiroshima, Japan. They worked on a grape farm in Fresno, California. After six years, they returned home to Japan when his mom became sick. She passed away when Dad was twelve and nines years later his father's death followed. With no other siblings in Japan, Dad left for America. He was drafted into the US Army and volunteered into the MIS (Military Intelligence Service), traveling to Korea and the Philippines. He went back to Japan and became a civilian interpreter for General Douglas MacArthur's government. He met and married my mom, Yaeko Niikura, and I was born on New Year's Day of 1948 in Asakusa near Tokyo, Japan. My parents decided to start a new life in America, while I stayed with my mother's parents in Japan.
My father died on May 28, 1948 with a military funeral at the Evergreen Cemetery in Los Angeles, California and his ashes were sent to a temple in Hiroshima, Japan. Dad was twenty-nine, Mom was twenty-one and I was six months old. I was two when Mom brought me home to a new family in America. I wanted to know more about Dad's personal life in Japan. In 2016 I decided to take a journey to Asaminami-Ku, Hiroshima, Japan in search of my father's life from childhood to adulthood.
It was my husband, John, and his Japanese cousin, Masahiro Sunada, who helped me attain my father's kosekis (family trees), to meet my father's living relative and bring home my father's ashes to America. Reading about the Nakata and the Dehari kosekis, I realized that Dad was the last of his Nakata family. Then I remembered those missing photos in Dad's album. He must have given those photos to his relatives and friends as mementos. This was his way of saying good-bye to them because he was moving to America permanently for a better life for the Nakata family.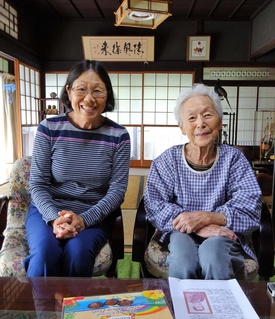 My conversation and time with Sayoko Dehari, his 90-year-old Hiroshima survivor and only living cousin was a big surprised for me. I showed her some photos of Dad and she shared her stories about him. Since the Nakata and the Dehari houses were next to each other, she told me that Dad acted more like an older brother to her and his other cousins. He made jokes, played games, and took care of them. Even after the war, he was not looked upon as an enemy but as one of their own.
Sayoko loved my dad, would frequently visit his ohaka (cemetery plot) at the Renkoji Temple in Asaminami-Ku, Hiroshima and was very happy for me to take his ashes home to America. My heart was broken when I heard the news that the Nakata ohaka would be sold and their family ashes reburied into a Potter's field.
By showing my father's koseki, naming me as his only daughter, plus my passport, was enough to convince the Renkoji Temple to stop their course of action. Instead of a tragic situation, Reverent Koshi Matsukage of the Renkoji Temple held a beautiful Memorial Service for the Nakata family and granted me permission to bring Dad's ashes home to America. The highlight of my journey was to rebury Dad next to my plot in Rose Hills Memorial Park in Whittier, California. I was very grateful to know more about Dad's personal experiences in Hiroshima, Japan and expressed my deep appreciation to all who helped me on my journey.
I again returned to Japan in 2018 for another journey to learn about Mom's life growing up in Takasaki-shi, Gunma-ken. I made a promise to my mother that I would visit her favorite cousin, Michiko (Nobusawa) Kuwabara, in Maebashi, Gunma-ken, Japan. Mom grew up with three brothers and no sister. Since mom was thirteen years older than Michiko, she was much like an older sister to her. Michiko's knowledge of their family kosekis made it possible for me to meet my younger cousins who I never met, to see the family ohakas and to visit places where Mom had been.
Mom's parents, Kichi Nobusawa and Matsuji Niikura, lived together with other family 's cousins under one roof. Their house is now divided into three smaller homes for the families of the Niikura, the Nobusawa, and the Iida. When I visited their house, I showed my cousins photos of people that I did not recognize from Mom's album. They told me those photos were of themselves and shared stories of my mom through the eyes of their parents.
For the first time in my life, I saw a different side of my mom. To her Japanese cousins, she was a carefree, a relaxed, and a funny person. I realized that Mom's happiness was a reflection of them. They gave me permission to photograph their family ohakas which was on their property. Each of the three family's ohaka had its own kamon (family crest) and their family name in kanji (Japanese characters). Each family would clean and take care of their ohakas with fresh flowers and incense. They would visit their ancestors on special occasions. The ohakas became a peaceful place to honor and show gratitude to their parents.
My cousins drove me around places where my mom had once visited. I would imagine myself seeing what she saw, walking the same ground as she walked, and breathing the same air as she did. Mom was different when she came to America. She grew up fast to survive in a foreign country without her relatives or friends to support her with love and confidence. She was more serious, very strict, and sad at times. I believe Mom was more at home in Japan and would visit her relatives and friends in Gunma-ken until her Alzheimer took over her memories.
My journey home to America was my saddest moment. All my cousins came to see me off at the train station with gifts and lots of wonderful memories. I saw them waving good bye as they said, "until we meet again". My Japanese cousins had welcomed me into their homes, shared their time and company with me but most of all made me a part of their family.
My journeys to Japan had finally come to an end. It started with some decades old black and white photos in my family albums. These faded old photos showed me a chronological history of my family from Japan to America. Both my baby photos and my Japanese name in the family kosekis was proof of being part of my family legacy. Meeting and talking with my Japanese relatives made it so much more real for me.
Before, I would look at my old family albums as just pictures of Japanese people without names or faces to connect them with me. Now, I look at my family albums in a different way. For me, I saw myself not only as a daughter to my parents or cousins to my Japanese relatives but also a mother to my sons and a wife to my husband. I share the same family name, the same kamon, and the same DNA. There were no longer a language or distance barrier between us. I saw and felt such a stronger bond between my two families across the ocean that will never be broken or forgotten. My Japanese journeys found not only my lost relatives who I never met but I learned more about myself through the stories about my parents told by my Japanese cousins. Not only will these photos be passed to the next generation, but our family legacy will continue to live forever. Thank you very much to my Japanese family.
Kazoku Arigato gozaimasu.