Jonathan van Harmelen has been studying international newspaper coverage of Japanese American confinement and of redress movements. After publishing a Discover Nikkei column on Dutch newspaper coverage, he followed it up with an extended study in the Journal of Transnational American Studies of British, French, German and Dutch sources. More recently, he has done some intriguing research on English-language Canadian newspapers and their coverage of events down south (yes, even as Americans use that historically-loaded phrase "South of the Border" to speak of Mexico, so too do Canadians use it, to denote the United States!). One central question he addresses is whether Canadian reactions to wartime confinement of Japanese Americans were influenced by Canada's own simultaneous confinement of 22,000 ethnic Japanese from British Columbia.
Meanwhile, I have taken stock of the reaction of French-language Canadian newspapers to the wartime experience of Japanese Americans, both their mass confinement and their military service. First, a few words are in order about the distinctiveness of Quebec and the francophone press. First, unlike their English counterparts, French-language newspapers tended to be small. Unable to afford foreign correspondents, they were forced to rely heavily on news services. Also, they and their readership were clustered in the province of Quebec and the adjoining Canadian capital of Ottawa. They thus reflected less strongly the anti-Japanese prejudices common to the Pacific Coast. There were only 25 residents of Japanese ancestry in Quebec according to the 1941 Canadian census, so Nikkei were not an ethnic/racial group with which most French Canadians, including journalists, had much personal experience.
Conversely, French Quebecers had long experience of feeling marginalized within a Canadian confederation tied to Great Britain and whose society and economy remained dominated by English speakers. This may have helped give their coverage a different perspective. By the same token, Quebec society in those days was majority Catholic. The Church in Quebec had sponsored a number of different missionaries in Asia in the prewar era, and Catholic priests and nuns would later offer assistance to Japanese Canadians (especially Catholics), both in confinement and as they resettled in the East.
In the prewar generation, mention of Japanese Americans by the French Canadian press was spotty, and mostly reprinted from American news services. Several articles did appear on the supposed danger posed by Japan, and the threat of Japanese Americans enemy agents. In 1932, Le Petit Journal published a long sensational article detailing a future Japanese invasion of America and occupation of California—climaxing with the commanding general seizing a Hollywood star's home and her sexual favors.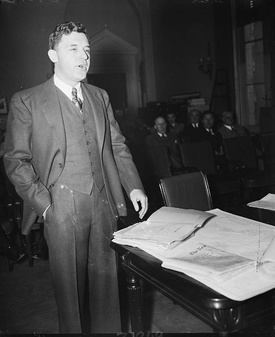 In 1935, La Tribune in Sherbrooke and Le Soleil in Quebec City repeated some wild charges made by California Rep. John Dockweiler during a Congressional hearing. Dockweiler claimed that of the 100,000 Japanese living in California, at least 25,000 could take up arms for Tokyo on a day's notice, and that a fleet of 150 Japanese torpedo boats disguised as fishing boats was operating in the port of Los Angeles.
There were also articles on Japanese spies. In 1938 the Ottawa-based journal Le Droit reported that Jinataro Tschuiya, a local fisherman, had been arrested and questioned by government authorities for taking photographs of ships. In November 1941, the Montreal newspaper La Patrie reported that 5 Japanese in Hawaii had been detained for forging identity cards and trying to sneak into the naval base at Pearl Harbor.
Even the few pieces penned by francophone journalists reflected myopia and hostility. In 1922, the church-run newspaper L'Action Catholique reprinted an article by French journalist Franz Raiwez on the "peaceful conquest of California" by Japanese immigrants and their children. In it, Raiwez (ignoring the fact that Gentleman's Agreements already restricted immigration) called for total exclusion by Congress.
In 1937, the Montreal daily La Presse published an article by Abbé Jean-Charles Beaudin, a monk who was an author and radio commentator, consisting of a travelogue of his visit to California. Beaudin claimed that Japanese farmers in California on their "immense farms and orchards of apples, plums and walnuts" were raising produce that unfairly competed with Canadian farmers.
"The Japanese problem is just as acute in California as in Hawaii and for the same reasons: long hours of work, starvation wages, low standard of living, thriftiness, and absence of labor unions. There are thousands of Japanese in California who can't be removed. They came a long time ago and became naturalized American citizens…Once their fortune is made, they will go back and live and die happily in their homeland. They will draw their last breath in the shadow of some temple or statue of Buddha while will lead them to eternal rest."
Beaudin's ignorance of the fact that all Japanese immigrants were barred from American citizenship was matched by his lack of information on the size and markets for Issei family farms, as against the white-owned conglomerates that Carey McWilliams dubbed "factories in the fields."
All that said, the French Canadian press also produced a few sympathetic pieces during the prewar era. In 1924, the viciously anti-Semitic Catholic journal La Croix deplored Supreme Court decisions upholding the alien land laws that deprived Asian immigrants of property rights. While such laws were easily evaded, they demonstrated the inconsistency of the Americans, "who reject the honest Asian Japanese and welcome with open arms the dreadful Asian Hebrew [i.e. Jews]."
In 1936 Le Nouvelliste, from Trois-Rivières,published an editorial, "The Tragedy of the Rootless". Drawn from an article in the New York Times, it expressed sympathy for the plight of the Nisei, who had an even more marginal status than that of Black Americans, because the entire nation was closed to them.
"These rootless people are not at home in Japan, which is no longer their country, nor in America, where they are treated as undesirables…As one Japanese American put it, 'Here we are, an entire generation ready for life, and we don't know where to go'."
The Pearl Harbor attack and the coming of war between Japan and the United States (as well as Canada) did not set off any significant discussion about Japanese Americans in the pages of the French Canadian press. On December 9, 1941, several journals reprinted wire service dispatches stating that 1000 Japanese (and 400 Germans and Italians) had been arrested by the FBI, and that a few individuals judged to be immediately dangerous had been placed in "concentration camps." On December 11, 1941, La Patrie ran a photo of local Japanese on Terminal Island being questioned by FBI officers, without further comment.
Nine days later, La Presse ran what looked like an ordinary photospread of West Coast Japanese American cooks, flower sellers, and laundry workers. However, it was accompanied by a pregnant caption: "One may wonder whether this young Japanese laundryworker in Seattle will be loyal to his new homeland now that war has been declared." The allusion to the United States being a "new homeland" for the young Nisei reflected a widespread misunderstanding of their birth and identity.
Indeed, a month later, the Montreal weekly Le Petit Journal published a special report, 'Painful Fate of Loyal American-born Japanese." It explained that West Coast Japanese Americans had been devastated economically by the coming of war. It described the plight of the young Nisei, caught between an older generation still tied to the culture of Japan, and their own wish to enter the "melting pot" of America. The article cited a Nisei, who said:
"Aren't there 300 (sic) of us in the US Army? Don't the Japanese turn up in large numbers as volunteers for civil defense? Didn't we give over our gym to the California [National] Guard? Our women are in the Red Cross and other auxiliary services and we all buy national defense bonds."
In addition, the article mentioned the JACL and its Anti-Axis committee, which it described as "so patriotic that they handed over to the G-men more than a dozen pro-Tokyo Japanese people who were active enemy agents."
Beginning in mid-February, the American press produced dozens of sensational articles about the threat to the West Coast (most notoriously the February 12, 1942 column by influential commentator Walter Lippmann). Press reports reported "fake news" of caches of arms and shortwave radios being uncovered by authorities. The francophone Canadian press followed suit. Given its previously supportive attitude, it was ironic that Le Petit Journal was the first to sound the alarm. A "special" dispatch reported:
"In recent days Federal authorities have arrested some 50 Japanese suspected of subversive activities in the various Japanese colonies in California. A large number of firearms belonging to these Japanese were also seized, as well as radio sets. About forty were arrested in the small town of Orange, south of Los Angeles. In San Francisco, six reserve officers of the Japanese army were detained."
Two days later, La Patrie reprinted an AP dispatch stating that raids by the FBI had turned up more Japanese uniforms and secret documents, and adding [inaccurately] that 10,000 Japanese had been ordered to leave the area by February 24. On February 19, Le Soleil followed suit with reports from Santa Maria:
"Federal police officers arrested more than 250 enemy aliens, mostly Japanese, during roundups yesterday in five counties in California. Over 200 Japanese were arrested near Santa Maria, San Luis Obispo County. Officers confiscated firearms, cameras and shortwave radios...The Japanese cook of the Santa Maria Club, heavily frequented by American army officers, is among the detainees."
A week later, Le Droit featured on its front page a photo purporting to show a collection of Japanese swords, uniforms, and bomb casings uncovered by government agents during a raid of Japanese houses and stores in Sacramento. Le Nouvelliste, similarly, carried a photo of arrested Japanese aliens being searched.
On March 3, Le Devoir published a translation of an inflammatory column by right-wing journalist Westbrook Pegler, who stated that if Walter Lippmann's stories of the Japanese danger were accurate, "the Japanese in California should be under armed guard to the last man and women right now and to hell with habeas corpus until the danger is over."
By early March 1942, the Quebec press published AP dispatches on mass removal. Le Droit reported on March 6 that the military planned to expel 200,000 Japanese and other aliens from the Pacific military area, and that two reception centers were being set up to care for these "foreigners," one in the Owens River Valley, the other at the eastern edge of the California desert, near the Colorado River. It further cited Tom C. Clark as claiming that Japanese Americans would be evaluated once at the centers, then sent somewhere outside for the rest of the war. "We can keep some of them in the center itself, but never more than 19,000 at a time". Los Angeles Mayor Fletcher Bowron expressed reservations over Japanese relocation to Owens Valley, as the refugees would be housed near the city's water supply: "this is serious business for the city."
None of the dispatches in the French Canadian press questioned the mass removal orders. This may have simply reflected the fact that the American press services from which these dispatches drew accepted the official line about Japanese Americans.
Even more surprisingly, these articles did not mention the simultaneous roundup and expulsion of Japanese Canadians from British Columbia. While this may have reflected ignorance on the part of the editors, it is also plausible that editors were conscious of these events and did not want to present any information that might call that policy into question, even indirectly.
The only piece that even hinted at the costs to the victims, or cited the views of any Japanese Americans themselves, was a brief article in Le Droit on March 11, "Billions of Dollars Will be Lost," which quoted Nobumitsu Takahashi, Northern California regional agricultural coordinator of the JACL, to the effect that forced evacuation of Japanese farmers in California would result in losses of billions of dollars. "The mass evacuation of the Japanese of California will be a great detriment not only for California, he says, but for the United States as a whole."