Japanese American removal and confinement was a subject of great interest to the French Canadian press, at least in comparison to the roundup of West Coast Japanese Canadians. It is not clear how much of this disparity was due to the reliance of Quebec newspapers on information from American news services, and how much was conscious downplaying of events in British Columbia.
Whatever the case, the French Canadian press featured multiple short articles on the forced exile of Japanese Americans. On March 20, 1942, La Presse reported: "Working in 10-hour shifts, 400 carpenters are working to build the largest "boomtown" of the west: Manzanar, which will consist of 25 blocks that can accommodate 10,000 foreign or U.S.-born Japanese who were evacuated from towns in southern California." Three days later, La Presse remarked: "Today begins the exodus of the first contingent of Japanese foreigners and their children born in the United States, who leave points of the coast in trucks and other vehicles for the interior of the country."
The article noted that a first group of 1500 would arrive early: "Cooks, bakers, carpenters, plumbers, and other craftsmen form this first group, who voluntarily offer their services to the State." The article endorsed the move. "It is a country favorable to the raising of cattle, and the industrious Japanese should be able in a few years to [flourish]. A committee of citizens of the valley is greeting the evacuees in order to mark the peaceful nature of this government measure."
The church-affiliated newspaper L'Action Catholique, which during the 1920s had spread racist stories about Japanese immigrants launching a peaceful "invasion" and "conquest" of California, now hailed their incarceration (disguised as evacuation of enemy aliens). On March 24, the journal ran a photo of the first contingent of people. The caption stated, "Three buses, escorted by American soldiers, will take them to Manzanar, California, where they will work to construct an enormous concentration camp. This camp will hold the approximately 60,000 enemy subjects who will be evacuated from the Pacific Coast."
Two days later, the journal ran a photo of Manzanar, which it called an "ideal place for the evacuated Japanese." It then stated "In this enchanting countryside more than 60,000 Japanese, evacuated from strategic regions of Los Angeles, will live and work from now on." A few days later, on April 1 L'Action Catholique announced that 1000 "Japanese," foreign as well as American-born, were being evacuated to Manzanar from defense zones in San Diego, while an equal number were leaving districts of San Francisco. It did not explain how the total confined population was so large if those departing the largest population areas were so small in numbers.
Like L'Action Catholique, other newspapers relied on photos of camps to tell their story. Le Bien Public, a conservative newspaper from Trois-Rivières, ran a photo of Santa Anita showing rows and rows of laundry, and noted that the government kindly offered 30000 feet of rope for wash lines. La Tribune ran photos of new arrivals at Manzanar, plus their impounded automobiles.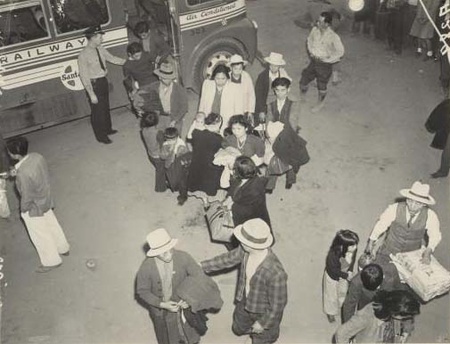 Le Petit Journal offered a photo of the wedding of Howard Kumagai and Kimiko Wakamura, the first marriage celebrated at Manzanar. The liberal and anti-clerical Montreal newspaper L'Autorité published a photo, entitled "Irony," of a Japanese worker producing artificial rubber at the Guayule project at Manzanar. The caption noted, "At Manzanar they use Japanese from the Coast for growing [plants for rubber]. It is well known that Japanese on our continent, in the United States as in Canada, make expert gardeners."
The only French Canadian journal to interrogate the issues surrounding mass removal was Le Petit Journal, which included an article on "The Problem of Evacuating the Japanese from Southern California" in its April 19, 1942 issue:
"There are 50,000 in southern California and we can't just hunt everybody down like a herd of buffalo. If we resorted to the Nazi way, it wouldn't be that complicated. We would pick up all these Japanese, even those born in the United States, in trucks or cattle cars and we'd lock everyone away in concentration camps. But democratic countries are more humane. All Japanese are not enemies. Those who are must not be treated with cruelty: that would be unchristian. But those who could commit sabotage or espionage [must be] put in a position where they cannot harm the country."
The article explains that Japanese are leaving Little Tokyo. "Shopkeepers have voluntarily organized liquidation sales. Hundreds have left even before the deadline." It also asserts that Japanese "gardeners" outside the city are leaving, and that Mexicans will come to cultivate their vegetable gardens. "The government has generously offered to compensate any Japanese who stand to lose the produce of their harvests."
While the article posed as a thoughtful account, to contemporary eyes it seems shockingly false and disingenuous. The region's entire Japanese community was indeed rounded up and locked up in camps as potential enemies, according to what the article termed "Nazi" practices. What is more, there was nothing "voluntary" about the forced liquidation sales of Little Tokyo merchants, and far from being compensated by a grateful government, Issei farmers were threatened with prosecution for treason if they stopped working their land to produce harvests whose fruits they would not share. The authorship of the piece is unstated, and no news service was credited. This, plus the article's misleading content, raises the question whether it was manufactured official propaganda.
Once the government had moved West Coast Japanese Americans, first into the army-controlled holding centers ("Assembly Centers" in officialese) and then on to the more permanent camps run by the War Relocation Authority (WRA), coverage of their treatment all but ceased. The exception was the reportage of disturbances in camp.
First, several French Canadian newspapers carried reports on the so-called "Manzanar riot" in December 1942, when armed sentries at Manzanar fired on a hostile crowd and caused several casualties. Press accounts faithfully reported the official line placing blame on small groups of pro-Axis inmates seeking to commemorate the anniversary of the Pearl Harbor attack—a fiction that not only ignored widespread grievances among the inmate population, but the fact that the events took place on December 6, before the Pearl Harbor anniversary.
Similarly, in November 1943, Quebec newspapers reprinted sensational accounts of uprisings at Tule Lake. To give one example, La Patrie republished an AP dispatch that claimed, "Troops resorted to tanks and armored cars, with machine guns and bayonets, to crush a revolt of 16,000 Japanese. The army took full control of the camp after a second uprising where twenty rebels and at least a civilian were injured. The prisoners held a three-hour meeting in administration buildings on Monday, even as 75 government employees were detained inside." The article alleged that a certain Reverend Kai made a speech telling his compatriots, "You have to give everything you have for Japan", which egged them on.
As with the events at Manzanar, such press coverage horribly distorted the actual events, and concealed their roots in the harsh conditions facing inmates at the cheerless "segregation canter" set up by the government to punish and control those deemed "disloyal." On November 1, 1943 a negotiating team of inmate leaders entered the Administration building to present their grievances (Reverend Shizuo Kai was a member of the negotiating team) , while several thousand inmates congregated outside. The administration used rumors that white staffers were being beaten as a pretext to declare martial law, bring in troops, and disperse the crowd. In writer Carey McWilliams's mordant phrase, the only riot took place, not in camp, but in California newspapers. Nonetheless, "fake news" stories about Tule Lake continued to appear sporadically in the Quebec press.
That said, Quebec newspaper coverage of Japanese Americans began shifting in a positive direction during 1943, following similar trends in the mainstream American press. In January, Le Nouvelliste announced that government officials intended to create a volunteer Japanese-American combat unit, and to employ loyal Japanese Americans in war industries. A few months later, the same journal expressed pleasure that loyal Japanese Americans were resettling: "After a year spent in concentration camps, thousands of Japanese American citizens are systematically being hired for essential work. The Office War Information reports that some of these citizens are even being placed in war industries."
In May 1944, Le Nouvelliste published an editorial, "Japanese in the United States." It seems to have represented the sole formal editorial comment on Japanese Americans in the Quebec press. The editorial summarized an official report submitted by WRA Director Dillon Myer. "Most of the Japanese who have left the Centres or American concentration camps have concentrated on the production of foodstuffs of which the nation has a pressing need. Many other Japanese have made themselves useful where labor is scarce: in factories, workshops , offices, and even the US Army." The editorial underlined Interior Secretary Harold Ickes's statements that the Nisei were citizens, and that the government had the duty to protect their civil rights and help find them jobs and housing. Ickes asserted that loyal Japanese deserved to leave the "Centers AKA American concentration camps". Although the editors did not openly express an opinion on the WRA report, their citation of words such as "concentration camp" left little doubt as to their sentiments.
Meanwhile, in September 1943, multiple small newspapers published a column, attributed to an author who used the pseudonym "L'illettré" (the Illiterate), called "The Nisei." It was a curious compendium of information about the second generation. The first part combined the outdated—"They live predominantly in the Hawaiian Islands and on the Pacific Coast, notably in California"—with the untrue—"After the attack on Pearl Harbor, the Japanese minority from the far west became a big problem for Washington...To avoid complications, Nippons under suspicion, namely those who were enemy agents or risked becoming them, were arrested and parked in concentration camps. The others were directed towards the interior of California and Arizona for the duration of the war, in colonies organized for them."
Yet this flawed article was the first to speak at length about a new all-Nisei military unit, the 442nd Regimental Combat Team, training at Camp Shelby (which the article misidentified as in Missouri). Taking refuge in some racial stereotyping, the author underlined the courage and resolve of the Nisei soldiers determined to prove their patriotism in battle. "Fatalists like all Orientals, they say they that they only have one life to live—a life of a year and three minutes. They explain: one year of training and three minutes of action. One of them said recently, 'We are anxious to show what true admirers of American democracy can do to defend it. Our actions will prove it even better than our words." La Patrie followed with an article, "Loyalty of Japanese Americans," which featured interviews with three Nisei Army officers in Hawaii.
For the rest of the war, coverage of Japanese Americans focused on Nisei soldiers. For example, on October 12, 1943, Le Nouvelliste reported that "a detachment of American soldiers of Japanese origin, after four days under fire in Benevento, has entered this city and freed 22 American paratroopers who were there; This is the first time that Japanese Americans have taken part in the current war." In August 1944, La Patrie ran an article entitled "Loyalty Rewarded," which recorded that an Army veteran and the widow of another soldier killed in Italy were the first two Japanese Americans permitted to return to the West Coast excluded zone. It added that others would be free to do so once their loyalty was proven. In the following months, however, there was virtually no further discussion of resettlement in the Quebec press.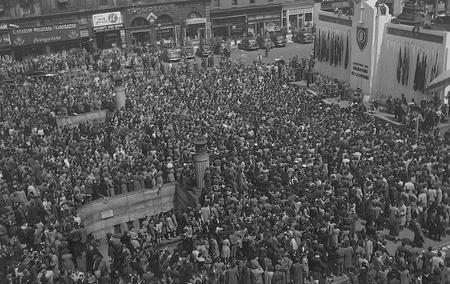 Space does not allow here for a full accounting of the complexities of French Canadian coverage of Japanese Americans. Suffice it to say that the range of responses permits a window into the vagaries of public interest and general opinion, even across the border, on the wartime events.