The world of Japanese American visual artists is diverse. Most art historians focus on the notable individuals, such as Chiura Obata and Isamu Noguchi (among others), who produced paintings and sculpture. However, absent from this narrative is the work of various Japanese American commercial artists who influenced American popular art. Chris Ishii and Robert Kuwahara, who worked on various camp newspaper comics, were only two of a group of Japanese American animators who worked for Walt Disney and helped shape the Disney look, before creating their own productions. Famed graphic artist S. Neil Fujita designed the covers of several famous jazz LPs such as Dave Brubeck's Time Out, Miles Davis's 'Round About Midnight, and Mingus Ah Um, and later devised the iconic "marionette" cover design for Mario Puzo's novel The Godfather. The career of one lesser-known figure, Shugo Seno, is likewise intriguing. Shugo twice distinguished himself, first as a singer in camp, then as a graphic artist in New York City working for the distinguished designer Raymond Loewy.
Shugo "William" Seno was born on May 26, 1917 in San Luis Obispo, California, the son of Masae and Fuji Seno, and the third of five brothers. Around 1920, the Senos moved from San Luis Obispo to central Los Angeles, where Masae opened a store.
From a young age, Shugo Seno demonstrated his talent as a baritone in various glee clubs, where he was often accompanied by his brothers. In May 1932, the young Shugo and his two older brothers, Sam and Kenji, performed with the Oliver sextet at St. Mary's Episcopal Church in Los Angeles, performing for the visiting Rikkyo University baseball team. Soon thereafter, the "Oliver boys," as the Rafu Shimpo dubbed them, began appearing at Nisei talent shows, JACL events, and local events in the Los Angeles area. For most of his career, Shugo would sing in both a capella groups and as a soloist, performing works ranging from Wagner to American folk songs.
In 1934, Shugo graduated from Theodore Roosevelt High School in Los Angeles. Shugo then enrolled at the Chouinard Art Institute, a noted arts school that trained graphic artists and animators, including the aforementioned S. Neil Fujita. During his time at Chouinard, Shugo studied under several artists, including Gyo Fujikawa, a former graduate of Chuoinard and later book illustrator and stamp designer. At the same time, Shugo enrolled in classes at the Frank Wiggins Trade School to further his studies of commercial art. After completing his studies in 1937, Seno landed a job designing advertisements for Allied Advertising Artists.
Meanwhile, Shugo continued to perform as a singer. In July 1936, Seno performed a solo on the Los Angeles radio station KRKD, as part of Japanese Cultural Broadcasting Society's weekly 8:15PM program. KRKD continued to invite Shugo to perform during their regular Nisei Variety Show, often coinciding with the start of Nisei Week in Los Angeles. One unique gig took place in October 1936, when Shugo sang a solo as part of a fashion show for the Modern Costume Designing School. Shugo also performed alongside his brothers as both a singer and as an actor. In March 1937, Shugo and his brother Sam landed the lead roles in the Japanese YWCA's production of "Oh, Doctor," a musical comedy.
In August 1938, the Rafu Shimpo listed a lecture given by Shugo at the Japanese Union Church, on the life of composer Richard Wagner. The lecture preceded a performance of Wagner's work by Shugo and numerous other musicians, including opera singer Tomiko Kanazawa. In September 1938, Shugo won first prize at the Nisei Variety Talent Show. Among the performers was a young dancer from Seattle named Marie Maegawa. The meeting was the start of a long relationship between Marie and Shugo, who would marry four years later.
In May 1941, Shugo Seno was elected president of the L.A. Japanese Musicians Society. Among the officers of the society was the young Setsuko Matsunaga, a USC music graduate (later known as Setsuko Matsunaga Nishi, she would achieve renown for her scholarly work and community activism during the Civil Rights and Redress movements). During his tenure as president of the society, Shugo organized multiple concerts of Nisei musicians and singers. One concert, dubbed by the Rafu as the "Greatest array of talent to play," featured a solo performance by Tomiko Kanazawa and selections by numerous other Nisei musicians. In addition to arranging the Nisei concert series, Shugo continued to perform at different venues.
The incarceration of the Japanese American community uprooted Shugo Seno and his family. On April 3, 1942, as orders of forced removal began to appear, Shugo made one last performance, marking for Good Friday alongside other Nisei musicians at the Japanese Union Church. Shortly thereafter, Shugo entered the Santa Anita Detention Center.
While in camp, Shugo continued to sing, giving occasional solo performances. He also took up table tennis in his spare time, and won multiple tournaments while in Santa Anita camp. Shugo's brothers also continued to perform while in camp. On September 19, 1942, Seno married Marie Maegawa. The Santa Anita Pacemaker announced the wedding, noting that the couple were married before a justice of the peace in Pasadena.
In October 1942, the government moved Shugo and his family from the Santa Anita Detention Center to the Jerome concentration camp in Arkansas. While at Jerome, Shugo served as a block leader of his barracks and worked as a music teacher in the camp high school. Shugo continued to arrange music performances and perform solos, often during religious services.
He also kept up his ping pong skills and, in February 1944, Shugo was crowned champion of the Jerome ping pong tournament.
Although Shugo remained known for his singing skills, he continued to do graphic design for a number of camp publications. In April 1943, the camp's documents section released a magazine titled The Denson Magnet. Shugo designed the cover of the magazine, showcasing his skills with lettering. His design skills impressed a resettlement officer at Jerome, who sent a portfolio of his designs to an advertising agency in New York City. On the strength of Shugo's portfolio, the agency, Raymond Loewy and William Snaith, hired him, and Shugo left Jerome on March 20, 1944. On April 25th, 1944, a War Relocation Authority photographer captured a photo of Shugo busy at work in the design studio of Loewy and Snaith as part of the WRA's publicity campaign for resettlement.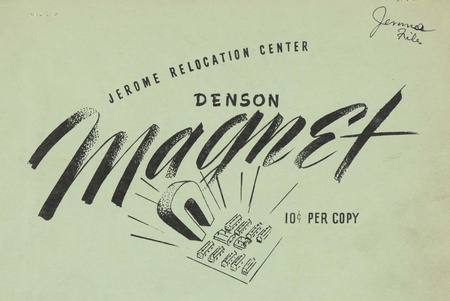 His wife Marie and his parents remained at Jerome, and following Jerome's closure the government transferred the family to the Granada camp. Following the closure of the camps, Shugo's family reunited with him in New York City in 1945. Years later, the Seno family moved out of New York City into the suburb of Hackensack, New Jersey. In March 1950, Shugo and Marie Seno had a son, Steven.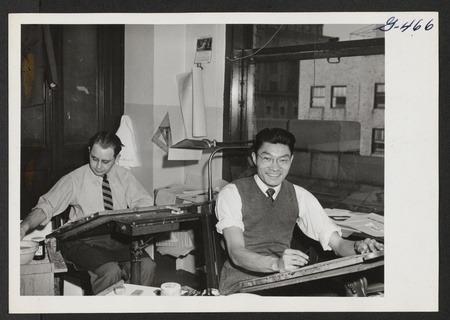 Shugo continued to work with Raymond Loewy and William Snaith on a number of design projects. In 1962, President Kennedy approached Loewy and Snaith with the task of redesigning Air Force One. As part of the project, Shugo helped redesign the interior of the plan. One of Shugo's key suggestion included painitng the presidential seal on both sides of the doors, allowing the seal to be seen at all times when the president left the plane. The design remains in place to this day.
Like Gyo Fujikawa, Seno also designed stamps. In 1964, following the assassination of President Kennedy, Seno led a team for Loewy-Snaith that designed a stamp in memory of President Kennedy for the Postal Service. Seno selected the photo of Kennedy used in the stamp after seeing an AP photo of Kennedy printed in his local paper, the Bergen Evening Record. After submitting Seno's designs to Jackie Kennedy, the stamp was approved. The story of Seno's design choice garnered the attention of several newspapers, including the New York Times and the Washington Post, and the stamp was hailed as a success by Postmaster General John Gronouski.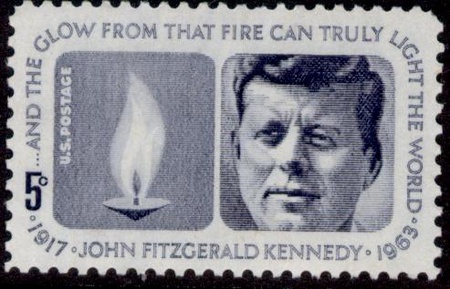 In the later years of his career, Seno took a job working as a graphic designer for the French perfume company Houbigant's U.S. office. All the while, Shugo remained active as a vocalist, performing both with his local church congregation and in solo performances before the Hackensack community. Only on one occasion did Shugo and Marie Seno open up about their experiences in camp. In March 1965, the Hackensack Record ran an article about Marie Seno's return to dancing, noting her previous career in dance while living in Los Angeles before the war. The paper noted that the couple were taken to assembly centers with other Japanese nationals from 1942 to 1944, and that the Senos held no bitter feelings about their incarceration. When asked about her meeting Shugo, Marie Seno told the reporter "we like to say we met at the race track." After a long career as an artist and designer, Shugo died on March 23, 2003 at age 85.