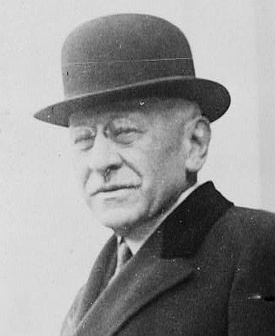 Possibly the luckiest and most successful Japanese domestic worker in Chicago was Torajiro Hamano, who worked for twenty years for Julius Rosenwald, one of the founders of Sears, Roebuck and Company. According to the 1910 census, two single Japanese men lived in Rosenwald's mansion at 4901 Ellis Ave. One was (Torajiro) "Kiku" Hamano, a 28-year-old butler, and the other was a 27-year-old Japanese houseman, Sakurain Louis, who were on staff along with two Norwegian and two Swedish servants. It is odd that Torajiro Hamano used "Kiku," which was his wife's name, for himself, but we do not know the reason why he did this.
Around 1917, Rosenwald hired a Japanese "school boy" named George Kury Hayashi, who was a twenty-four-year old student.1 Was Rosenwald indeed a "Japanophile," as an article in a Japanese newspaper once called him?2
Torajiro Hamano was born in Tokyo in 18813 and came to the U.S. in 1907.4 It is likely that he was a student in San Francisco before moving to the Midwest5, but after he came to Chicago and started working for Rosenwald, he worked extremely hard to win Rosenwald's immense trust and appreciation. Hamano's wife, Kiku, also worked at the Rosenwald house, and when their son was born in January 1919, Hamano, who must have felt indebted to his employer, named his son Julius, after Rosenwald.6
Around 1925, the Hamano family moved out of the mansion and settled at 3538 Ellis Avenue, while Torajiro kept working as a butler in the Rosenwald household.7 They owned yet another residence in Waukegan, north of Chicago, registered under the name of Kiku Hamano.8
Hamano's wife, Kiku, started a boardinghouse for Japanese immigrants and visitors to Chicago at 3538 Ellis Avenue, offering inexpensive Japanese food to their lodgers.9 Since the Hamanos were generous and took good care of the local Japanese, Kiku's boardinghouse became a center for Japanese social life in South Side Chicago.10
Some of the Hamanos' activities were reported in the newspapers. For example, they invited Tochuken Namiemon, a naniwabushi reciter, to their home and showed Japanese silent movies accompanied by his narrative performance.11 They held Japanese women's club meetings at their home,12 and for Julius' ninth birthday party, they invited almost all the Nisei children in Chicago and treated the accompanying mothers to Japanese dishes, which gave both the Hamanos and the mothers deep satisfaction and comfort.13
Hamano worked as a butler until Rosenwald's wife, Augusta, died in May 1929. Her death was a turning point for Hamano, who decided to go back to Japan with his family.14 Just before their departure for Japan, a big farewell picnic was held for them in Jackson Park, near the Japanese building built for the 1893 Columbian Exposition. More than seventy people attended the party.15 It was rumored that even after they went back to Japan, Rosenwald sent an allowance every month to Torajiro Hamano to help with Julius' education,16 but the truth is unknown.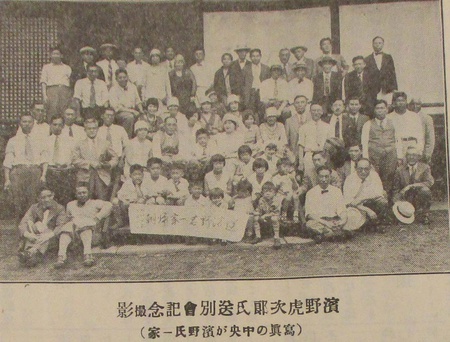 Notes:
1. World War I Registration.
2. Nichibei Jiho, January 9, 1932.
3. World War I Registration.
4. 1910 census.
5. British Columbia, Canada, Border Entries and Passenger Lists 1894-1905.
6. 1920 census.
7. 1928 Chicago City Directory.
8. 1925 Waukegan City Directory.
9. Nichibei Jiho, January 21, 1928.
10. Nichibei Jiho, May 25, 1929.
11. Nichibei Jiho, May 1, 1926.
12. Nichibei Jiho, January 22, 1927.
13. Nichibei Jiho, January 21, 1928.
14. Nichibei Jiho, January 9, 1932.
15. Nichibei Jiho, July 13, 1929.
16. Nichibei Jiho, January 9, 1932.