Thanks to a lifelong love of the written word, Iris Yamashita continues to carve out a nice literary life for herself. And after reaching the highest echelon of one medium by earning an original screenplay Academy Award nomination, the Nikkei author is traveling a different path on her literary journey via her debut novel City Under One Roof.
"I am really excited to see this whole process," Yamashita said in a video interview with Discover Nikkei.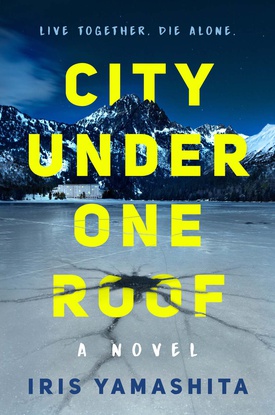 The page-turning thriller releases on January 10 via Berkley Books (Penguin Random House). To promote her book, she has scheduled several events, including the free, virtual talk with this reporter.
The love of story caught hold of Yamashita early in life while living in a truly magical land. When Yamashita was very young, her father, an ophthalmologist who earned a Fulbright Scholarship to come to the United States, moved the family, which included her mother and older sister from Missouri to Hawaii. Here, while attending the Punahou School, Yamashita enjoyed an idyllic childhood of climbing banyan trees and savoring malasadas from the world-famous Leonard's Bakery.
"But I didn't like poi," she said while laughing.
But she did love reading, especially Louisa May Alcott's Little Women and the work of L. Frank Baum, the author of The Wizard of Oz as well as a series he wrote based around that realm.
"I don't think I was able to read all of them, because our library didn't carry every book in his series," Yamashita said. "Plus, there were no big bookstores, or Amazon back then so we were out of luck."
What she lacked in materials to read, she made up for with her own imagination.
"When I was little, I got a diary as a present," the writer said. "I didn't know I was supposed to write about real life things in it, so I made up a fake life and wrote about it (laughs). In the diary, I'd make up stories about me in a different time period, imagining myself as a Pollyanna type living in another era where I was poor and had to overcome obstacles to succeed. Looking back at it, it's funny."
"I really enjoyed writing stories, but my parents wanted me to focus on academics. They were really supportive only if my papers involved school."
Heeding her parents' practical guidance, she eschewed creative writing to focus on her education, earning a bachelor's degree in mechanical engineering from University of California at Berkeley while also studying at the University of Tokyo. Following graduation, she worked for the Japanese company Fujita Construction in a satellite office in Los Angeles as a research writer and then as a web programmer for a software company.
"But even during school and after, I never stopped writing," she said. "When I was working, I would take night classes on writing at UCLA extension.
She kept her vocational juices flowing by entering writing contests, including one in which she won the first of two prizes sponsored by All Nippon Airways (ANA) including the first where she took her mother on a first-class flight to Japan.
"She was very impressed, but even though my mother liked to write when she was younger, I don't think she understood me writing fiction," Yamashita said.
But Yamashita's vocational calling wouldn't go away.
"With work and taking classes, I wasn't at a place where I could finish a novel, so I switched to screenwriting because everyone in L.A. was writing screenplays. When I switched, it just seemed like a natural move."
As it turned out, it proved to be the right move down the road when Hollywood giant Clint Eastwood came calling for her to write Letters From Iwo Jima, a 2007 epic World War II film about the famed battle taken from the Japanese perspective. The critically acclaimed movie was nominated for four Oscars (with one win in sound editing) including Best Picture and Yamashita's (along with Paul Haggis) nomination for Best Original Screenplay.
After 15 years of fighting her way through the film business, Yamashita returned to what brought her to writing in the first place, the novel. Her wonderful debut novel, a claustrophobic thriller based in a remote part of Alaska, was praised by the likes of fellow authors C.J. Box and Naomi Hirahara, the latter in whom Yamashita praised as part of a great support system for this book.
"Iris wrote a really good book!" Hirahara remarked to this reporter.
Apparently, an important part of the publishing industry agrees as City… recently earned a coveted "starred review" from Kirkus Reviews, calling the book "An offbeat, sharply written thriller." Her first foray into novel writing has been a positive enough experience so far to perhaps consider this a permanent change.
"I had a lot of fun writing this, so I'm hopeful that the reader will be entertained," Yamashita said. "I'm at a point in my life where it gets harder getting screenplays produced because there are so many things you need to do outside of writing. Writing books is so much more gratifying because you don't have to grovel and do the other things. You just get judged on by your writing. It's been a great experience so far, so I'd love to do this full time."
* * * * *
Iris Yamashita will discuss her debut Novel City Under One Roof for a free, virtual book talk with Michael Takeuchi on Monday, January 16 at 7 p.m. (Pacific Time) via Zoom and YouTube Live!