This month, we continue to pay tribute to Amy Uyematsu with two wonderful poetry and prose pieces from powerful LA writers. Amy was an inspiration to many and I am so pleased to feature work here by Teresa Mei Chuc and Mike Sonksen. Both of these inspiring writers were colleagues and fans and friends of Amy and these pieces pay respect to her work. We will continue with homage poems next month and we encourage you to read all of Amy's six collections of poetry as we move through these months of remembrance. Enjoy...
—traci kato-kiriyama
* * * * *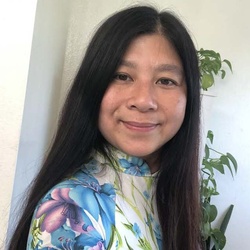 Teresa Mei Chuc was born in Sài Gòn, Việt Nam and fled her Vietnamese homeland with her mother and brother shortly after the American war in Việt Nam, spending three and a half months in a freight boat stranded in the South China Sea before being rescued. Her father, who had served in the Army of the Republic of Việt Nam, remained in a Việt Cộng re-education prison camp for nine years. Teresa is the author of three full-length collections of poetry, Invisible Light (2018), Keeper of the Winds (2014) and Red Thread (2012). Her poetry chapbook, Incidental Takes, was published by Hummingbird Press in 2023. Teresa's poetry is forthcoming in the Anthology of Southeast Asian Eco-Writing (University of Hawaii Press, 2023). She teaches literature and writing at a public school in Los Angeles.
Yellow Power
after Amy Uyematsu
In middle school, I would look in the mirror
and tell myself, "I am beautiful."
Over and over again.
Even though, looking at billboards,
magazines and T.V., I thought that I was not.
My nose is the right size, I am the right height,
My black hair is the right color,
My brown eyes are beautiful.
My skin is the right color.
There is nothing wrong with me.
When my tongue stumbles over English words
and grammar it's because I already
hold two native languages within me–
carried across the ocean in our refugee boat,
Vietnamese and Cantonese.
It's okay if I do not hold a knife,
fork and spoon the "correct" way,
they aren't my utensils of choice.
Chopsticks were my first utensils;
I could use them to do a thousand things–
pick up rice grains one by one, cut noodles,
hold up my hair in a bun.
My school lunch sometimes smells of fish sauce,
nước mắm. Some kids ask what that stinky smell is.
A sauce from my Vietnamese Motherland,
so loved by my family and people.
I, too, refuse to feel shame and exclaim myself–I am nước mắm,
delicious and proud…scent and taste that will remain.
*This poem is copyrighted by Teresa Mei Chuc (2023)
* * * * *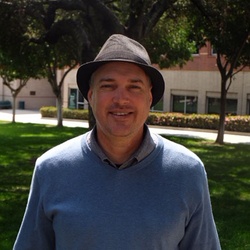 Mike Sonksen a.k.a. Mike the Poet is a third-generation Angeleno. Poet, professor, journalist, historian, and tour-guide. Sonksen teaches at Woodbury University and serves as the Program Coordinator of the school's First Year Experience Program. His most recent book Letters To My City was published by Writ Large Projects. He's published over 500 essays & poems in publications like Academy of American Poets, Alta, KCET, Poets & Writers Magazine, PBS, BOOM, Wax Poetics, Los Angeles Review of Books, LA Taco, LAist, LA Parent and more. He's been a guest speaker at over 100 universities and high schools and presented his poetry on KCRW, KPFK, KPCC, and TV stations like Spectrum News. Beyond Baroque Literary Arts Center honored him for "Distinguished Service to the Los Angeles Poetry Community."
For Amy Uyematsu
Only a city named after angels could have produced a poet as celestial as you. Cataloging mortality, tempest skies and Los Angeles intersections, your lived experience echoes lavender jacarandas, purple like iris, a daughter of hibiscus. You chose the Cisco Kid, revolution over evolution, torch songs, saxophones and romantic endings. You knew the value of unknown variables because you put mathematics in your stanzas knowing that to quantify poetry is counting to infinity. Beyond basic vocabulary you decoded permutations cataloging the rise of yellow power from a family of flower farmers bridging grandfathers and Descanso Gardens. I remember zooming with you and Will Alexander in the summer of 2020 as the Advisory Board for Cal State LA's Center for Contemporary Poetry & Poetics, you were fierce kinetic about Contemporary Poetry. When something did not sit right with you, you rolled up your sleeves and took action. You gave me Good Morning, Revolution by Langston Hughes and Love Works by Janice Mirikitani with a bag of art supplies for my daughter. To know you was an honor Amy Uyematsu, there should be more poets like you: ever so selfless, committed to something larger than yourself. You weaved dreams and desire into a tightrope of syllables. You saw the river in the foothills transmuting jagged rock into emptiness. Just last week we took a moment of silence for you under the stars at Grand Performances on a warm Friday evening Downtown. Right next to Angels Flight it was only right to honor one of the only angels I have ever known.
*This poem is copyrighted by Mike Sonksen (2023)