Writer's note: This is part of a series of articles in The Hawai'i Herald on Hawai'i families that were impacted by the incarceration of Nikkei during World War II. Robert "Bob" and Vickie Hayakawa are the nexus of two families that experienced the incarceration: Bob's family on the continental U.S. and Vickie's family in Hawai'i. These are their stories.


The Harada Family Experience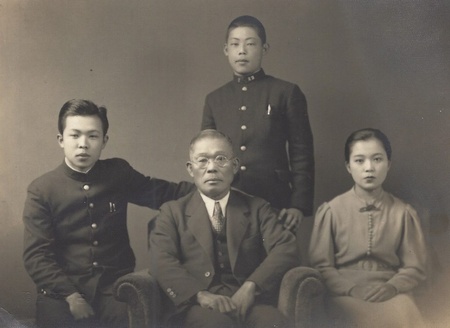 Vickie Hayakawa's paternal grandfather, Tsunetaro Harada, was born in Saga Prefecture, Japan, and immigrated to Hawai'i in 1899 as a kanyaku imin or contract immigrant. Initially working in the Hilo area, he moved to the 'Ewa plantation on O'ahu in 1910.
After leaving the plantation, he started a construction company called Harada Sanko Sha and built several significant buildings such as the Japanese Consulate in 1913 and the Hawai'i Jodo Shu temple in Makiki in 1932. In 1937, he built and opened the Pensacola Hotel in Makiki, which his wife Kinu managed.
Well-known by the Japanese Consulate staff, Tsunetaro attended celebrations of visits by Japanese Navy ships several times a year. He heartily supported the Japanese Navy personnel who gave him the honorary title, "Riku No Chujo" or "Land Vice Admiral."
On December 7, 1941, Tsunetaro was arrested by the FBI at the Pensacola Hotel and held at Sand Island Detention Center. From there he was detained at a series of facilities on the continental U.S. for the duration of the war, returning to Hawai'i in November 1945.
Despite their father's incarceration, two of Tsunetaro's sons, Ben and Vickie's father Raymond, served in the U.S. Army's Military Intelligence Service (MIS) during the war. Drafted in November 1941, Raymond was training with the 298th Infantry Regiment at Schofield Barracks when the war began.
In June 1942, he became part of the 100th Infantry Battalion (Separate,) the first nearly all-Japanese American Army unit, and was sent to Camp McCoy, Wisconsin, for training. He transferred to the MIS Language School at Camp Savage, Minnesota, in December 1942.
A graduate of Meiji University in Tokyo, his Japanese language skills were elite among the Nisei or second-generation Japanese Americans. After graduating from the MISLS, he became an instructor and later served in military intelligence at Camp Ritchie, Maryland.
Raymond married his wife, Janet, in February 1945 while an instructor at Camp Savage. After the war, he held several military intelligence positions in Japan. Sadly, his father Tsunetaro died while traveling to see Raymond and his family in 1956 while they were living in Tōkyō.
Raymond became an officer, had an illustrious military career and was awarded a Legion of Merit for exceptionally meritorious performance. In 1960, he was assigned as interpreter and aide-de-camp to the civil administrator on Okinawa. The U.S. controlled Okinawa for 27 years after World War II and the civil administrator oversaw all civil affairs. Raymond and Janet were an integral part of the U.S. diplomatic corps for three years as Okinawa recovered from the devastation of war. They worked diligently together to improve relations between America and Japan.
The family returned to Hawai'i in 1963 and Harada retired from the Army in 1966 as a lieutenant colonel. He worked in the financial industry for several years before retiring again. He passed away in 2006 at the age of 87. Janet passed away in 2020 at the age of 103.
Vickie was about five when the family relocated to Hawai'i and remembers her father as an honorable man who never expressed bitterness about his own father's incarceration during the war. She says that he was a strict but loving father to her and her two sisters, Raychelle and Roberta. She admires her mother for being a full partner in her father's military career. Their marker at the National Cemetery of the Pacific at Punchbowl reads, "Proudly served together."


The Hayakawa Family Experience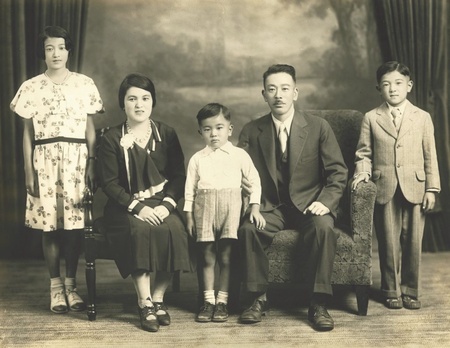 Bob Hayakawa's paternal grandparents, Masashi and Aki Hayakawa, emigrated from Japan in 1905 to the Seattle, Washington, area. They moved to Stockton, California, where Bob's father, John, was born. John had two older siblings, sister Martha and brother William. The family eventually settled in Oakland, where Masashi was operating a wholesale produce market when World War II began.
On February 19, 1942, President Roosevelt signed Executive Order 9066 authorizing the exclusion of the Nikkei population from designated military areas. On March 2, 1942, Lieutenant General J. L. DeWitt, Commanding General of the Western Defense Command, established Military Area 1, which included the western halves of Washington and Oregon, the southern half of Arizona and the western half of California from the Oregon border to Los Angeles and all of southern California.
Less than one week prior to the establishment of Military Area 1, Masashi obtained permission to relocate the family to Reedley, California, just outside its boundary. This shrewd move provided the family six months of precious freedom until a Civilian Exclusion Order extended the prescribed military area to Reedley requiring the family's evacuation to Poston War Relocation Center on the Colorado River Indian Reservation near Parker, Arizona. Poston had three separate camps and the family was placed in Poston III.
After the war, Masashi and Aki worked as domestics in New York City and later in Berkeley, California, where they encountered discrimination when trying to buy a home. Masashi became the custodian of a Christian Divinity School and died in 1956 at the age of 70. Aki remained in Oakland until 1967 when she followed John and his family to Hawai'i where she lived out her remaining years, passing away in 1983 at age 91.
John Mori Hayakawa was 15 years old when incarcerated. He attended Poston III High School and left the camp In July 1943 for employment in Colorado Springs, Colorado, later moving to Evanston, Illinois, where he completed high school.
After one semester at the University of Minnesota, he was drafted and served as Company Clerk of the MISLS until his discharge in 1946. He attended UCLA and UC Berkeley under the GI Bill, receiving a bachelor of science in public health in 1951 and a master's in public health in 1954.
John Mori married Sachie Ueda whose family was incarcerated at Tule Lake Detention Center in northern California. They had three children, John Masashi, Robert (Bob) and David. John Mori worked for 13 years in the San Jose Health Department and then taught for 25 years at the University of Hawai'i's School of Public Health before retiring.
Bob was eight when the family moved to Hawai'i. He doesn't recall experiencing any overt racism while living on the continental U.S. but remembers that they were the only Japanese family in their neighborhood. The Hayakawa brothers adapted easily to island-style living while Sachie experienced some challenges such as understanding Pidgin English and getting used to local customs. She passed away in 2020 at the age of 92. Today, John Mori is an active 96-year old and has compiled a detailed history of the family's incarceration experience.
Living most of their lives in Hawai'i, Bob and Vickie Hayakawa have blended into the local Nikkei community, but their family's story is remarkable for their resilience and perseverance in the face of the adversities they faced during the war. The family recently completed a visit to the Poston internment campsite and the Japanese American National Museum. It was an emotional experience for all of them.
*This article was originally published in The Hawaii Herald on July 21, 2023.