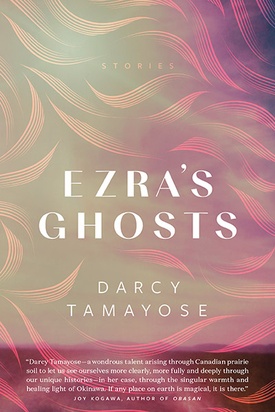 LETHBRIDGE — In award-winning author Darcy Tamayose's new collection of short stories, Ezra's Ghosts, the people in the prairie town of Ezra are haunted. In four fantastical and interconnected stories, Tamayose explores the multiple meanings of haunted—not just by ghosts, but by grief, guilt, and loss.
While Tamayose explores and experiments with storytelling pace, density, and flow, each story is linked with the characters' comings and goings in the fictional town of Ezra. Ezra takes influences from the prairie landscapes of Southern Alberta and Lethbridge, where Tamayose was born, raised, and lives with her family.
Tamayose is a writer, graphic designer, and PhD student. Her previous work includes the youth fiction book Katie Be Quiet, which received the Canada-Japan Literary Award and was shortlisted for various other book prizes, and Odori, the first fictional novelization of the Okinawan diaspora in Southern Alberta.
While located in a fictional Albertan city, Tamayose weaves influences of Okinawa into each of the stories, linking to her current PhD study on the Okinawan diaspora. Her studies explore the 1907 wave of Issei immigrants from various Ryukyu islands in Okinawa that settled in the southern Alberta prairies.
Released in May last year, Ezra's Ghosts was a finalist for the prestigious Atwood Gibson Writers' Trust Fiction Prize, recognizing the best in Canadian fiction (named after Canadian novelists Margaret Atwood and Graeme Gibson).
Nikkei Voice spoke to Tamayose through email about the inspirations and influences behind Ezra's Ghosts.
* * * * *
Nikkei Voice: What kind of folklore and stories did you explore to create the ghostly characters in Ezra's Ghosts?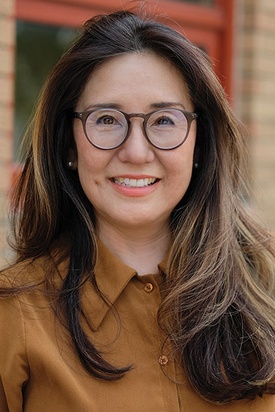 Darcy Tamayose: As a child, I enjoyed comic books. When I wasn't reading Betty and Veronica I gravitated towards Tales of the Crypt and Eerie. It wasn't just the stories but the hand-lettering, drawings, and even the layout of the frames. The comic book, through the lens of childhood folklore, was a gateway experience. I'm convinced that the simplicity of the format encouraged imagination and helped with character development skills.
In terms of books: illustrated fairy tales or hauntings in far-away lands like Grimm's Fairy Tales and Van Allsburg's Harris Burdick or The Garden of Abdul Gasazi and authors like Chang, McCarthy, Murakami, and Tokarczuk are part of the exploration of that otherworldly narrative. I am an avid cinephile, so my output is likely impacted by the input of Mexican directors such as del Toro and González Iñárritu, and a lot of brilliant and creative Korean films like those directed by Yeon Sang-ho or Bong Joon-ho—these global intersections of culture probably influence my writing.
Oral storytelling is a different form of communication compared to comic books, literature, or film. Throughout my life, my mother would share stories about growing up in Okinawa. She would talk about being raised on the small island of Hamahiga with tales of dark and drippy limestone caves, rushing home from school before high tide (or face the consequence of an ocean-swim to get home), walking along the mountainside from one village to the other with her grandfather singing beneath the starry moonlit night, and sacred groves and noro priestesses. Okinawan stories mesh spiritual with supernatural.
So, the character development process for Ezra's Ghosts and my writing in general is influenced experientially by diverse multimodal intersections, which results in a bit of genre-bending and crosshatch.
NV: The town of Ezra is so vivid in these stories it becomes like a character itself. How is Ezra shaped by Lethbridge and your experience growing up and living in the prairies?
DT: Living in the southern Alberta prairies is humbling because it constantly reminds that the world does not revolve around you, rather you revolve around nature.
With this kind of sensibility, the land is a major character. This area has traditionally been agriculture-driven, with cyclical seeding in the spring; irrigating throughout the summer; and the fall harvesting of crops such as wheat and corn varieties, barley, canola, mustard, potatoes, and ranching in the mix. All work has time-honoured processes and cycles. Forces of nature are always on display, such as 100-kilometre winds that topple semi-trucks on the highways or storms that produce hail the size of golf balls.
And in the winter: days so snowy that work and school are cancelled; blizzard conditions that turn roads into black ice; drifts that reach upward to the roof; and frostbite and wind chill warnings. There is endless beauty, struggle, and bleakness on the prairies and countless potential in artistic beginnings within the southern Alberta quotidian. Ezra's Ghosts is couched in this kind of real, imagined, and potentially virtual landscape that can become a character.
NV: Characters like Angler and Saunder hide their violent sides behind beauty; Kosuke sees the prejudice lurking under Canada's promise of "all equal in the eyes of God"; and Cze and Anya hide their pain from their loved ones. What drew you to exploring tatemae and honne as thematic devices in these stories?
DT: I worked as a graphic designer and in the communication field for most of my career and with the Faculty of Education one of the platforms that I began researching over a decade ago was Twitter (primarily for professional development for teachers). Social media platforms often involve façade of some form or other. Façades are used for buildings to preserve the beauty of their aging exteriors but they also refer to the narrative people want to present of themselves to others.
In Ezra's Ghosts I wanted to explore the Japanese concepts of tatemae and honne which in short means the truth behind public display. Ezra's Ghosts reveals façades such as: the instance when a professor is revealed to be a murderer and a colleague whispers a line from Bashō: on the monkey's face, a monkey's mask; institutional strategy as part of an image-building campaign; and the public face associated with beloved physical structures like those in Paris where events of Skin Wars terrorism destabilizes the pre-established holographic façades of the Eiffel Tower and Arc de Triomphe thus revealing the truth beneath the illusion of beauty—deception, damage, and flaw.
NV: Being a student for the last decade, how do you balance academic and narrative forms of writing? Do they shape/influence each other, work against each other, or offer an escape/break from each other?­
DT: Somehow, the process of working on academic and narrative forms of writing projects in tandem works well for me. My first two novels were written simultaneously and out of necessity.
In Odori, I wrote about the Battle of Okinawa, which was one of the bloodiest campaigns of the Second World War. It was traumatic, and I found myself in tears at the keyboard many times.
In order to get through the writing process, I began writing Katie Be Quiet, which allowed me to fall into the world of lovely tea studies, light mystery and comedy, Beethoven's Moonlight Sonata, and a young reader demographic (with my daughter and her friends as ideal readers and personal advisors). Katie Be Quiet helped me get through Odori. Ezra's Ghosts had a similar relationship with my ongoing PhD studies.
NV: What did you enjoy about exploring the short story format?
DT: With the short story writing, there was the feeling of satisfaction in accomplishing one story at a time and having that creative process supported by publisher Matt Bowes and everyone at NeWest Press.
In addition, the writing of the short story format allowed the opportunity to explore diverse creative paths while tethered to the home base of Ezra—which served as the foundation for "arrivals and departures."
The format is a similar type of entertainment experience that I've always enjoyed, and that is the anthology structure developed for television and film series that can be seen, for example, in The Twilight Zone, the British anthology Black Mirror, The Ballad of Buster Scruggs, or Kurosawa's Dreams.
NV: Ezra's Ghosts was shortlisted for the Atwood Gibson Prize. What does it mean for your book to be chosen as one of the year's best in Canadian fiction?
DT: Because I often doubt myself and my work, being shortlisted for this award (especially one named after an iconic literary couple) means I have been gifted the momentary confidence to keep writing.
There is also a feeling of acceptance—important to a writer in a small, isolated space on the prairies. I feel it will impact my life and work going forward, but to be quite honest, I'm not sure how. I am so appreciative of everything that has happened to Ezra's Ghosts, but am mostly grateful to have shared the last few years with publisher Matt Bowes, editor Leslie Vermeer, and the wonderful Edmonton-based team that put it all together from beginning to end. I am so happy that Ezra's Ghosts has a forever home with NeWest Press.
NV: Do you see yourself returning to Ezra with new stories, whether to publish or just for yourself?
DT: I've noticed with the three books I've published that I miss the characters, the landscape, and the process of being in their different storyline worlds. For those reasons, I feel a yearning to return to Ezra (let's face it, sometimes the fictional world is better than the real world). But I can't say right now. I'm presently in a bit of an academic writer's block, which is impacting my current fiction manuscript, and I'm not sure if that is good or bad.
I'll be travelling to Okinawa and the Ryukyus in the fall for research purposes and am interested to see how/if being immersed in the Okinawan and Ryukyuan land- and ocean-scapes will impact the academic essay work and creative fiction projects. There will likely be a return to Ezra, just to experiment with some sort of imagined reverse migration.
NV: What do you hope readers will take away or stick with them after reading Ezra's Ghosts?
DT: I don't think I have too much expectation and that has something to do with a section in the book that I abide by on demystifying art. I suppose everyone would have a different experience with reading Ezra's Ghosts, and if a reader does engage with the book, my only thought on that is "Thank you for taking the time."
*This article was originally published in the Nikkei Voice on August 17, 2023.