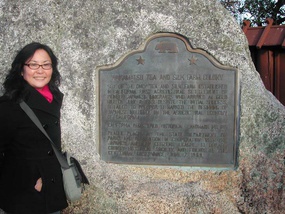 For the past two days, Okei's teeth chattered, all day and all night. It was as if a spirit had entered her body and she had no control over it.
"I don't want to die here, Sakurai ojisan," she said to her constant companion, Matsunosuke "Mats" Sakurai.
Both of them had joined the Veerkamp household after the Schnells had disappeared. Since Francis and Louisa had so many young children, Okei was supposed to help lighten the matriarch's load. As it turned out, Okei fell seriously ill with a high fever, creating an additional burden for the family.
Mats, who …