Book Club: Across Two Worlds: Memoirs of a Nisei Flower Grower by Yoshimi Shibata
JAMsj
535 North Fifth Street
San Jose, California, 95112
United States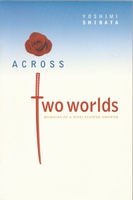 The book, Across Two Worlds: Memoirs of a Nisei Flower Grower by Yoshimi Shibata will be discussed at the Book Club of the Japanese American Museum of San Jose (JAMsj). Shibata, along with his family owns and operates Mt. Eden Floral Company, headquartered in Mt. View, CA. His daughter, Naomi Shibata agreed to join the discussion to share insights as a flower-grower's daughter.
Bill Hosokawa notes in the foreword: "Shibata writes much as he speaks . . . the real "Shimi" comes through in an unexpected manner. He is honest and genuine, and that is the charm of his story. Our history is enriched that he persisted in his writing, just as he persisted in everything he undertook in a long and worthy life."
The author shares principles for life and business such as his father's advice, "You have to be like a samurai -- Never, never, never, never give up" and one of his own guiding principles, "Play it straight. Don't cheat anyone to win." These are but two of the many inspirational lessons from Shimi.
Books are available for purchase at the Museum Store, Thursday - Sunday, 12:00 noon to 4:00 pm. Questions? Contact Book Club facilitator, Aggie Idemoto, aggieidemoto@gmail.com or call JAMsj at (408) 294-3138. The Book Club meets the first Saturday, every other month and is open to the public. Selections align with the Museum's focus -- Japanese American art, history and culture and are chosen collaboratively at the end of each meeting.

JAMsj . 更新日 2013年7月24日
---