The Life of Oharu Film Screening
Japan Society
333 East 47th Street
New York, New York, 10017
United States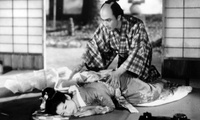 From the Japan Society website:
Introduction by Joel Neville Anderson, filmmaker/scholar, PhD student, Visual and Cultural Studies, University of Rochester
Donald Richie on The Life of Oharu:

"Based on a light and picaresque novel by the 17th-century writer Saikaku, the film takes a more serious view of the decline and fall of the heroine--from court lady to common whore. Yoshikata Yoda's script, Tanaka's performance as Oharu, Hiroshi Mizutani's art direction and Ichiro Saito's score—using Japanese instruments—help make this one of Mizoguchi's most elegantly beautiful films."
Richie introduced Kenji Mizoguchi through a retrospective at the Cannes International Film Festival in 1961. Set in feudal Japan,The Life of Oharu is Mizoguchi's harsh indictment of exploitative men and a system that victimizes women. Tanaka demonstrates extraordinary tour-de-force acting in her role as a woman at various stages of her life who is continuously affected by men around her. A testimony to the supreme craftsmanship of Japanese filmmaking, the film is based on Saikaku Ihara's novel Koshoku Ichidai Onna.
1952, 136 min., 35mm, B&W, in Japanese with English subtitles. Directed by Kenji Mizoguchi. With Kinuyo Tanaka, Hisako Yamane, Toshiro Mifune, Yuriko Hamada, Jukichi Uno, Ichiro Sugai.

Part of Richie's Fantastic Five: A Tribute to Donald Richie (1924-2013), Part 1

TICKETS
$12/$9 Japan Society members, seniors and students
Buy tickets online or call the Japan Society Box Office at (212) 715-1258, Mon. - Fri. 11 am - 6 pm, Weekends 11 am - 5 pm.
If you are interested in purchasing group tickets for the event (10 or more), please email f2@japansociety.org for information on our discounted rate.

APA_Institute . 更新日 2013年11月12日
---