PREMIERE and FILM Q and A—ATOMIC CAFE: The Noisiest Corner in J-Town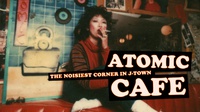 In the late 1970s, when L.A.'s punk rock scene was exploding, an unlikely family-owned restaurant in Little Tokyo started by Japanese Americans returning from America's WWII concentration camps became one of its most popular hang-outs. That's when Sansei "Atomic Nancy" with her "take-no-prisoners" punk make-up and demeanor took the café over from her parents and cranked up the jukebox. Infamous for its eclectic clientele—from Japanese American locals and kids from East L.A. to yakuza and the biggest rock stars of the day—the Atomic Café became an important part of L.A.'s punk rock history.
Now, the Atomic Cafe's life and legacy is highlighted in a new film by Tadashi Nakamura and Akira Boch that explores its many sides—from the 1940s opening to its last days on First Street. Join Nancy Sekizawa aka "Atomic Nancy", her daughter and artist Zen Sekizawa, Remy De La Peza, and Nakamura and Boch for a conversation in celebration of the Atomic Café.
WATCH THE FILM
September 24–30
The film will be available at a Pay-What-You-Wish rate for streaming from September 24 to 30 as part of Visual Communications' upcoming Los Angeles Asian Pacific Film Festival.
WATCH HERE

JOIN US FOR THE Q&A
September 27 • 2 p.m.
Click on the link below to watch the program live on JANM's YouTube channel on Sunday, September 27, at 2 p.m. (PDT).
WATCH HERE

This program is presented by the Japanese American National Museum, Little Tokyo Service Center, and Visual Communications, as part of the Los Angeles Asian Pacific Film Festival.



JANM . 更新日 2020年9月23日
---