Kokoro2021—Virtual Craft Show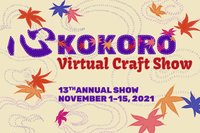 The 13th Annual Kokoro Craft Show is virtual again this year! Although the pandemic has prevented the in-person Kokoro Craft Show from occurring two years in a row, there will be more than 60 vendors this year, most of whom are new.
Shoppers can begin viewing vendor's products on November 1 for two weeks at the new website, www.kokorocraftshow.com.  During this special shopping period, buy products from the vendor directly and write "Kokoro2021" on all your orders. Organized annually by volunteers at JANM, Kokoro2021 proceeds benefit JANM's educational and cultural programs.
Keep an eye on the Kokoro website, Instagram, and 1st and Central JANM Blog pages for upcoming vendor spotlights.
New opportunity! Be recognized as a JANM and Kokoro supporter! Become a Sponsor at any donation amount! Visit the Kokoro sponsors page for more information.
VENDORS 
6 Degrees of Hapa • Alohi Images Maui • Alyson Iwamoto Ceramics • Bansai8 Creations • BIZU • Boy Cherie Jewelry  • Cato Crafts • Color Conscious • Creative Handcrafted Gifts • DaTojos • Designs by Eemabeth • Dr. Nancy's Felted Pets • Emi Ink • Flying Plumtree Studio • Harvest Land • Hug a Sumo • imoriknits • JapaneseYa • Katherine M Ragghianti • Kayoko Designs • Kelley's Kookies • Kiobi Designs • Kirei Cositas • Kotas Kreations • Laura Ann's Jams • Ling-Yen Designs • Little Craft Shack • Madame Sakura Crafts • masako boissonnault • Mi So Happi • Nakashima Fine Arts • Nami Creations • Norman Lurie Pottery • Oak Street Design • orangeheat • Pomegranate Designs • Sakai Harts & Crafts • SalvagedHealing • Santa Barbara Soups • Sente • sewKimono • Silky Hut • Simmisu Paper Co • Simply Sown • Sixtyeightcolors • SOLSISS Jewelry • Some Mo Crafts • Stacy Wong • STORY SPARK • Studio Engravers • Sun & Lace • Susan Griffin Designs • Sushi Clock • Suzye Ogawa Designs • Tenuiya • Tierra Murra • TLC Quilting • Tome Ceramics •Whimsical Charm • Wilcox • Wong Creations • YellowRose Accessories • Zazu Faure/Los Angeles
For more information, visit www.kokorocraftshow.com or email the JANM volunteers at kokorocraftshow@gmail.com.
Organized by the Friends of JANM.

JANM . 更新日 2021年11月1日
---