Norman Y. Mineta Celebration of Life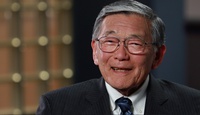 FREE
The Japanese American National Museum invites you to join in celebrating the life of Norman Y. Mineta, Chairman of the Board of Trustees. All are welcome either in person or online.
Photo Credit: Norman Y. Mineta during interview at Mineta Transportation Institute in San Jose, CA, March 2015. Courtesy Mineta Legacy Project.
WATCH LIVESTREAM      IN PERSON RSVP
SHARE YOUR MEMORIES
Please share any memories or messages about Norm here for the Mineta family to read.
MEMORIAL GIFTS
In lieu of flowers, the Mineta family invites you to honor Norm's memory with a contribution to the following organizations that held a special place in his heart.
Mineta Legacy Project, which produced the documentary film Norman Mineta and His Legacy: An American Story and continues to use the film and curriculum to educate students about his life and contributions.
JAPANESE AMERICAN NATIONAL MUSEUM
Japanese American National Museum, promoting understanding and appreciation of America's diversity through the Japanese American experience where he was the Chair of the Board of Trustees.
HEART MOUNTAIN WYOMING FOUNDATION
Heart Mountain Wyoming Foundation, dedicated to preserving and educating about the WWII confinement site where he was Honorary Co-Chair of the Advisory Council.
MINETA TRANSPORTATION INSTITUTE
Mineta Transportation Institute, whose mission is to increase mobility for all in the nation's transportation system through safety, efficiency, convenience and accessibility, where he was founder.

JANM . 更新日 2022年5月31日
---