Virtual Book Talk with Academy Award Nominated Writer Iris Yamashita
Virtual Event
California
United States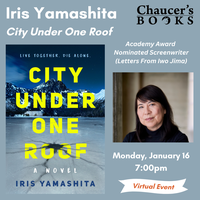 Oscar nominated Nikkei screenwriter Iris Yamashita will discuss her debut Novel City Under One Roof for a free, virtual book talk with Michael Takeuchi on Monday, January 16 at 7 p.m. (Pacific Time) via Zoom (https://us06web.zoom.us/j/84006664299)and YouTube Live!  (https://www.youtube.com/@chaucersbooks1901/streams ).
Description
A stranded detective tries to solve a murder in a tiny Alaskan town where everyone lives in a single high-rise building, in this gripping debut by an Academy Award–nominated screenwriter.
When a local teenager discovers a severed hand and foot washed up on the shore of the small town of Point Mettier, Alaska, Cara Kennedy is on the case. A detective from Anchorage, she has her own motives for investigating the possible murder in this isolated place, which can be accessed only by a tunnel.
 
After a blizzard causes the tunnel to close indefinitely, Cara is stuck among the odd and suspicious residents of the town—all 205 of whom live in the same high-rise building and are as icy as the weather. Cara teams up with Point Mettier police officer Joe Barkowski, but before long the investigation is upended by fearsome gang members from a nearby native village.
 
Haunted by her past, Cara soon discovers that everyone in this town has something to hide. Will she be able to unravel their secrets before she unravels?"
About the Author
Iris Yamashita is an Academy Award–nominated screenwriter for the movie Letters from Iwo Jima. She has been working in Hollywood for fifteen years developing material for both film and streaming, has taught screenwriting at UCLA, and is an advocate of women and diversity in the entertainment industry. She has also been a judge and mentor for various film and writing programs, and lives in California.
About the Host
Michael Takeuchi is a journalist and writer based in Santa Barbara, California.  He is also the events coordinator at Chaucer's Bookstore. 

Michaelgorotakeuchi . 更新日 2023年1月4日
---