I remember seeing an old black and white picture of my Japanese grandmother. We called her Momo. I would guess the year is 1960 or '61. She's wearing a belted dress of a soft floral print, little heels, tiny spectacles perched on her nose, and sporting a fresh perm in a short stylish cut. She's standing quite prim and proper-- on the bank of the bayou, holding a long cane pole, waiting for the catfish to bite, and ready to fling that poor creature up on the grass behind her.
This is a tale of two images: being born of one culture and growing up in another. Of hopes and dreams of a Japanese couple who wanted so much to be American. 100 years and five generations later, I'm sure my grandparents would be proud of how assimilated we all are.


Young, idealistic, and scandalous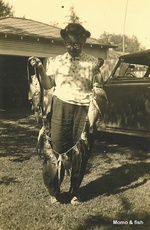 My family's American story begins in California. Manabu Kohara left Kitsuki, in southern Japan, at the age of 17. He had become a Christian and decided it was his calling to convert others. He arrived December 23, 1903 to attend divinity school in Berkeley. I never met him. He died before I was born. But my father, the youngest son, says my grandfather used to tell him about standing on the shores across the bay from San Francisco and watching the city burn after the 1906 earthquake. (Life goes full circle; as a journalist, I covered the 1989 Bay Area earthquake 83 years later).
Meanwhile, my grandmother was starting her own adventure (or her version of "Girls Gone Wild"). Her grandfather in Shizuoka, Japan, had grown quite fond of Western culture, and in the late 1800s was wearing foreigner's clothes and sleeping in a brass bed from Sears & Roebuck. One family story says he decided his eldest grandchild would go to America to learn Western ways. (The other version is that he looked around and said, "There are just too many grandkids underfoot!" and decided to ship her off to America. With two maids and her koto, Saki Shima left for America to fulfill her grandfather's wishes. Bad investment. Saki met Manabu, they eloped, the scandal got back to Japan, the maids were recalled and my grandparents were on their own.
Looking back, how much could two young newlyweds from Japan have known about the real world, a foreign world? Perhaps the idealism of youth propelled them. I can only speculate they wanted life, liberty, the pursuit of happiness without discrimination, a better life for their children. By all accounts their lives in Japan weren't bad, but there was a yearning to see beyond the borders, to learn more, to be different.
And so they roamed. A stint in a church in Denver convinced my grandfather he wasn't cut out for the ministry, so it was on to other Midwest cities. Several cities and five kids later, my grandfather was now a photographer. He was asked to go to Louisiana to photograph farm land. He took one look around, saw no Japanese and decided it would be a good place to raise his family, to become as Americanized as possible.
So in 1928, he loaded up the Model T and they headed south, settling in Central Louisiana. My father was five years old. Manabu opened a photography studio. Even in the midst of the Great Depression, it did quite well in Alexandria and so did my family. Growing up, I don't remember another Japanese family in the area. At the funeral of my uncle, also a photographer, I asked an elderly man who knew my family what my grandfather had been like. Did he stick out in the community? "Oh no, if you walked behind him on the street or heard him talk, you'd never know he was Japanese." Manabu became a member of the Rotary Club of Alexandria-- in the 1930's. He was accepted just as any Italian American, Cajun, German American, or Irish American immigrant was by the small, hard-working community. When you knew your neighbor and trusted him, it didn't matter what your heritage was.


Playing poker with the FBI
Growing up, I never really knew what happened to my family during the war, whether they were interned or not. I don't even remember studying it in school. Like many parents, mine chose not to talk about it. I had to come to California to learn that part of my history, where strangers answered many questions I never asked my own family.
My grandfather, Manabu, died just six weeks before Pearl Harbor, leaving my grandmother to run a thriving photography studio on her own. My father was called away from college to help run the business. When the government began sending the Japanese on the West Coast to internment camps, it also targeted my family in Louisiana. Federal agents came in and shut down the studio for a week while they looked at the books. The family was placed under house arrest. My father says he won a lot of money playing poker with the Federal agents while stuck in the house. The agents went through every piece of paper, with my grandmother directing them each step of the way. As I would later hear it, she also told them which pieces to throw away and which to keep, and in the process, got the agents to clean her entire house for her. In any case, once the government realized the family was sending two kids to college and one to medical school and no money was going back to Japan, they allowed the studio to re-open. And it became quite prosperous because of all the photography work needed by the area military bases.
It must have been such a strain on my grandmother –widowed at 47, a business to run, kids to console, no contact with her family in Japan. There was simply no time to grieve. Yet she never gave up.
My family, I've come to learn, was also very generous during that time. Japanese families visiting their loved ones incarcerated at a local base wouldn't stay in hotels, so my father says he often woke up to find 20 to 30 people sleeping on the floor. Nisei GIs from around the South often spent their leave in "Mrs. Kohara's big house in Alexandria". I would later meet a man who escorted several Japanese ladies to Louisiana, who thanked me for my grandmother's hospitality in an otherwise inhospitable time and place. My father was allowed to visit the internment camps in Rohwer and Jerome, Arkansas. He made many friends there, took pictures -- and was allowed to leave. I still don't fully know why.


A Southern Childhood
My father was busy running the photography studio, but apparently not too busy to notice a petite strawberry blonde around town named Maxine Merrel. They would raise five kids. Born in Arkansas, my mother was a country girl through and through, a crack shot and avid fisherman. My best days in kindergarten came when she'd drop off my sister at the front door of the church school, mumble something about a doctor's appointment for me, and we'd drive to the nearest bayou to go fishing. She always thought a day on the water was much more educational than coloring rainbows.
What was it like growing up in the South? Mine was not a childhood filled with prejudice. Not that there weren't isolated incidents. My sister Karan says she remembers a classmate twice her size saying something about our mother marrying a "Jap". In her loudest third grade voice, Karan asked the offending student to step outside, where she promptly shoved her in the dirt. She spent the rest of the school day sitting at her desk. And that was that. One thing about growing up in the South, didn't matter if you were Japanese or whatever, you stood up for what you believed and nobody, but nobody, said bad things about your mama.
My siblings were all well liked and respected. We were popular in school -– homecoming queen, basketball queen, Miss Alexandria Senior High. My brothers were expert hunters. People have offered to pay my younger brother, now a company president, if he'll teach them to call ducks. I never won any Miss Japantown pageants, but I entered the Miss Watermelon Pageant once. Wait a minute, I was Miss Rapides Parish Fair Queen.
I can't to this day think of a single time when I was singled out of a crowd or made to feel different from all the other kids. To my parents' credit, there was never a word said about what I couldn't do, just what I could do or have. Life was mine for the taking.
Oh, as an adult, I've been called names all right.
In my first television job in Montgomery, Alabama, my fellow reporters called me "Ayatollah Kohara" because, as the assignment editor, I'd load them up with stories to cover, often pushing them to do more and then telling them a girl could do it better. And at my next job, I know for certain I was singled out because of my race. The station executives decided to air a new show called PM Magazine and wanted an Asian co-host just like that beautiful and talented Jan Yanehiro they had met in San Francisco. And I was the only one who looked like her in the office. So I got that plum job, which in turn helped me land a job on the University of Alabama's football show, the first woman to co-host the show in the football program made famous by Bear Bryant. Yes, being different worked to my advantage more times than not.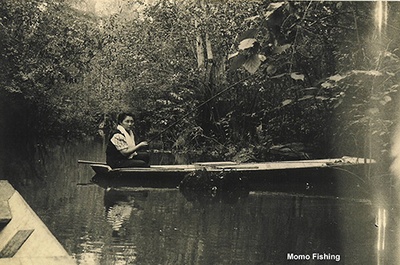 Isolated from Japanese culture
Not until I moved to California did I realize how isolated I had been from Japanese culture. I had a tiny kimono that my father used to dress me in to pose for pictures. My grandmother taught my mother to make sushi, using vegetables instead of fish. I didn't eat sushi in a restaurant until I was out of college, and promptly got sick because I wasn't used to eating raw fish.
I still remember an Asian American reporter who sat me down and gave me a stinging lecture about the term "Oriental". Didn't I know it was slang and derogatory and how stupid was I to have that on my resume under "Ethnic Background"? I just didn't know. "Oriental" was what I thought I was because that's what my American-born father said I was. It's what I was in Louisiana, but not in California. It was my first cultural wakeup call, and a hurtful one at that. But it got easier and the lessons more enjoyable. Bay Area journalist Wendy Tokuda invited me to her home for a New Year's celebration and fed me my first mochi. Ughhh. I was used to eating black-eyed peas and cabbage for New Year's. The texture was very chewy, like eating -- boudin, a Cajun delicacy (pig's intestine encasing a meat stuffing).
I have many to thank for my reverse assimilation into Japanese culture. Henry and Sally Taketa, prominent members of Sacramento's Japanese American community, took me under their wing, ignored my ignorance and patiently taught me how to pronounce Japanese names and understand Japanese history.


A Kohara diaspora
I have that wandering gene that moved my grandparents to strike out on their own, a curiosity that has served me well in both my personal and professional lives. It's taken me around the world, to television assignments in Asia and Europe. My family is holding a reunion this summer. 100 years of Koharas will gather in Las Vegas. But not just Koharas. There are now Couvillions, Broussards, Edwards and Fontenots. Schlichtings, Goddards, Rixmans and Cappers. And this will be interesting: my father's cousin, a Japanese woman who's now in her 70's, will make her first trip to the US to visit her American relatives. She, too, must be a curious soul. What in the world will she think when she meets this loud bunch of Asian Cajuns, as we like to call ourselves? I don't know, but I'm bringing my tape recorder. One hundred years later, and they'll still have something to talk about back in Japan.
* This article was originally published in Nikkei Heritage vol. XVI, no. 2 (Summer 2004), a journal of the National Japanese American Historical Society.