Editor's Note: This series of articles is taken from a diary kept by Nikkei Canadian Alyssa Erin Woo, then ten years old, during her trip to Japan with her grandparents.

Part 7 >>

Friday, July 15, 2005 – Returning to Katsumi-san's and Yoshiko-san's Place

We didn't wake up early enough to see the festival, because it was at 4:59 in the morning! We looked around and shopped for a while in some nearby stores and then took a train ride back to Shiida after lunch. The taxi driver wasn't very smart and he left to ask for directions to Katsumi-san's house with the meter ticking! The trouble in Japan is that they do not have many street names and house numbers.
Ba-chan took us to the houses where she used to live for a while. Today, Hatsumi-san lives there and we went to Nokotsdo where her husband's ashes were (Ba-chan's cousin). When we went to Ba-chan's other old house, Ba-chan said it was very different. The brick fence was replaced with a metal one and where the hot bathhouse was, is now a parking spot on their driveway.
For dinner, we were invited to a barbecue with cousin Fujye-san, Junichi, her son and his wife Chiyomi, Katsumi-san, and Yoshiko-san. I was afraid I would get eaten alive by mosquitoes (I was already covered with bites) but I was lucky it was inside a restaurant and there were no mosquitoes to bite me. We cooked our own meat and vegetables at the table barbecue. There was also a salad bar. I enjoyed the macaroni and cheese salad but it tasted different than the macaroni and cheese salad from Canada.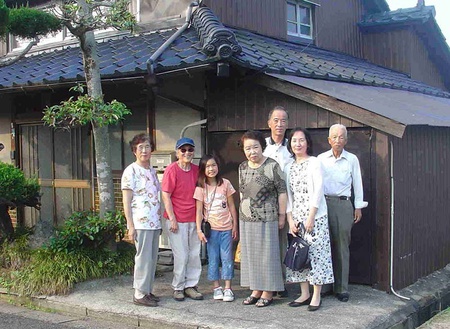 * * *
Saturday, July 16, 2005 – More Fun in Uruzu
Today, Yoshiko-san took Ba-chan, Ji-chan and I to swim near Shiida. At the pool, you have to wear a cap. Ji-chan went into the ladies change room with us by mistake and got in trouble.
We had a lot of fun swimming. I liked racing against Yoshiko-san who is an excellent swimmer and getting pulled around by Ji-chan. We had to get out after a while so they could test the water. We also met two grade 5 girls at the pool named Azuki and her friend. Ji-chan said that Azuki (red bean) is oishii (tastes good) and they giggled.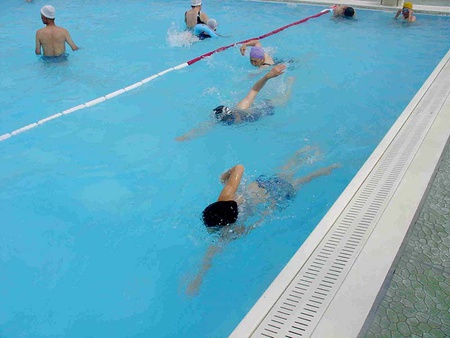 Today, I played a game at a fair where I had to catch a gold fish (Kingyo ). Ji-chan caught one for me and I took back 3 fish. Katsumi-san and Yoshiko-san were taking care of them, and then they brought them to Tazuko-san's place where she kept all of her goldfish. Now that is where they live. Their names are Kingyo-chan, Goldie and Flipper and Katsumi-san and Yoshiko-san say they eat the most!
We went to the Pacific Ocean too. I collected seashells there and gave them to Yoshiko-san.
* * *
Sunday, July 17, 2005 – Visiting Relatives in Uruzu
Today, Tazuko-san and her family took us to Joyfull for lunch. I ordered spaghetti and vanilla ice cream. I always enjoy my meals at Joyfull.
I received a pretty scarf from Michiko-san. It was red and purple and long.
We also went to cousin Tazuko-san's house for a visit. Tazuko-san gave me two Hakata dolls but Ji-chan said to take only one. I couldn't decide which doll to take because they were both so pretty so she told me to just put one under my shirt to hide it!
Another cousin Kikuo-san and his wife Kiyoko-san were at Katsumi-san and Yoshiko-san's house waiting for us. Kiyoko-san made me a beautiful kimono. I really liked it a lot.
We had a nice noodle dinner that night. There were two dishes: a spaghetti-like noodle dish and a chowmein with veggie noodle dish. They were both delicious!
* * *
Monday, July 18, 2005 – All the Way Back to Ninomiya
This morning, Ba-chan and Ji-chan and I left Shiida to go to see Uncle Kaku-san, his wife Eiko-san and daughter Emi-chan. Before the train came a lot of people came to see us like Katsumi-san, Kikuo-san, Tazuko-san and family, Fuji-san and family, Yoshinori and family and Yoichi Zuzaki family to say good-bye.
Yoshiko-san and Fujie-san came along with us on the local train to Kokura and said good-bye to us when we went on the bullet train to Shin Osaka.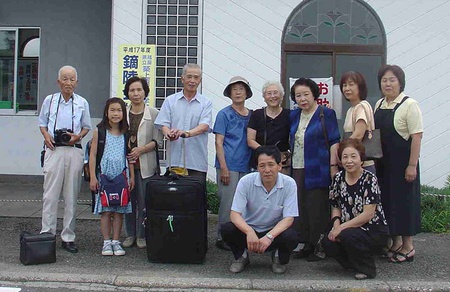 Kazuo-san, Fuku-chan and his mom Hatsumi-san came to say good-bye to us in Kokura. They gave me Bontan Ame (Japanese candy wrapped in a thin layer of rice) and Japanese toffee. These candies are yummy!
On the train, I tried to eat a Bontan Ame but when I tried to unwrap it, it was really sticky and I showed it to Ji-chan because I thought the candy melted or something. He said to eat the paper also because it is part of the candy and it's made out of rice. He also said he tried to do the same thing the first time he had Bontan Ame.
Alyssa - "What? Eat the wrapper?"
The Bontan Ame tasted like lemons but it wasn't sour. It was chewy candy. I also liked the Japanese toffee, which was chewy and creamy.
Ji-chan and I saw Ba-chan give away her food (rice crackers) to a stranger sitting beside her. When she fell asleep, I took a picture of her.
We got off at Shin Osaka. Then we transferred onto a regular train to Ninomya. I was reading the signs for Ba-chan because they were really far away.
We met Uncle Kaku-san and Emi-chan at the station. They drove us to their house where we met Eiko-san.
Emi-chan taught me how to make tsuru (crane) out of origami. We also made pianos, tables and chairs and made a nice living room. Then, I taught Emi-chan how to make a ball and a candy dish.
I helped Emi-chan make dinner. I cut the bread and made crabmeat spread. Ji-chan enjoyed it a lot but I didn't want to try it.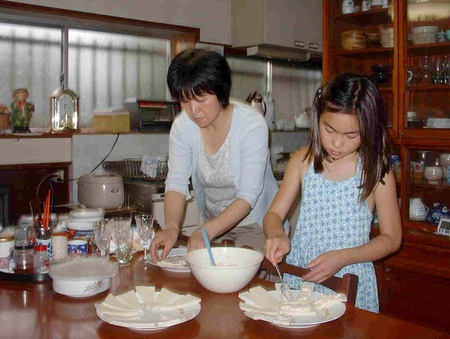 We also noticed the roads were really narrow. I wouldn't want to drive on these roads!
**All photographs are courtesy of the author.