There is something unique about being in the presence of one's Nisei grandparents. Maybe it is their years of life experiences, simply their wisdom, and/or their understanding how you feel when no one else does; but, whatever it may be, they are more than just individuals who allow you to have all the sweets you can possibly consume. They are teachers of cultural values. As I close my eyes, it seems like it was only yesterday, at the age of four, that I learned my few first and foremost important traditional Japanese values through my grandfather, Kay Kei Kusumi.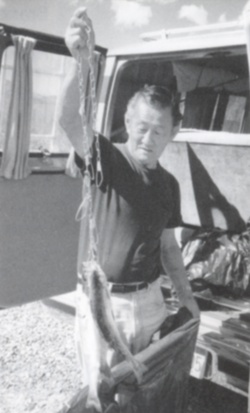 My grandfather was a serious fisherman, the type who would awake before the sun rose and finish fishing when there was not enough sunlight to find your way back to the car. I can remember as a child hearing his newspaper crumple and the clanking of his coffee mug at 4 a.m. It was his way of giving a wake up call for all those that wanted to go fishing with him.
On this particular day, as soon as I heard the first "crumple" and slightest "clank," I jumped out of bed with excitement. It was my very first day of fishing. I was only four years old. We packed our bento and off we went, arriving at Lake Mary in the High Sierras in Mammoth Lakes by 5 a.m. to claim my grandfather's favorite fishing spot. However, as the day began to wear on, I noticed that my excitement started to diminish as I realized that fishing was not what I had imagined. For some reason, my fishing line kept getting stuck in the trees above in the bushes and branches to the right and left of us; but that was not even the worst part. It seemed like every time I reeled in my line, it became so tangled and knotted that it resembled a bird's nest. I told my grandfather how difficult and boring fishing was. So, I set my fishing pole down on the ground and began searching for pebbles to throw into the lake. Eventually, I noticed that my grandfather had picked up my fishing pole, untangled the numerous knots, and had the fishing pole waiting for me to return.
As I walked towards my grandfather, he gave me a slight grin, put his hand on my shoulder, and laughed as all the pebbles fell from my hand as I reached for the fishing pole. Together, we sat, each with our pole in hand. As we sat there for a bit longer, enjoying one another's company, my pole began to bend. It was my first fish. This day was not only my first fishing lesson but also my first lesson of traditional Japanese values.
One day I asked him why he had chosen to teach me through fishing and silence. He said that he felt that fishing contained many of the Japanese values he was taught as a child by his Issei parents. Therefore, he decided to utilize fishing as a way to convey cultural values so that I, as a Yonsei, would come to understand them someday. He extended our conversation by saying that sometimes when you discover things without being directly told, they hold a greater meaning. On a more emotional level, he explained to me that one of the reasons he utilized silence as a learning mechanism was that he was preparing me for the days that he would no longer physically be with me. He said that he had hoped one day, when I was in search of answers regarding moral issues, I would be able to close my eyes and find the answers within myself, and he was absolutely right. This was the best gift that a Nisei grandfather could ever give his Yonsei grandson.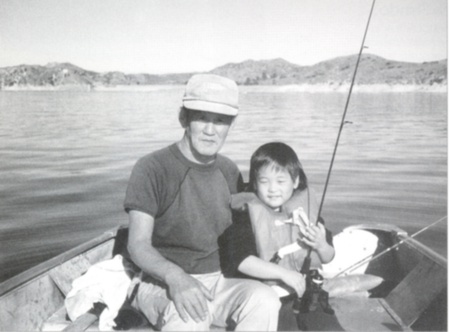 As a young adult, I think back and am simply amazed how my grandfather taught me so much about the Japanese culture in such an unconventional way. He did not yell or scold me for giving up or for throwing pebbles into the water, nor did he mind that my mistakes were taking time away from his fishing. I viewed firsthand the significance of patience through my grandfather's willingness to teach his grandson, without saying a single word, as well as the value of persistence through catching my own fish.
While he is no longer here to guide me physically, the knowledge he embedded in me still runs strong. Years after his passing, my family and I returned to Mammoth Mountain because my mother said that it is important to uphold the tradition of our annual fishing trip where my grandfather had started. I soon realized that every time I sat patiently trying to untangle a child's fishing line, watched my younger brother throw pebbles into the lake, or simply felt the vibration of the fishing pole when reeling in a fish, I was reminded of my grandfather and all the things that he had taught me.
On one particular evening as I walked past a mirror in the cabin that my family and I used to always stay in with my grandfather, I swore I saw his reflection. I have always kept that experience in my mind, and in time, I have realized that the reason I saw his reflection was because he is a part of who I am. While I cannot physically be in his presence, or hear his voice any longer, as the young man that I have become, I understand that, he, along with the Japanese values he taught me, lives on inside of and through me.
* This article was originally published in Nanka Nikkei Voices: The Japanese American Family (Volume IV) in 2010. It may not be reprinted or copied or quoted without permission from Japanese American Historical Society of Southern California.