Returning home in October 2016 from Japan reminded me of how much my dad, Yoneto Nakata, loved me.
Even though his life was cut short, he had accomplished so much. My dad was a World War II veteran of the U.S. Army. He volunteered for the Military Intelligence Service, a top-secret unit of the Japanese American soldiers fluent in the Japanese language, while his cousins were shipped to Jerome internment camp.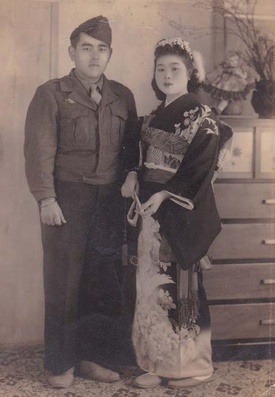 After WW II, Dad met and married my mom, Yaeko Niikura, in Japan, where he worked as a civilian interpreter for Gen. Douglas MacArthur's government. I was born later in Asakusa on New Year's Day of 1948. They left for America in search of a better life while I stayed in Japan with my grandparents.
Before Dad left for America, he recorded my birth in the Japanese registry. Dad suddenly died at the age of 29 in California on May 28, 1948. He left his wife a widow at 21 in America and his only daughter, Mary, just six months old in Japan. Life would change for me.
I was 2 years old when Mom brought me to America. Mom remarried with a new husband and a baby sister for me. Once I got older, my mom began to talk about my dad and showed me photos of him, his relatives, and his military documents. One photo was Dad's funeral at Evergreen Cemetery in Los Angeles. I saw an American flag draped over a casket with several Nisei soldiers standing at attention and my mom in black, looking so somber and stoic. His American flag was passed to Mom and eventually came to me.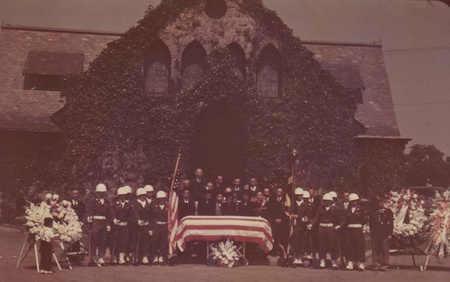 After Mom's death, I collected my dad's military medals, met many humble and courageous Nisei veterans from Go For Broke and wrote stories about my dad in The Rafu Shimpo, the Japanese American National Museum, and Discover Nikkei. Writing helped to fill the emptiness of not having dad there for me.
Dad missed attending my graduations from high school and college, becoming an elementary school teacher, walking me down the aisle on my wedding to John Sunada, and seeing his grandsons, James and David. These are accomplishments that my dad had hoped for me. I realize that my strength, courage, and fortitude came from my parents, especially Dad. I would not change a thing. I have learned more about myself through knowing them.
With the help of my husband and his cousin, Masahiro Sunada, in Hiroshima, I was able to obtain my koseki, locate my dad's only living 90-year-old cousin, Sayoko Dehari, and the ohaka (grave) of my dad and his parents, Suetaro Nakata and Rie Dehari.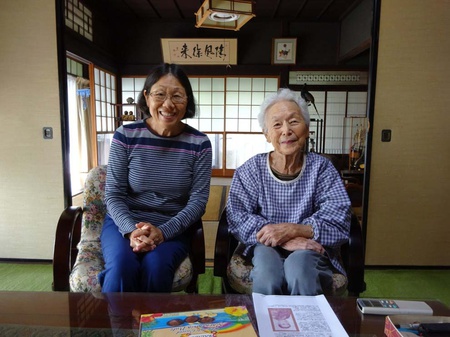 Masahiro found out that my dad's ohaka, located at the Renkoji Temple, had not been visited for a number of years and their ashes were earmarked to be moved into a potter's field. My heart was crushed and broken to know that Dad was abandoned by his relatives. I would not abandon him too.
Being a Jodo Shinshu sect member and having Rev. Mutsumi Wondra's letter of introduction from OCBC (Orange County Buddhist Church), I was welcomed as a member of the Renkoji Temple. The priest then performed a memorial service for the Nakata family. My wish was for Dad's ashes to be brought home to America and to leave my grandparents' ashes in the ohaka. Dad's 90-year-old cousin was delighted that I was bringing Dad home.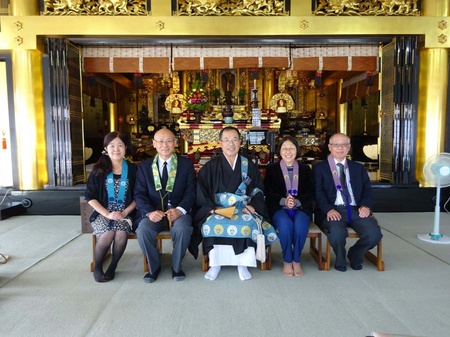 Finally, I was granted all my wishes. Being a member of the Sunada family, Masahiro promised to visit the ohaka for me. My heart became filled with gratitude, appreciation, and love.
Now, it's my turn to take care of Dad in America. I had purchased two plots—one for myself and my husband and the other for my beloved ones—at Rose Hills, CA in 2004. The marker on the first plot reads "Beloved Grandmother, Kichi Niikura" who cared for me in Japan, and "Beloved Father, Yoneto Nakata." Knowing that my dad will be buried next to me when I pass on will give me comfort that I will see him in the next life.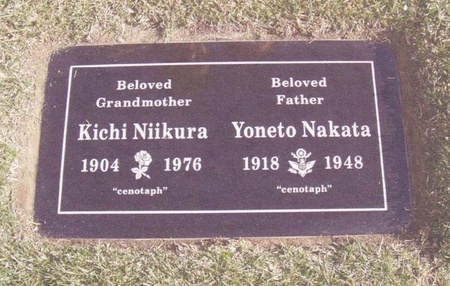 After reviewing my koseki and talking to my dad's only cousin, I realize that I am the last of the Nakata family. My bloodline end with me. Yet, I have found a loving family who helped me bring Dad home and welcomed me whole heartily into their family, the Sunadas. My life has come to a full circle and is now complete with a happy ending.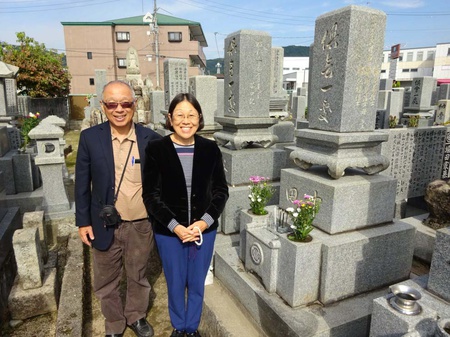 * This article was originally published on The Rafu Shimpo on December 7, 2016.