For this time of Ramadan and in honor of the longstanding, ever-building relationship between the Japanese American and Muslim communities, I thought I would so very gratefully share this space with one of my own pieces alongside poetry from one of my community sisters, traci ishigo—a super wonderful creative organizer, trauma-informed yoga instructor, and inspiring spirit.
We are both steering committee members of VigilantLOVE—a creative coalition fighting against Islamophobia and in love, solidarity, and community with the Muslim community and beyond. The day of release for this month's column coincides with an Iftar (breaking of the fast) celebration we are sharing in support of a longstanding program called Bridging Communities, that brings together JA and Muslim college students in a Solidarity Arts Fellowship. So we bring you our pieces, In Community, on this special day…please enjoy.
—traci kato-kiriyama
* * * * *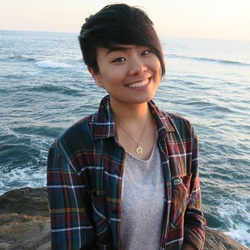 traci ishigo is a creative community organizer and trauma-informed yoga + meditation healing practitioner, informed by the personal, the Japanese American experience and her work within diverse communities. traci is a co-chair and steering committee member of #VigilantLOVE, a community-based network dedicated to organizing grassroots solidarity and movement to protect the safety and justice of communities impacted by Islamophobia and violence.


In community
In community,
I found language
For the question
I didn't think I should say.
You grow up watching mainstream media
And wonder,
Why isn't my family that way?
It'd stay just a feeling
When it can't be helped—
Shikataganai,
I thought some things would never change.
In community,
There is a natural gravitation
To help you wonder
Less and less.
My parents found the sangha
And I found food at its best.
It could make a kid feel proud
To look at that potluck table,
And love all the gochiso
No one could make fun of.
In community,
I found the elders and leaders
Who made me proud to be JA.
It wasn't all about the basketball
Or the refreshment table.
I met Japanese Americans
Who didn't shy from the questions.
There was an openness for difficult truths,
And reasons to remember.
Generosity arrived in helping me see—
Just why we should fight
In honoring our history.
In community,
I began to gravitate home more
Holding curiosity for people
I'd seen everyday
For the first eighteen years of my life.
I began to carve out space
For the challenging questions
With hopes that there were lessons
About where I come from.
My mother asked if I'm a liberal
My conservative father laughed and told her
"She's not even that."
Shikataganai, that's true.
I am radical, progressive and amazed—
I still belong at home
While being so different.
In community,
I have found
There is freedom for fluidity,
And change.
My beloved community is
Nikkei,
Colorful,
Vibrant,
Queer,
Trans,
Muslim,
Buddhist,
Interfaith,
Elderly,
Young,
Disabled,
Immigrant,
And most of all,
We are safe
To be here.
* This poem is copyrighted by traci ishigo (2017)
* * * * *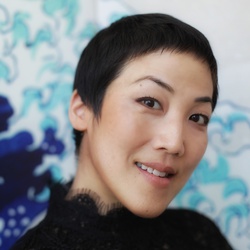 traci kato-kiriyama is an award-winning artist, community organizer, and cultural producer; an educator/facilitator; Teaching Artist-in-Residence for Grand Park; Arts & Culture Consultant for NeighborWorks America; Director/Co-Founder of Tuesday Night Project; and is a member/staunch supporter of groups and initiatives including Nikkei Progressives, Okaeri Nikkei LGBTQ Network, and the Budokan. As a steering committee member for VigilantLOVE, she recently conceived and co-created (with Kathy Masaoka, Sahar Pirzada, and traci ishigo) a re-write of the Civilian Exclusion Order of Instructions to All Persons of Japanese Ancestry (performed for the 75th anniversary of E.O. 9066 at this year's Manzanar Pilgrimage).


In Community—or—Letters to Taz
(in response to a poem by Taz Ahmed, titled "If Our Grandparents Could Meet—dedicated to all my JA allies")

Dear Taz,
I'm trying to read about the concentration
camps outside of Lahore that held
your grandfather
I comb through and curse
the internet for being a storyteller
without a soul
I find bits and bytes of information
that build a shell of a structure
too sterile to house your family's truths
Only,
once in awhile,
I find it's better this way
To find less, hear less, know less
…when my mom tells me yet another tale
of a time the government broke my grandpa's heart
I wonder if you ever feel like me and wish, even for
a moment, to turn down the volume on noise
that sounds too fresh to ever age into closure
When a memory that is old and belongs to the dead
only makes their moment of heartbreak
land like rusted nails on the tip of my tongue
It is a taste I cannot release
Do you ever feel this?
I believe it is a taste you know too well
With Love,
tra
-----
Dear Taz,
I find myself wondering
with each word I read
of the poems on your family—
What would it have been like to
introduce our grandparents?
Did your grandma have a hearty laugh?
Did your grandpa like to drink?
It would've been fun to see them squat
against the sun
and share the shade
of their fleeting respite
And exchange bits of wisdom
in meditations, chants, and duas
And take in the wine
of better memories
And yell toward the devils
of another man's heaven
And speak of grandkids who
would someday make them proud
And know that their future
really did have something to
look forward to
Love,
tra
-----
Dear Taz (and all our "Other" Fam),
I've been meaning to ask you
If you know where to find me
I wanted to remind you it is right here
In community
It was good to meet
Through the introduction
Of Solidarity
(Mind / Virtue)
Through the respect
Of our
Difference,
The sense i find in
Oneness not Sameness
We live through this time
Trusting
Fighting
Being
In community
In kinship
In friendship
In sisterhood
In humanhood
In
(Heart / Soul)
In
This
The palm of your hand
That holds my number
For you to memorize
A couch
And a ride always
Ready
In
The street
Where you will
Be flanked
By two of us
On either side
As we march
As we stand in vigil
As we walk in strength
Whenever you need
I will take
The warnings
The orders
The imaginings
They are
For us to carry
When they are too heavy
A burden
To swallow with your
Daily bread
In Love and honor and fire,
tra
* This poem is copyrighted by traci kato-kiriyama (2017)