Both Kazuko and Takeshi continued working in Kobe and financially supporting the education of Kazuko's younger brother and sister till they finished high school. After graduating, Kazuko's younger brother and sister returned to Canada around 1955. First the younger brother worked for a lumber company and then for Nelson Chocolate in Vancouver. The sister did housework.
Eventually, Takeshi lost his job in Kobe. In 1958, Kazuko's younger brother and sister invited Kazuko and Takeshi to join them in Canada. Takeshi also wanted to move to Canada at that time, but due to immigration law Kazuko had to move there first and work fulltime for a year in order to qualify to sponsor him as an immigrant.
Almost all of Kazuko's female Japanese Canadian friends in Vancouver were employed as house-workers because it was very difficult for them to find other kinds of employment. She also did housework at first, but wanted a better job, so used her rare days off to search for work at the various department stores. The effort paid off and within a couple months of her arrival she was able to get a job at the Hudson's Bay Company department store, which was a great surprise to both her and her friends who couldn't believe it was possible for a Japanese Canadian to get such a job.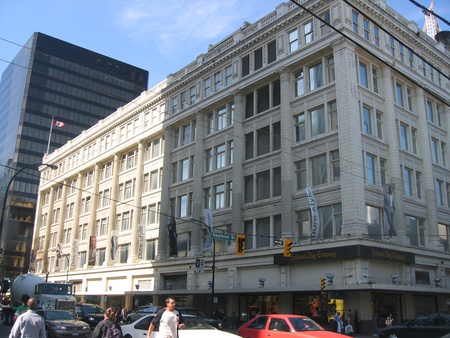 First, she started as a part time seasonal worker for the Christmas shopping season, but her manager was impressed by her work and soon hired her fulltime. He told her she was so efficient she could do the work of two people. She never experienced being laid off and continued working for Hudson's Bay at various locations around Vancouver for thirty-four years. Her first job was invoicing new merchandise that had just come in, but soon she was doing machine work making price tags, tickets, etc. At that time she still felt that her English was not good enough so she really studied hard. In addition, her work gave her the opportunity to practice speaking English all day. Next, she worked at pricing items for the drugs section. She had to go to work very early in the morning to price the medicines and drug items before the store opened. She recalls, "It was very hard work, but I did it. I'm a person who hates to lose."
She successfully sponsored Takeshi as an immigrant in 1959, a year after her own arrival. She wanted to also sponsor her mother, but due to immigration laws she was unable to do so until three years later when her mother turned 55. Her mother did not want to be in Japan by herself, so they left Kazuko's first son, who was 6 years old, with her. When he was 9 years old, he arrived in Canada together with his grandmother and the family was reunited.
Kazuko gave birth to a daughter in Canada in 1962, ten years after the birth of her son. She recalls feeling very sick every day but didn't know she was pregnant until her doctor told her. She continued to feel sick almost all the time and had to go to the hospital emergency ward often. Her doctor warned her that if she continued to work so hard she might suffer a miscarriage, and she began to occasionally miss work due to illness. At one point, the assistant manager of her department threatened to fire her if she was absent one more time. Perhaps because she felt confident that she was well liked by the senior manager, she stood up to the assistant manager and told him that he wasn't her real boss, and that she would talk directly to the senior manager. When she went to the senior manager, he told her that if she was sick it was fine to take time off and come back whenever she wanted. Fortunately, after that she no longer needed to take any more days off, so it never became a problem again.
Next, she was transferred to the Hudson's Bay branch at Lake City in Burnaby (suburb of Vancouver). As there was no bus route there at that time and she was the only one who could drive, she used to give other employees a ride to work. She worked at Lake City for quite a long time. Then the Bay built several other branches, including one near her home, and she worked there until they closed that branch and opened a new one at the Metrotown Shopping Center in Burnaby. Soon after that she became very ill and was diagnosed with genetic diabetes and polymyalgia, so retired at the age of 58. Due to her illness, she started to exercise seriously, eventually became healthy and strong, and went on to lead a very active life in retirement.
To be continued...
* This series is an abridged version of a paper titled, "A Japanese Canadian Teenage Exile: The Life History of Kazuko Makihara", first published in The Journal of the Institute for Language and Culture (Konan University), March 15, 2019, pp. 3-20.