As a young man in Onomichi, Kazuko's husband Takeshi got experience writing for a religious sect called Nanmyo Horen Gekkyou, which helped him become a very skilled writer in Japanese. Soon after moving to Canada his writing talent was discovered by his friend Gordon Kadota who was the founder of the Geppo (a monthly magazine of the Vancouver Japanese Canadian community called The Bulletin in English). For many years Takeshi wrote the Japanese section of the Geppo every month as volunteer, and was very busy with this 3 or 4 late nights each month.
Then a gardening job opened at the Japanese Consul General. At first, it was for only three days per week and was only seasonal, but eventually he got hired fulltime. When his writing ability was discovered, he became the main speech writer for the Consul General, who also utilized his artistic talents and got him to make PR posters for various events. He really enjoyed this job and through it made many friends in Vancouver. He also put his numerous skills to work at home, doing all the house renovations and creating a beautiful garden in the yard. He continued working for the Japanese Consul until age 65, retiring in 1990.
By then their five-bedroom house was too big for them as their children had grown up and Kazuko's mother had passed way, so they sold it and moved to a townhouse. Takeshi spent much of his time in retirement playing golf. Kazuko remembers him as a person with a good sense of humor who would think carefully before speaking, was considerate of others, and did his best to serve them. In 1996 he was awarded the Order of the Rising Sun (旭日章) by the Japanese government for his years of service in the Japanese Consulate. He passed away in 2014.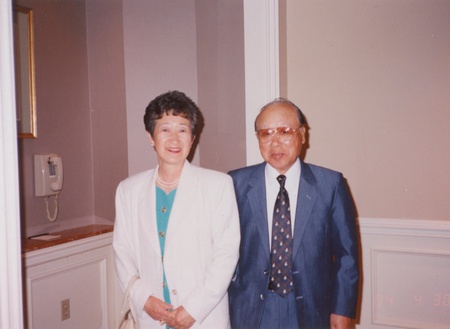 At about the time of Kazuko's retirement, her mother, for whom she had been caring, passed away from breast cancer. As mentioned above, Kazuko herself became very ill from diabetes and polymyalgia, but gradually exercised her way back to good health. Takeshi was "golf-crazy", and he made her learn golf. She says, "I cried but I learned how, and later came to enjoy it." Her first private golf teacher said she would never be a golfer, but her second teacher was good and helped her improve her golf skills a lot.
Her son lives nearby with his wife in the Vancouver suburb of Richmond where is president of a consulting company. Her daughter graduated from the University of British Columbia in Vancouver and now lives in Japan where she is in charge of human resources at a major international theme park.
Now Kazuko goes to exercise classes near her home twice a week "with young people, not seniors" and also does line dancing at the Bonsor Recreation Center in Burnaby on Wednesdays. She keeps a very full schedule and notes that she is rarely home during the day. She also helps with Bingo for two hours on Saturday mornings at a nearby retirement home. In the evenings she walks a lot with her friends. She also volunteers at the Nikkei Centre (the Iki Iki program for seniors fighting dementia). She was originally taking Takeshi to this program until he passed away in December of 2014.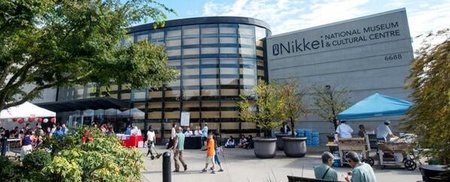 Following her daughter's advice that she get out and do some volunteer work in order to stay active after Takeshi's passing, she first volunteered at Tonarigumi (a Japanese Canadian volunteer organization Vancouver) for over a year until her volunteer work there conflicted with her line dance schedule. Then she met the leader of the Iki Iki program at the Nikkei National Museum & Cultural Centre who asked her to volunteer there all day once a week. Because she is so active and energetic, many of the people in her apartment building and the people she volunteers with think she is still in her 70s. Since suffering a heart attack in 2018, she has had to reduce her activities but still volunteers and exercises regularly.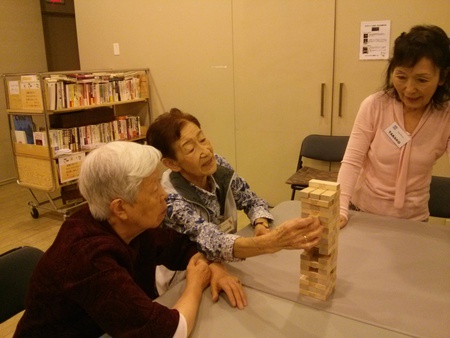 Presently Kazuko is living in an
independent-living
seniors' apartment. She decided to move there soon after Takeshi passed away. She loves her present residence as she is treated very well by the staff and those around her, and she really enjoys socializing with the other residents.