Fred Shiosaki was a remarkable man who led a remarkable life. We are deeply saddened to learn that he recently passed away — but incredibly grateful for the legacy he left behind and his generosity in sharing his story with us and so many others. We offer this tribute in honor of Fred's memory and in celebration of his life.
Fred Akira Shiosaki was born on August 23, 1924, in the Spokane area community of Hillyard, Washington. The fourth of five children to Kisaburo and Tori Shiosaki, Fred grew up helping out at the family laundry business. He was 17 when the Japanese attack on Pearl Harbor brought the U.S. into World War II. He later recalled hearing the news over the radio just before breakfast on December 7, 1941, and a "vulnerable" realization that, despite being a U.S. citizen, "Mom and Pop were Japanese, and so I guess that made us Japanese."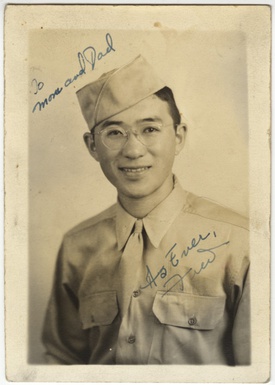 The Shiosakis weren't among the 125,000 Japanese Americans forcibly removed and incarcerated during WWII, as Spokane was outside of the West Coast "exclusion zone." But Issei community leaders began to disappear as they were arrested by the FBI after Pearl Harbor. Fred — then a high school senior and the yearbook photo editor — was reprimanded for taking photos of his high school by a "menacing-looking" FBI agent and had to give up his photography duties. He tried to enlist in the army as soon as he turned 18, but was turned away because Japanese Americans had been reclassified as "enemy aliens" ineligible for military service shortly after Pearl Harbor. He attended Gonzaga University until he was able to sign up for the all-Japanese 442nd Regimental Combat Team and was inducted in August 1943, just nine days before his 19th birthday.
Fred went through basic training at Camp Shelby in Mississippi, where he shared many of the common 442 experiences: confusion over where Nisei soldiers fit within the highly segregated racial hierarchy of the Deep South, initial tensions between 100th Battalion volunteers from Hawai'i and mainland Japanese Americans recruited out of the concentration camps, and an eventual sense of comradery between the men as time went on.
Fred's Densho interview was one of about a dozen we shared with author Daniel James Brown as he was considering protagonists for his book, Facing the Mountain. From those, Brown selected Fred's story to help tell the wide arc of the Japanese American story. Here, he recreates a scene from Fred's journey from Mississippi to the European front:
"Standing at the railing of his Liberty ship, looking across the water, Fred Shiosaki thought the scene around him looked like a city afloat on the sea. The vessels carrying the 442nd had joined a much larger convoy, and now more than ninety other ships surrounded his, extending all the way to the horizon in all directions. The troop transports were clustered near the center of the convoy. Navy destroyers and cruisers protected the flanks, shepherding the rest of them across the sea, guarding them from the packs of German submarines that they all knew might be lurking anywhere below the waves. Barrage balloons flew from many of the ships, the steel cables tethering them to the ships designed to chop the wings off any German aircraft that might attempt to dive- bomb or strafe the convoy. By day, porpoises cruised alongside the ships, riding the bow wakes. From time to time, whales surfaced among them— exhaling long, sonorous plumes of spray. Enormous, undulating jellyfish, white and pink, floated by. But Fred liked standing at the rail best at night. Then, under vast black skies, the sea itself lit up beneath them as they slid over its surface, millions of phosphorescent organisms glowing green under the bow of the ship, each vessel etching its own faint trail of light across the sea. It was, Fred thought, one of the most beautiful things he had ever seen."

— from Facing the Mountain by Daniel James Brown, to be published on May 11, 2021 by Viking, an imprint of Penguin Publishing Group, a division of Penguin Random House, LLC. Copyright © 2021 by Golden Bear Endeavors, LLC.
Fred was part of the famous rescue of the "Lost Battalion" — one of just 17 men in K Company who were still standing at the end of the brutal six-day battle. And he wasn't afraid to describe the traumatic effects of this experience on himself and his fellow soldiers, telling Tom Ikeda in a 2006 Densho interview, "it was part of my psyche for a long time." After the war, he returned to Spokane and graduated from Gonzaga University with a degree in chemistry. He married Lily Nakai in 1955, and had a long and distinguished career in environmental advocacy and public service, as the founding director of the Spokane Air Pollution Control Authority and chair of the Washington State Ecological Commission from 1990 to 1998. In 2011, he was awarded a Congressional Gold Medal for his WWII service in a ceremony at Washington, D.C.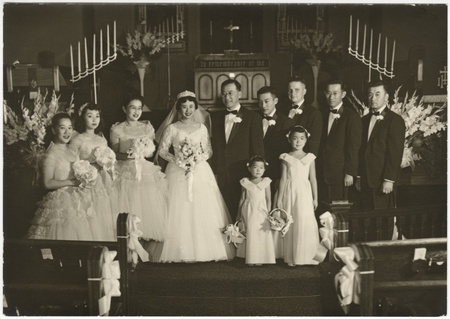 We're honored that Fred shared his story with us, and comforted by the knowledge that his story will live on and inspire others. In the words of Densho Executive Director Tom Ikeda, "Fred Shiosaki truly was a remarkable man. I remember how easily he made me feel comfortable with him when I met him for the first time. I was captivated and felt so honored as I heard his story. Fred was not only special to me, but will continue to be special to many others."
*This article was originally published on the Densho Blog on April 15, 2021.