"My true understanding of art began when I met Koko at the Vancouver School of Art so many years ago. By listening to what she had to say and watching her work, I learned that making art meant going beyond the obvious and searching for something more, and I've tried to stay on this path ever since. Amazingly, after all these years, her total dedication to dancing and to making beautiful art has remained undiminished, and has been an inspiration. Sharing work and staying connected is something I treasure."

—Ottawa artist and friend Norman K. Takeuchi, whose Long Division show runs until November 4th at the Karsh-Masson Gallery
Ah, 1994…
When I trip back to that year, I am always reminded fondly about life in the Kootenays, when several Nisei who experienced the internment were still living there. I recall living in Keith Kessler's Lemon Creek Lodge, driving north along Highway 6 through fields of wild fuki, the mountains, valleys and lakes that envelop the villages of Kaslo, New Denver, Slocan CIty, the City of Nelson, and, now largely forgotten place names of Japanese Canadian internment camps: Bayfarm, Popoff, Sandon, Lemon Creek, places that Canada would prefer to erase from memory.
Flashback: I remember the opening date of the Nikkei Internment Memorial Centre (NIMC) in New Denver in the summer of 1994. The lives and experiences of my Japanese Canadian friends there were finally being recognized and appropriately honoured, and it felt good to be a Japanese Canadian (JC). My dear friend, Japanese teacher Chie Kamegaya (she taught my aunts in Strawberry Hill), was there. She would pass away soon after that, as would my good friend Pauli Inose whose family roots are in Hasama, Miyagi, close to where I was headed to teach. Thankfully, friends like Sakaye Hashimoto (Bronwyn) in New Denver and Ian Fraser (Tamara) in Kaslo continue to do their good work.
After the opening ceremonies, there was a gathering on Tsuneko and Paul's magnificent property that slopes down towards Slocan Lake which it overlooks. The newly purchased property, some of it clear cut, was still in transition. John Greenaway's taiko band performed against a backdrop of mountains and there was a spirit of renewal. I remember Tsuneko showing me around and noticing an old bathtub that was strategically placed to take in the panoramic view, overlooking the glassy lake that runs into a wall of mountains where I had heard tell that grizzlies roamed freely. I imagined soaking in that tub and taking it all in.
Thirty years later, Tsuneko and Paul have sold that property yet remain in nearby Silverton. Tsuneko, like her former classmate and friend at the Vancouver School of Art (now Emily Carr University), Ottawa artist Norman Takeuchi, remains an intensely prolific artist whose ongoing exploration of the creative possibilities of various media continues to inspire new generations of artists.
Of Light Itself is showing until October 16th at the Langham Galleries in Kaslo, BC.
* * * * *
Why A retroPERSPECTIVE now? Any special meaning behind the title?
The title of the show Of Light Itself refers to the importance of light in painting and in life itself. I am very grateful to independent curator Maggie Tchir, who instigated the idea of a retrospective and worked so hard to make it happen. It is a retrospective but I called it A retroPERSPECTIVE, because my first paintings were from the fifties which is a popular "retro" period these days.


When did you know that you wanted to become an artist?
As a kid I just loved to paint - nothing more than that.


You are the only Nisei artist that I know who spent a lengthy amount of time in post WW2 Japan. How did that experience affect you as a budding artist? Even today?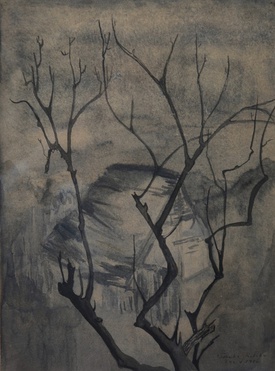 Actually I am Sansei. My father was born in Steveston, BC, and so was I. As a young child of three I was visiting my grandparents in Japan when internment happened, so I was stranded there. My mother, Eiko, and sister were interned in Lemon Creek, and my father, Hideo, incarcerated in Angler, Ontario (POW camp). At the time I was just a child growing up, but all experiences and memories of childhood are influential later in life. I was also schooled in calligraphy in Japan, as were all the other children. This made me very familiar with the brush.


Where in Japan did you go back to?
I did not 'go back' as I was going there for the first time at the age of 3. My grandparents were going to visit Japan, and they took me with them to a village in Shiga-ken, supposedly for a few months. Then, the following year, internment happened in Canada.


Can you please talk a bit about Japan? How many years had you lived there? What are your memories of life there? Was coming back to Canada difficult?
I lived in Japan from age three to 15 years. After the war and the 'second relocation,' my parents came to Japan to reunite with me. We stayed there until we were permitted to return to Steveston. My father returned to being a fisherman. Memories of Japan are multifarious. It was a struggle for my grandmother, single-handedly raising a wild child in a small Shiga-ken village in wartime. Coming back to Canada was a difficult adjustment - from war-torn Japan to the flat fields of Steveston. I felt lonely, but curious about this very different culture which was also my birthplace.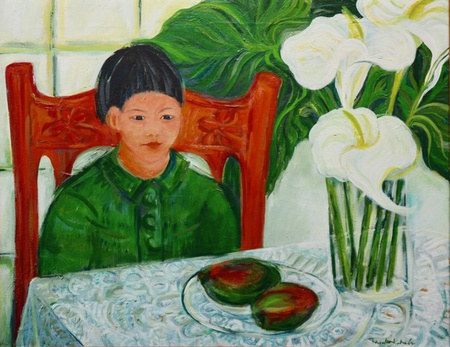 Can you talk a bit about how you ended up at Vancouver Art School (now Emily Carr University) in the 1950s? What were your artistic aspirations back then?
I was staying with the Whitelaw family in Vancouver as a baby-sitter and housemaid, learning English, and how to make gravy! Mrs Whitelaw encouraged me to study art and I was accepted at Vancouver School of Art. My aspirations were just to learn more about art and the creative process.


Norman Takeuchi was a classmate of yours at the school. Were there other JCs there at the time? What was the climate at the school like? Is it fair to say that you went through different phases as an artist? If so, can you describe that development?
There were only two Japanese Canadian students at the time when I started. Norman came the following year. After that were several more. The climate in the school was good and I was always treated fairly. My instructors were wonderful. Only looking back over 60 years can I see that I went through different phases as an artist and as a person: art student / raising a family and working to survive / performer and costume maker / wilderness pioneer / full-time painter.


In that same sense, were there particular Japanese or Canadian artists who were influential?
At the Vancouver School of Art I was inspired by my teachers - Peter Aspel, Don Jarvis, Jack Shadbolt, Bruce Boyd and others. I was also inspired learning about European Impressionist painters. More recent inspiration comes from Emily Carr, Georgia O'Keefe, Frida Kahlo, Gordon Smith, (Canadian) Takao Tanabe, and my old friend Norman Takeuchi—to name just a few. Most of all I am inspired by memories, and by the natural world around us—the forest, the water, the plants…


What have you discovered about your Japanese 'Canadianness' through your art? I get a certain connection to your 'Japaneseness' whenever I look at your art. Can you perhaps give me some insight on this?
The Japanese influence came directly from my childhood upbringing in Japan. Later in life I also explored Japanese Canadian family and community memory, especially in my Regeneration exhibition.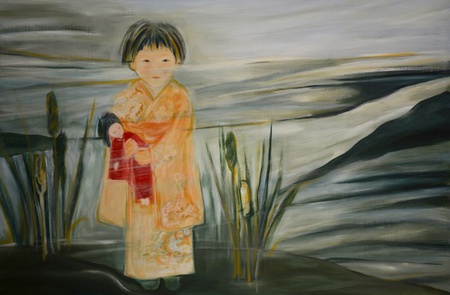 Did you start off as a painter?
At art school I learned many different media—print-making, ceramics, sculpting, design, as well as painting. In my third and fourth year, I focussed on drawing and painting.


Dance, costume design (Snake in the Grass Moving Theatre, Kokoro Dance, etc.), and fabric art are also parts of your artistic repertoire. Your choice of what medium to use to express yourself must be an interesting one. How do you make that choice?
I didn't really plan out a career as an artist. I just lived my life and things happened around me. For many years I was raising two children as a single mother, and surviving. In the 1970s and 80's I was involved full time with physical theatre in Snake in the Grass Moving Theatre. I just painted occasionally, but most of my creative energies went into making costumes and props, and performing. Only in the early 90's, when we moved to the Slocan Valley, did I become a full-time painter again, with help from a Canada Council Grant.


Can you take readers on a tour of your show at the Langham Gallery? What would we see? What is the story that you want to tell?
The show at the Langham was a challenge to hang because space is limited, but Paul did a fabulous job. There are 59 art works, arranged more or less chronologically, starting from the 1950's up to 2022 and showing the different 'phases' of my 66 year career. The story that emerges is what you see.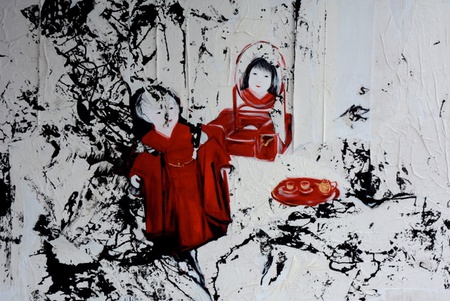 How has being an Asian woman impacted your life as an artist? Pros and cons? Do you have a message to budding JC artists who might be in search of themselves today?
Partially growing up in Japan has made me who I am today, so I am grateful for that. I am a woman and I am of Asian heritage. End of story. It is always a financial struggle to be an artist—no matter what medium you choose. My suggestion to young artists, Japanese Canadian or otherwise, is to not be afraid to take any kind of work in order to survive - but meanwhile just keep on creating.


What is the importance of living in the Kootenays, the location where JCs were interned during WW2? Can I ask you about your choice to continue to live in the area as opposed to elsewhere?
We moved to the Kootenays in the early 1990s, without realizing that many years ago my mother and sister were interned down the road in Lemon Creek (near Slocan City). Fortunately, I then met many of the 'elder elders' and became involved in the Kyowakai Society and the Nikkei Internment Memorial Centre, where I also met Norm Ibuki! I continue to live in the Kootenays, because I love the closeness to nature: water bathing and forest bathing in one day!


Your partner Paul has been a constant in your life. Can you talk about the importance of his presence in your life? What about the importance of your parents?
My partner Paul is my greatest inspiration and strength, and most valuable critic. He makes me laugh even in hard times and keeps me amused. He makes music all the time, which is very handy every time a performance comes up! He digs up large river rocks from the garden so I can plant flowers and vegetables. He built our mountain home and painting studio. He also makes me coffee and breakfast every morning to start my day's journey.
In the beginning my parents reluctantly supported my choice to become an artist, but towards the end they were quite appreciative. They were fine parents and always good to me. My sister, children and grandchildren are all loving and supportive.


What is the importance of having this show during the 80th anniversary of the internment? Any thoughts about the lasting impact of the internment on the younger JC psyche, etc.? What is the place of art in this ongoing community healing?
It was fortunate serendipity that this exhibition coincided with the 80th anniversary of internment. Some of my paintings deal with some difficult memories of internment and family/community memory. It is hard for me to know what lasting impacts internment will have on the younger JC psyche, but hopefully art can be a source of beauty and healing, as well as keeping alive awareness of tragedies and strife.


How does your art continue to evolve? Do you still paint everyday?
I still sketch and paint every day - even if it is just for an hour or so. Currently I am obsessed with painting the nearby Silverton Creek, in various seasons. I still perform every now and again. On October 1st 2022 at the Langham in Kaslo, there will be a reunion performance of the co-artistic directors of Snake in the Grass Moving Theatre (Paul "Garbanzo" Gibbons, Gerardo Avila, and myself) —after a hiatus of 30 years. It should be fun!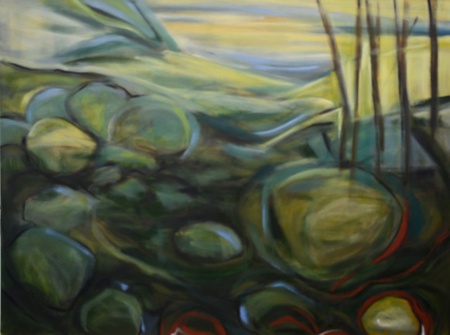 How has being Japanese Canadian shaped your life for better or worse?
It has shaped my life completely, for the better. It seems that some Japanese Canadians, born and raised in Canada, continually seek the Japanese part of their identity, but I have a solid identity in both cultures. I was born in Steveston and my first language was Japanese, then in daycare I started learning English. So, by the time I went to Japan I was already starting to speak two languages. In Japan I spoke Japanese all the time and was raised in Japanese culture. In these formative years in Japan I learned many valuable tenets and aesthetics, which have stayed with me - including concepts like ichi-go ichi-e, shibui, and wabi-sabi. These apply to all kinds of art forms - from painting to cuisine.
When I returned to Canada, I was still young enough to re-learn English and absorb the Canadian way of life as well. I am comfortable sleeping on a futon or a mattress!


Any final thoughts?
Phew, that was a long interview!
So Kat'ta from Moira Simpson on Vimeo.

* Tsuneko Kokubo Artist Website