James Ewen Edmiston, Jr., who would take his father's name at birth, and later on his closeness to Japanese Americans, was born in San Francisco, California on January 7, 1912. After moving to Oregon as a child with his family, he attended Medford High school, where he won the school tennis championship in 1929. He continued to play in tennis tournaments in the years that followed. In 1930 and 1931, he won the Central Oregon tennis tournament. Edmiston attended University of Oregon, where he majored in journalism. In the years after graduating, he married his wife Eleanor Elizabeth and moved to San Jose, California. They had three children, daughter Irene and twin sons James A. and Joseph Edmiston.
After leaving college, Edmiston started a writing career, and supported his family by working as a public school teacher in San Jose. According to the 1940 census (and his draft card) he was employed by San Jose High School, doing adult education under the auspices of the New Deal agency WPA. In December 1940, he achieved his first mainstream publication with a letter that appeared in LIFE Magazine in response to a story there.
That same year, under the name "Jas. E. Edmiston," he published a piece of dialect poetry entitled "Ol' Pear Pickin' Time" in the Medford Tribune, his old hometown newspaper. While deliberately rustic, it may well hint at the family's difficulties in farming:
The worms are gettin' in the fruit; the scale is spreadin' bad.

Ma needs a new hat 'n girdle, an' there's new store teeth for Dad.

The landbank wants the interest, and we haven't got a dime:

But we don't give a tinker's dam—it's ol' Pear Pickin' Time
In the years after World War II, James E. Edmiston Jr. embarked on a prolific career as a scriptwriter for Hollywood films and tv shows. In 1950, he sold his first story idea, "The Glacier Story," a story of pioneers set in Sacramento in the Gold Rush ea. In 1952, producer Hal Wallis worked a deal with Edmiston to collaborate with director John Farrow (father of actress Mia Farrow) on "Captain Gallant," the tale of a sea captain romantically involved with a girl working in a nationwide advertising agency. Like Edmiston's first project, it seems never to have been produced.
Edmiston persevered. His first script to be produced was for a television film, The Leather Coat, in 1952. The program, which featured Raymond Burr, told the story of an impoverished husband and wife who run a filling station in the desert. After finding a large sum of money, they argue over whether or not to return it.
Edmiston's first large-scale project was the 1954 RKO film Dangerous Mission, for which he wrote the initial story. The film starred Victor Mature and Piper Laurie. The plot turns around a potential witness to a gangland crime, who has fled to the mountains of Glacier National Park. There she encounters two men who are operating undercover: a hitman sent from New York to kill her, and a policeman who travels West to protect her.
Edmiston's first screenplay to be produced was that of the 1956 film A Day of Fury (originally named "Jagade" for its main character), starring Dale Robertson, an original western about an outlaw who corrupts a Western town.
Even as he toiled on screenplays and television scripts, James E. Edmiston, Jr. remained preoccupied by the subject of Japanese Americans and their wartime confinement. His interest was clearly informed by his father's heroic resettlement experience with the War Relocation Authority, and the bigotry that the Edmiston family had faced for helping the returnees.
Yet, as Edmiston, Jr. later explained, the issue of anti-Japanese discrimination had first attracted his attention a decade before World War II, when he had been shocked by newspaper reports of a Madame Butterfly case in his hometown. A Jackson County man met and fell in love with a Japanese woman while in Asia, but could not bring his Japanese spouse to live with him in the United States, because of Asian exclusion laws. He chose instead to stay with his wife in Japan. When his mother was dying, he sought to return to the United States to visit her, but risked exclusion from Japan. His wife resolved his dilemma by committing suicide, so as not to burden him.
Edmiston determined to write a novel that would make use of a composite family story to tell the history of the Issei and Nisei. In order to reach out to a mainstream audience, he combined the fictional story with masses of statistical and factual data on Japanese Americans. He later revealed that he completed the original draft of the book in 1946. However, finding a publisher for his "documentary novel" proved difficult. Presumably mainstream presses were unconvinced that a novel on such a subject would sell. Also, the original manuscript was very long—some 1000 pages (the eventual published version would number about 300 pages).
Edmiston said that he also was puzzled over how to end the work. When he received news of passage of the McCarran-Walter Act, which made Japanese immigrants eligible for the first time to become naturalized American citizens he knew that he had a way to end the book on a positive note for democracy. Edmiston submitted the manuscript of his "documentary novel" to Doubleday publishers, who agreed to publish it.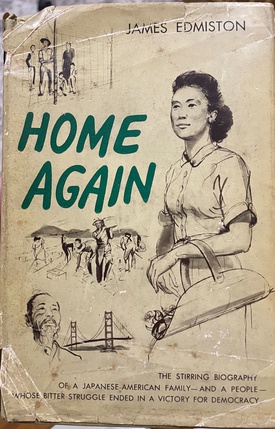 The work, entitled Home Again, hit the bookstores in January 1955. The book tells the story of two Japanese brothers, Toshimichimaru and Hirokichimaru Mio, who immigrate to the United States.
At first, they work as gandy dancers on the railroad in Nevada, then ultimately settle in Santa Clara County, California, where they open a plant nursery. Although hindered by alien land laws and prejudice against them, they become wealthy growers and developers of hybrid chrysanthemums. The two brothers each contract for a picture bride from Japan, but when only one arrives, the elder brother claims her and the other is forced to remain a bachelor. Toshimichimaru (kown as "Pops") and his wife have six Nisei children.
In the wake of Executive Order 9066, the family is taken from their land and confined at Santa Anita and later at Heart Mountain. The family is torn apart by their wartime ordeal: One son enlists in the 442nd Regimental Combat Team, while another, beguiled by a demagogic inmate leader, joins the Heart Mountain Fair Play Committee and opposes the military draft. (Home Again, appearing two years before the initial publication of John Okada's novel No-No Boy, provides the first literary treatment of the draft resisters).
At the end of the war, the Mios return to the San José area—as its name Home Again suggests, this section lies at the center of Edmiston's book. The author dramatizes the struggle of the returnees to return to their prewar lives and occupations amid ambient terrorism—violence and vandalism by nightriders and exclusion by bigoted locals. However, with help from a heroic WRA resettlement officer, Sam Morgan (who is clearly a stand-in for the author's father), and an FBI agent named John Parks, they are able to resettle successfully, and the book closes in 1952 with the two Issei brothers receiving U.S. citizenship.
Edmiston's novel was widely and mostly favorably reviewed in the mainstream press, though more as an account of the wartime events than as a work of literature. As Richard Dillon noted in America, "Whatever its literary merit, this book—not quite history and not quite fiction—is an important and valuable work." Independent producer Sam Jaffee pushed hard to put together financing for a screen adaptation of Edmiston's novel, but in the end the project was never realized.
Japanese community organizations, especially the Japanese American Citizens League, heavily publicized Home Again. JACL leader Mike Masaoka (who was quoted in an epigraph across from the title page), offered his endorsement: "This is the only book written about us that has guts. It should be in every Japanese American home."
The JACL organization Pacific Citizen ran advertisements for the volume and offered copies by mail to its readers at a discount. Pacific Citizen columnist Larry Tajiri eagerly reported Edmiston's various attempts to interest studios in a screen version of his novel.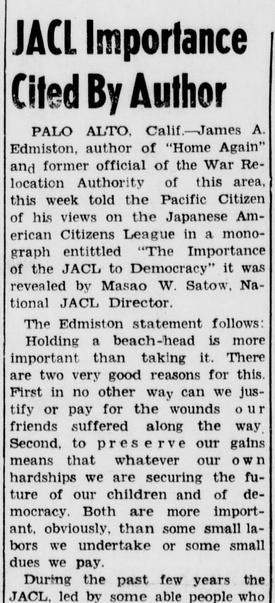 Edmiston in return addressed JACL chapters and hailed the JACL in public statements. In particular, he sent an essay to the Pacific Citizen, titled "The Importance of the JACL to Democracy," in which he stated his belief that the wartime trials of the Japanese community formed part of a larger battle for equality, which he described in almost military terms. "The importance of the JACL to people of other minority groups is certainly obvious." Americans of Japanese Ancestry, he explained, were the "shock troops" of democracy who had succeeded, both during the war years and thereafter, in breaking through the lines of its enemies, ignorance and bigotry. The JACL had made enormous gains, but having won such advances for equality only made the need for a strong organization more urgent, as such gains could be lost swiftly if people became complacent and the tide of battle surged back.
In the following years, Edmiston turned back to his movie and television writing work, working in such diverse genres as comedy, mystery stories, and thrillers. He wrote scripts for episodes of the Charles Bronson TV series Man With a Camera, the Clint Eastwood TV show Rawhide, and the TV Westerns Colt .45 and Tombstone Territory.
In collaboration with actor/director Cornel Wilde, Edmiston transformed his unpublished novel, The Fastest Man on Earth, a tale of racecar drivers, into the 1957 film The Devil's Hairpin. One unique scenario that Edmiston designed for General Electric Theatre was "The Incredible Jewel Robbery," an all-silent comic heist caper featuring Chico and Harpo Marx (with an uncredited cameo by Groucho Marx). It was the final performance by Chico Marx, and of the Marx Brothers as a team.
Only on a few occasions did Edmiston have an opportunity to dramatize any Asian American subjects. In 1956, he provided the script for an episode of the anthology series "Twentieth Century Fox Hour." Entitled Child of the Regiment, it recounted the tale of an American army captain and his wife (played by Robert Preston and Teresa Wright) who adopt a Japanese orphan girl and bring her back with them to Hawaii. There they experience such horrible treatment by a bigoted superior officer (Everett Sloane) and his family that the child runs away.
Edmiston's last story to be filmed was the 1962 motion picture Rider on a Dead Horse, a western about prospectors finding and hiding gold. It features a powerful Chinese immigrant woman, Ming Kwai (played by the young Lisa Lu) who saves the life of one of the prospectors.
In fall 1958, James Edmiston, Jr. travelled to Phoenix, Arizona to be present for the filming of Four Fast Guns, a western starring James Craig and Martha Vickers for which he had co-written the script. When it appeared in 1960, a critic wrote in Variety, "The screenplay is frankly inept." Even more than any barbs from Variety, the film did damage to James Edmiston, Jr. While on the set he collapsed and was brought back to Hollywood for a rest. He was too unwell to return home to Palo Alto for the holiday season. Soon after, on February 8, 1959, he died suddenly of a heart attack, aged just 47 years old.
Home Again represents James Edmiston Jr's tribute to Japanese Americans and his manifesto for democracy. It deserves to be rediscovered as an early, multifaceted dramatization of the wartime experience, created by a white ally at a time when Nisei were either psychologically unprepared to address the subject or unable to find mainstream outlets for their writing.