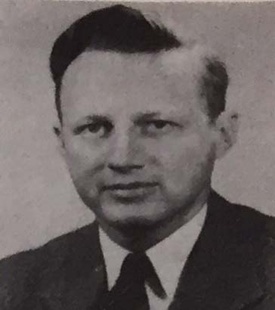 In February 1942, Bradford Smith was recruited by Alan Cranston, the future U.S. Senator, for a job with the Office of War Information (then called the Office of Facts and Figures). In April of that year, he left his teaching position at Bennington and moved to Washington, D.C. to take a position with OWI Foreign Language Division, headed by Cranston. In keeping with his own assumed expertise on Japan, Smith was assigned to head OWI's "Japan desk." There he worked to ensure the loyalty of immigrant and foreign-language groups.
As is indicated by his surviving OWI correspondence, a large part of Smith's assignment involved Japanese Americans. This was new to him. Before World War II, he had hardly met any Japanese Americans. Yet, even as he had discovered Japanese society ten years earlier, Smith now threw himself into understanding Nikkei history and culture in America. In February 1942, while still at Bennington, he placed a notice in Rafu Shimpo announcing his intention to write an article on the Nisei and asking for information on their treatment.
The OWI job brought Smith into regular contact with individuals and members of Japanese communities. He worked with Issei and Nisei writers such as Sokei-an Sasaki, Chitoshi Yanaga, Kiyanao Okami, and John M. Maki. Chronicler Mary Oyama Mittwer reported to the Heart Mountain Sentinel in 1944 that OWI staffer Chitoshi Yanaga had arranged for her to meet Smith, whom she found "young, intelligent, and nice-looking."
Smith's primary mission with the OWI was media relations. Sensitive to the barrage of hostile stories about Issei and Nisei, Smith contacted WRA leaders and proposed establishing an information program to counter anti-Nisei propaganda. "The American People demonstrably have a very hazy idea of what the Japanese evacuation is all about," he told his supervisor, former WRA director Milton Eisenhower, in November 1942. "They confuse internment camps with relocation centers, and Americans of Japanese Ancestry with 'Japs.'"
In September 1942, Smith contacted John Bainbridge, editor of The New Yorker, to ask whether his magazine would be interested in doing a story on one of the WRA camps, stating, "[Unless] the American public realizes that the majority of Japanese in the camps are American citizens, we are heading for difficulty in solving the program of this group once that war is over."
During that time, he also exchanged information with Larry Tajiri, editor of the Pacific Citizen, about publicizing the good citizenship of Nisei in Hawaii. Along with Cranston, he discussed closing down the Denver-based Japanese-language newspaper Rockii Nippon for sedition, and transforming the rival Colorado Times into a government-controlled pro-democracy organ for communicating with Japanese speakers in the camps. In the end, control of the newspapers remained in private hands, but their content was closely surveilled.
Smith also assisted Japanese Americans through public declarations. In December 1942, he took part in a Victory Rally in New York organized by the Japanese American Committee for Democracy. There he refuted rumors of Japanese American sabotage at Pearl Harbor and lauded the conduct of Japanese Americans in Hawaii during the raid.
Smith stated that they had manned the guns that shot at Japanese airplanes, converted their trucks to ambulances to drive the wounded to hospitals, and been the first to donate blood for the wounded, on whom Japanese American doctors had operated. "Contrary to popular opinion and contrary to some public statements, Japanese-Americans on the West Coast were of invaluable aid to the authorities in exposing Japanese espionage."
Smith's talk was serially reprinted in the Pacific Citizen under the title "The Fellowship of Freedom." Anticipating the argument that Arthur Schlesinger, Jr. would make in his Cold War liberal manifesto The Vital Center six years later, Smith insisted that freedom was a fighting faith, and was stronger than the bonds of citizenship or race.
By fall 1943, Bradford Smith had moved to San Francisco, where he worked as acting head of the OWI Japanese and Korean Section. There he directed production and distribution of anti-Tokyo propaganda, such as radio scripts ridiculing Japan's leaders. Together with Langdon Warner, Smith presented a plan in late 1943 to recruit Nisei from the camps to be intensively trained for postwar service in Japan and the Far East (the plan foundered on opposition from the State Department—who claimed speciously that white officers would not work together on equal terms with Nisei).
Later Smith was sent to Honolulu, Hawai'i where he set up and directed the OWI's Center of Pacific Operations. As chief, he directed production and distribution of print and broadcast material for the war against Japan, including six hours of daily shortwave radio broadcasts.
Even as Smith worked for OWI, his fourth novel, the 1943 work The Arms are Fair, appeared in print. It told the story of Akiyama Tadeo, a Japanese university student forcibly conscripted into the Japanese Army and sent to China, who is inspired by his contact with the Chinese to join the side of freedom. Although some critics praised Smith for his effort to show good men among the Japanese occupiers, the novel did not achieve much in the way of attention or success.
After the appearance of The Arms are Fair, Smith ceased to write about Japan. Instead, in the wake of his wartime experience, Smith decided to devote himself to reporting on Japanese Americans.
In 1945, while he was still working for the OWI in Honolulu, he was commissioned to write a book on Japanese Americans (originally to be titled "They Came from Japan") for editor Louis Adamic's series of popular histories of immigrant Americans. With University of Hawaii professor Yukuo Uyehara serving as judge, he ran a contest, with a $100 top prize, for essays on the experiences of Japanese Americans in the islands that he could reprint in his proposed study.
Once the war was over, Smith left the OWI. With aid from a two-year Guggenheim fellowship, he traveled around the mainland and Hawaii to visit Japanese communities.
His first writing on Japanese Americans, "Experiment in Racial Concentration," appeared in the July 17, 1946 issue of Far Eastern Survey (the journal of the Institute for Pacific Relations). In it, Smith made use of the final dissolution of the WRA to review the history of wartime confinement. Freed from the former restrictions posed by his own government employment, he forthrightly denounced mass removal as "unnecessary and indefensible," and assigned heavy blame for the policy to "professional racists" and agricultural interests in California, who had profited heavily from the dispossession of their Japanese neighbors.
Significantly, Smith noted that Naval Intelligence officers, who had long cultivated community informants who had tipped them off as to the actions of Japanese spies, had opposed mass removal but had ben overruled by the army. Although Smith deplored the impact of official incarceration on Japanese communities, he hailed the white citizens who joined fair play committees or otherwise helped Japanese Americans as decisive actors in fighting injustice:
"The evacuation was a pragmatic test of the moral tone of our government and our people...We came out of it just fairly well, but the interesting thing is that where our formal institutions failed to judge and act according to bedrock principles of freedom and democracy, our informal institutions and our people, by and large, did."
Beyond the question of mass removal, Smith became interested by the postwar adjustment of the Nisei. His article "The Nisei Discover America," accompanied by photos from Nisei artist Vincent Tajiri, was first published in American magazine and later excerpted in Readers Digest. It told the story of Japanese American resettlement in Chicago and the Midwest.
Smith pointed out how the Nisei who relocated to the midwest had achieved success. They were able to find jobs that made use of their skills and to "get stretched out socially" alongside their white neighbors. Republican Illinois congressman Robert J. Twyman arranged for the article to be reprinted in the Congressional Record.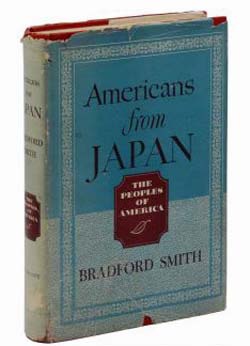 In 1948 Smith's popular history of Japanese Americans was published by the established Philadelphia publishing house Lippincott, under the name Americans From Japan. While by that time, studies of wartime confinement such as Carey McWilliams's Prejudice and Miné Okubo's Citizen 13660 had already appeared, Smith's book was the first full-length popular study of Japanese Americans as immigrant/ethnic history. It told the story of Issei settlement and growth in Hawaii and the West Coast, then the story of the Nisei. Smith concentrated his narrative on the prewar era and restricted to a single chapter the story of wartime confinement, with another on the Nisei soldiers.
The book received respectful reviews. Former WRA supervisor Robert Cullum, writing in Common Ground, declared, "Americans from Japan is not only a full and accurate account of the history of Americans of Japanese descent in Hawaii and the United States; but is very pleasant reading as well."
Japanese Americans hailed the appearance of the book. Rev. Joseph Kitagawa explained in Shikago Shimpo that the book was directed not at Japanese Americans but at the general public, as a means of educating them about the Nikkei. Nevertheless, he found it "stimulating and informative," marvelling that a novelist should be able to create such a superior work of history and sociology. At the tme of publication, author Smith was profiled in an article for the fledgling photo magazine Nisei Vue, which featured his portrait by photographer Toge Fujihira.
In his later years, Bradford Smith lived in Shaftsbury, Vermont, where he worked as a freelance journalist, author, and educator. In 1948-49 he served as director of the Vermont Forums (he invited Nisei Sam Ishikawa as one of the speakers). During the 1950s, he directed an international summer school at Bennington under State department sponsorship.
At the end of the 1950s, Smith and his wife moved to India, where they spent three years as directors of the Quaker International Center in New Delhi. Smith later told the story of his experience in India in his book A Portrait of India.
Meanwhile, he worked as a freelance author and journalist. He wrote a pair of books on his New England forebears, Bradford of Plymouth and Captain John Smith, His Life & Legend. plus a set of historical biographies for children. He created the syndicated cartoon, "American Adventure."
In 1954, in the midst of the McCarthy period, he published A Dangerous Freedom, a powerful book on civil liberties. He also produced a popular study of national characteristics, Why We Behave Like Americans. During these years, he wrote a weekly column, "Small World," for a set of New England newspapers.
After returning to Hawaii, where he had served during the latter part of World War II, for several months in 1954, he wrote a pair of interesting books about the Islands. Yankees in Paradise (1956), described the impact of New Englanders on the development of the Kingdom of Hawaii during the 19th century. Islands of Hawaii (1958) was a guide to the islands, with much material on their natural history.
One of Smith's chief interests during these years was religion. His last book, Meditation: The Inward Art (1963), was a study of forms of mediation from Buddhists and Zen forms to Quakers. It represented somewhat of a merging of his interests in Asian culture and American life. In his later years Smith was plagued by cancer, and he wrote a number of articles about living with untreatable illness. He died on July 14, 1964.
Bradford Smith was a rare mix of creative writer, activist, and administrator. In his novels published in the 1930s, he attempted to shed light for his fellow Americans on complexities of modern Japanese society. While he had little contact with Issei and Nisei before World War II, he was inspired by his wartime experience with them to become a great public defender afterwards.