Who is Serkan Toso?
As I explored byFood.com, I started wondering who is the mastermind behind this site? The "About Us" states that in 2018, Serkan Toso started Tokyo by Food, a booking platform for food experiences in Tokyo. With a lifelong interest in solving social issues, Toso developed a donation system giving ten school lunches to children in Cambodia for each person who booked a food experience. This was an integral part of his business model.
Serkan later joined forces with Kaoru Joho, CEO of Tablecross Inc., who had developed his business with a similar charitable mission. This merger resulted in the formation of byFood.com. The mission to provide school lunches has evolved to become Food for Happiness, which includes projects run by NGOs that provide food, housing, and education to children in need.
I contacted Toso and asked him to share some of his life story and how byFood.com developed.


Toso's life: his home country, family, education
Born in Bursa, a city just south of Istanbul, Toso is the youngest of eight siblings. Except for Toso, they all remain in their hometown. He was "the adventurous one," always eager to travel and explore different cultures. He attended the prestigious Boğaziçi University in Istanbul where he learned English. He joined the Euro Mediterranean Youth Association which facilitated student cultural exchanges including discussion of global issues and cultural nights to share food, drinks, and dances. Through this organization, Toso was able to travel and help others to travel. Subsequently, he was accepted into One Young World, an organization that develops young leaders to develop a fair, sustainable future for the world.


Moving to Japan
During university, Toso worked in internships at IBM and Turkcell, Turkey's largest telecommunications company. After graduation, he worked at Turkcell full time in digital marketing. Since he wanted to study the field more deeply, he moved to Japan in September 2015 to get a master's degree in e-business management. He explained, "I hadn't planned to stay here, but I got job offers from two e-commerce companies. I worked at one e-commerce company for a year and a half in digital marketing and then started my business."


Inspired to create byFood.com
byFood was inspired by Toso's experiences living and studying in the Japanese countryside where there weren't many English-friendly restaurants or services. "Whenever I wanted to reserve a spot at a restaurant, I needed to ask my Japanese friends to call for me. Even at the restaurant, the menu was in Japanese, so I had to use a translation app."
He continued, "I realized that so many travelers who come to Japan are here specially to eat Japanese food, but like me, they needed a little help making reservations. Seeing both an opportunity and a pain point, I decided to make a business to address this situation and started Tokyo by Food in 2018."
How does an outsider make connections and break into the Japanese food establishment? Toso elucidated, "At first, I didn't have lots of connections. I only started getting involved with the food scene in Japan after starting Tokyo by Food. I built a website to gather food experiences in Tokyo. Part of my program was to donate 10 school lunch meals for every person who signed up for a food experience."
To find restaurants and food-related companies, he did online research and made a list of businesses that seemed to offer the best food experiences in Tokyo. He contacted them one by one, setting up calls, emails, and meetings. The people he met via this process led to introductions to other people. Within the first year, 40-50 businesses joined his program.
Toso was soon ready to take his business to the next level. "In the summer of 2019, we merged with Tablecross, a restaurant reservation company for the Japanese market. This allowed us to expand the scope of the platform to cover all of Japan, and byFood.com was born."

How does byFood.com determine website content for the three areas of focus: Book food experiences. Reserve restaurants. Buy gourmet products?
"First, we want foreigners to have authentic food experiences. We ask: is it interesting for foreigners, does it represent Japanese culture, can the host accommodate English-speaking travelers? To emphasize authentic experiences beyond the usual Tokyo-Kyoto-Osaka route, we make an effort to choose experiences in rural and lesser-known areas. We want people to broaden their perspectives and support the overlooked areas that have so much culture to offer. We also make sure the hosts have good reputations, reading customer reviews and sometimes even joining the experiences personally for video shoots."
byFood.com also uses search volume to learn what travelers are looking for so that they can shape their offerings to meet travelers' needs. "For example, tea ceremonies in Kyoto are quite popular," said Toso. "For e-commerce, we see what kinds of products are selling abroad. We emphasize products from small farmers and producers who can't sell or market globally because of the language barrier and help them reach an international market."

Who are your target audiences?
"We target foodies from the U.S., Canada, Australia, United Kingdom, Singapore, and France, especially those in their 30s and up who are adventurous and want to try new foods. Our target market might not speak Japanese, but they are passionate about Japanese food culture."


How has the Nikkei community responded to your site?
"We've had a fantastic response from the Nikkei community, especially in areas like California. Our experiences are often booked by people with American first names and Japanese surnames. In our YouTube comments section, too, I often see viewers mention that they're from places like Los Angeles and have Japanese ancestry. This past October in LA, I chatted with people in the Nikkei community and received such enthusiastic support for byFood—they just wished this service had existed years ago!"


How do you promote byFood.com?
"We use influencer marketing, YouTube, social media, affiliate marketing, paid advertisements, and content marketing strategies."

What service or offering has been the most popular?
"Pre-Covid, we collaborated with Noodle Stand Tokyo to create and promote a $100 luxury ramen, the most expensive ramen in Tokyo. Using influencer marketing strategies, a YouTube video we organized generated 10 million views and helped popularize the ramen. Our current bestseller is an izakaya hopping tour in Shinjuku."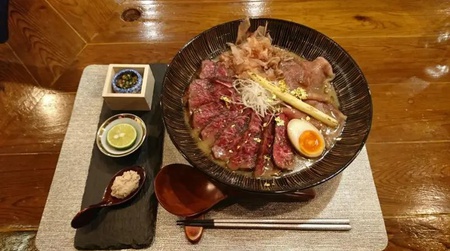 How do you get ideas for byFood's informative, fun, and upbeat videos?
"We like to go to places that we haven't covered before, and that foreign travelers may not have even heard of yet. These places are in prefectures like the Yamagata, Gifu, or Wakayama, where casual tourists wouldn't normally go. After we select a prefecture, we think about the culture of the area, the interesting local foods, and consider how to combine other local cultural experiences like shrine visits."

What is your vision for the future of byFood? How do you want it to grow?
"We aim to expand our scope beyond Japan and grow internationally. Wherever you want to go, we hope that byFood will be your go-to global food travel platform.