Shibori Workshop with Indigo
Japanese American National Museum
100 N Central Ave
Los Angeles, California, 90012
United States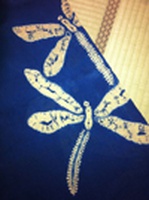 Back from a month-long trip to Japan to further her study of silk, shibori, and indigo, Shibori Girl has some great new stories and samples to share with you in addition to a wonderful little video presentation of the Arimatsu Shibori Festival. Yes! An annual festival devoted to shibori, past and present!
She will also do some stitching (let's shibori stitch a dragonfly and drop it in the indigo vat), see some new techniques demonstrated with some new shibori tools she acquired in Arimatsu, and try your hand at some of them on cotton and silk.
She'll also bring the Colorhue dyes for some silk itajime. A fast and fun three hours! She will also bring a small trunk show of her work to sell. Past students welcome- each class offers something new!
Come dressed in studio attire, bring rubber gloves, scissors, a sewing needle and a love of Japan Blue!
$35 members; $45 non-members, an additional $25 materials fee (cash only) will be collected at the beginning of class, admission is included.
RSVP early (20 participants max) to rsvp@janm.org or 213.625.0414.
For more information about Shibori Girl or to see some of her work, go to www.shiborigirlstudios.com.

JANM . Last modified Aug 22, 2011 12:05 a.m.
---