Films: REIKO'S HINA DOLLS and KIMIKO MURAKAMI
Nikkei National Museum & Cultural Centre
6688 Southoaks Crescent
Burnaby, British Columbia, V5E 4M7
Canada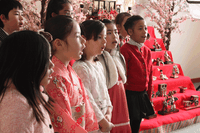 Double bill
Saturday, March 2, 2-3pm
Admission $5 | members & seniors $3
Mark this year's Hinamatsuri (one day early) with two short films which tell the story of women who lived through the Japanese Canadian internment.
Reiko's Hina Dolls
It's 1935. A Japanese family making their start in Canada receives a special gift from the country they left behind – a beautiful set of Hina dolls. The dolls take on a conflicted meaning as the family struggles to adapt to their new home. When war breaks out with Japan, the family is faced with a punishing choice. In English with Japanese subtitles. Written, directed and produced by Komaki Matsui. Original story by Yumiko Hoyano. 28 min. 2012.
http://www.youtube.com/watch?v=h_T2ioYoAVI (Trailer)
Kimiko Murakami: Triumph over Internment
Mary Kitagawa tells how her mother Kimiko Murakami and family were relocated from their farm on Salt Spring Island to internment camps in the interior of British Columbia after the bombing of Pearl Harbour in 1941. Written, directed and produced by Susan Poizner. 23 min. 2005.

NNMCC . Last modified Jan 25, 2013 4:51 p.m.
---