Yayoi Kusama: I Who Have Arrived In Heaven
David Zwirner Gallery
525 West 19th Street
New York, New York, 10011
United States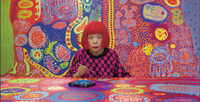 From the David Zwirner gallery website :
Spanning the gallery's three consecutive locations on 19th Street in Chelsea (519, 525 and 533 West 19th Street), this exhibition features twenty-seven new large-scale paintings. Other highlights include the presentation of a new mirrored infinity room made especially for this exhibition and the United States debut of another infinity room, which was recently on view in Tokyo at the Mori Art Museum. Also exhibited is the artist's video installation, entitled Manhattan Suicide Addict, that draws its title from her first semi-autobiographical novel published in 1978. This is the artist's first exhibition at David Zwirner since joining the gallery in early 2013.
For more information, visit: http://www.davidzwirner.com/exhibition/yayoi-kusama-9/

APA_Institute . Last modified Dec 02, 2013 10:04 a.m.
---