BUILDING PERSEVERANCE: HOW BASKETBALL TEACHES NIKKEI CULTURAL VALUES
Gardena Valley Japanese Cultural Institute
1964 W. 162nd Street
Gardena, California, 90247
United States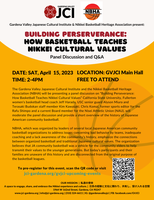 The Gardena Valley Japanese Cultural Institute and the Nikkei Basketball Heritage Association (NBHA) will be presenting a panel discussion on "Building Perseverance: How Basketball Teaches Nikkei Cultural Values" California State University, Fullerton women's basketball head coach Jeff Harada, USC senior guard Alyson Miura and Terasaki Budokan staff member Kim Kawasaki. Chris Komai, former sports editor for the Rafu Shimpo and a current Board member for the Nisei Athletic Union (NAU), will moderate the panel discussion and provide a short overview of the history of Japanese American community basketball.
NBHA, which was organized by leaders of several local Japanese American community basketball organizations to address issues concerning bad behavior by teams, inadequate coaching and a lack awareness of the community's history, emphasize the connections between organized basketball and traditional Japanese cultural values. The organization believes that JA community basketball was a vehicle for the community elders to help transmit their values to the younger generations. But today's participants and their families are unaware of this history and are disconnected from the original purpose of the basketball leagues.
https://www.jci-gardena.org/gvjci-upcoming-events.html


GVJCI . Last modified Jan 31, 2023 10:56 a.m.
---