Playing basketball has always been more than just a game for me. It's about the relationships you make on and off the court. Growing up in the Japanese American (JA) basketball community, I not only learned the fundamentals of basketball, but also established lifelong relationships. I'm sure many of us can relate – whether it's basketball, baseball, volleyball, etc. – sports are an important vehicle that teaches us many life lessons. Through the connections and friendships I made growing up playing basketball, I got involved with a nonprofit organization called Not Your Average Basketball Camp (NYABC), whose mission is to enrich the lives of those with special needs through the game of basketball.
NYABC ran its first camp in May 2014 at San Fernando Japanese American Community Center and provided an opportunity for children and young adults with special needs to play basketball. After many successful camps in their first year, NYABC expanded their camps to various locations across southern California with the goal of reaching as many communities as possible. NYABC has partnered with various JA organizations, such as Japanese Speaking Parents Association of Children with Challenges, Orange County Buddhist Church, Norwalk Community Center, Pasadena Buddhist Church, San Fernando Valley Japanese American Community Center, and Orange County Optimist.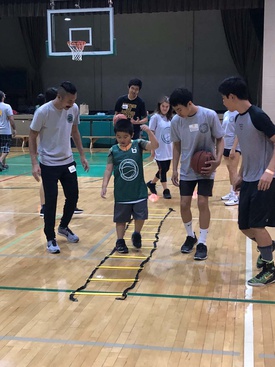 Over the years, we've also brought in many high school volunteers to assist with running our camps and coaching the players. Laura Kubiatko was a high school senior from the Norwalk organization when she volunteered at three of NYABC's sessions at Norwalk. She described her experience as "the highlight of every weekend". Although Laura was "initially intimidated to be in the position of a coach instead of a player," she, "learned how to be a more effective teacher, how to create exercises that work for the drill and [how to] hold [her] player accountable, while still having fun."
NYABC works with industry professionals who work closely with children and young adults with special needs, such as speech language pathologists, behavior therapists, and occupational therapists. In doing so, the organization has developed a comprehensive program that teaches players basketball skills, but more importantly, promotes social and emotional growth among coaches and players. We understand that not every player is going to learn the same way.
As coaches, we love seeing and hearing about how NYABC has made an impact on our players. Two players, Hikaru and Felix, shared their thoughts with us and told us why they love basketball and coming to NYABC.
Hikaru has been playing basketball since 2010 and has been participating in our camps since 2014. When asked what she loves most about basketball, Hikaru told us she loves, "jumping jacks, defense, jogging, dribbling, and shooting." She also shared a skill she has improved on over the years is, "shooting…because I couldn't do it before and sometimes, I would get confused."
Hikaru has always been open to trying new drills and listening to feedback from her coaches. It is extremely rewarding to hear that she has seen improvements in her own game. We are always in awe of the energy she brings to the camps, whether it is through leading stretches and drills, or inspiring the rest of the group to cheer each other on and work together. Hikaru continues to remind us that the purpose of NYABC is not only to play basketball, but also to build special connections with others. Every time a new camp begins, Hikaru is excited to see her friends again.
Another one of our inspiring camp-regulars is Felix. He began playing basketball around 2011 and has also been to many of our camps over the years. Felix enjoys jumping jacks, passing, and shooting the ball. He is always excited when he steps on the court because he gets the chance to play his favorite sport, play with his friends, and share the ball with everyone. Like Hikaru, Felix is also an energetic player who leads by example on and off the court. He enjoys meeting new coaches and is always giving his all. Felix cannot wait until we can have NYABC again and encourages new players to come join him. He tells everyone, "Please play with us! We can even try to social distance!" Since the pandemic, Hikaru and Felix have not been playing basketball, but are excited for when they do get to see their NYABC friends again.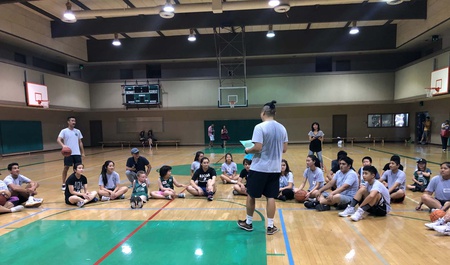 As an organization, we're grateful for the team we've built so far and are excited to grow. We hope to meet more players looking to learn the game of basketball and to continue to help our coaches serve as role models for our players. We are looking forward to when we all can play together again and hope everyone is keeping up with their basketball skills so that we're ready to come back strong in 2021!