6-Year Moving Preparations
Opening up its first restaurant in downtown Los Angeles in July 2017, Rakkan Ramen expanded with a location at Redondo Beach in the South Bay and then another in Santa Monica, CA. CEO of Rakkan USA, Ryohei Ito, moved to the United States by using his ramen as a foothold. He has now set his sights on branching further out from his base in Los Angeles across the United States and Europe. Ito's desire to live overseas goes back over 10 years to when he traveled around the world as the chef on a large cruise ship for an NGO (Non-governmental organization) after graduating from vocational school.
"I went around the globe twice in about a year," Ito told us. "I didn't come to the United States at that time, but afterwards, I backpacked through Asia for a few months, saved up some money doing part-time jobs, and eventually made my way to the States. First I went to Los Angeles, and then I travelled to Chicago, Miami, Mexico, and even Cuba. My impression of the US at the time? Well, if I'm being honest, I felt alienated, or I could say I didn't feel much kindness from people, so I felt a cold-hearted impression. Maybe that was because I was a vegetarian then and so I didn't have much energy in me," he laughed. "I was staying in a youth hostel in Venice Beach where there were a large number of tourists and homeless people, so I also got a very hectic image."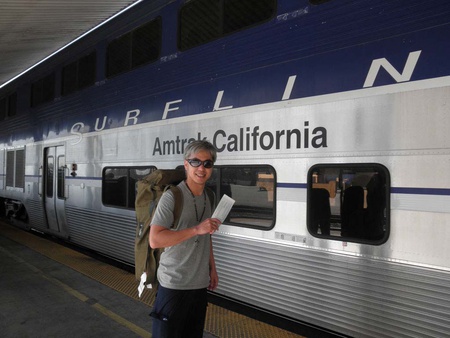 However, Los Angeles also had things that Ito appreciated. "I love nature, so I was really drawn in by how even in this big city, I still felt so close to the mountains and the ocean. That made me feel like Los Angeles would become a very important place for me."
Ito, who had been full of energy since childhood, always dreamed of traveling around Japan and the rest of the world. He was able to travel across Japan relatively early on, and then throughout the globe as a ship's crewman and a backpacker. His next dream was to move to America. However, he was only in his early 20s when he had completed his travels across the US. He still had things left to do in Japan before he made the move, and so he spent six years preparing.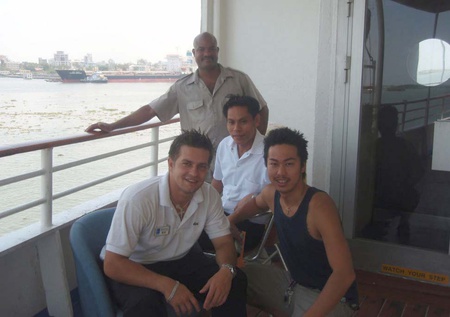 "While I was going around the world, I got the sense that ramen would be well received, so I came up with the idea to move to the United States by opening a ramen shop there. But I also felt that instead of going abroad right away and trying to just make it work, building up business experience in Japan should come first. Then in 2011, I opened up Rakkan Ramen in Nishi-Azabu, Tokyo."
After being covered by a Japanese television broadcast, long lines started to form outside the growingly popular restaurant. "The reason I decided on Nishi-Azabu was that it was a place where I could get customers from around the world. It's very much a global location. I was always keeping an eye out for the chance to open up a location in America, though it took me about six or seven years to get to the point where I had the finances for that."
In 2014, Ito participated in a food exposition for international restaurant franchisors. There, he built a connection with a food trading company in Los Angeles, and he then found a property for sale in L.A. downtown. In 2017, Ito finally opened the first Rakkan Ramen restaurant in the U.S., which is also its first overseas branch.
"I came to America alone when we were first opening, and I was living out of the Daimaru Hotel right down the street from the restaurant. Later on, I called my wife and son over from Japan and since then we have lived together in the South Bay."


"My Wish for Japanese People to Be More Optimistic"
Now in 2020, it is close to three years since Ito moved his base of operations to America. I asked him how his impression of America has changed and what he has learned in the last three years. "In Japan, there's this feeling that you really have to keep in step with everybody else. On the other hand, people in America respect individuals' desires and styles, which I think is a very good thing. Since America is so diverse, people here are more open-minded. That's why I also feel that I need to be flexible and respect others' differences. I feel like my sense of values and how I see the world has expanded since I've come here." America seems well-suited to Ito, who has always preferred to go his own way without fretting over what others were doing. He has taken an approach of asserting his opinion when he believes it is right and never telling lies. These approaches have been the keys to keeping his business going strong in the United States.
I also asked for his thoughts as a father on educating his three- and five-year-old sons. "My wife and I are both Japanese. I want them to learn Japanese values or attitudes from our example. As for language, they'll be using English in school no matter what, so at home we make sure to use Japanese. My wife has been saying that she'd like to send them to a Japanese language school, but as they continue to live in America, I'd rather they get a sense of living as Americans without being too pressured one way or another by their parents."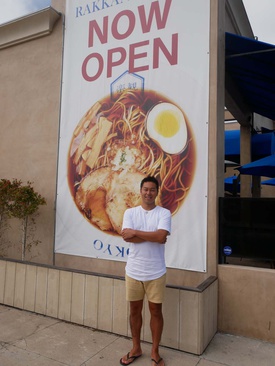 Returning to the topic of the ramen business, when Ito moved to America three years ago, Los Angeles was already full of ramen restaurants competing fiercely. When asked why he still chose to enter that fray, he answered, "How you look at things really matters in business. Tokyo has so many ramen shops that L.A. doesn't even compare, and I'm proud to say that I kept my business going there, too. Japan's population is 100 million; America has a population of 300 million. I think there's still plenty of room here for me." As of March 2020, Rakkan has confirmed they will open up locations in Houston, Chicago, Atlanta, and Denver.
When I first met Ito in 2019, he told me something I cannot forget: the origin of the Rakkan's name. Rakkan means 'optimism' in Japanese. "The name contains my wish for Japanese people to have a more positive outlook," he told me. The Japanese American community has been shrinking lately. The number of Japanese expats has been on the decline, and there is a never-ending stream of those among Shin-issei, who were born in Japan like me, returning to Japan once they reach a certain age due to high medical bills. Now, not just those in Japan, but Japanese Americans have taken on a very negative outlook. Because of it, I secretly and "optimistically" hope that those like Ito who try their best here in America will breathe fresh air into the Nikkei community.


Website: rakkanusa.com