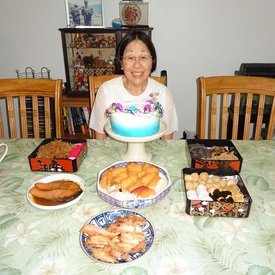 As I celebrated my 72nd birthday on January 1, 2020 with my family, we greeted each other with Shinnen Akemashite Omedeto Gozaimasu (Happy New Year) and toasted with sparkling apple cider. My family started the day with ozoni (soup with rice cake). Our dining table was full of osechi ryori (Japanese New Year's Day food) inside two-tier lacquer boxes called jubako. All day long we ate our favorite Japanese foods. My husband would eat his inari sushi, futomaki sushi with renkon (lotus root), gobo (burdock root), and salmon. My oldest son loved sashimi with hot rice and satoimo (taro root). My youngest son liked fried gyoza, teriyaki chicken with hot rice, kamaboko (fishcake), and kuromame (black beans). I ate a little of everything. When I heard the singing of "Happy Birthday" and saw my two-layer cake lit up with candles, I made a wish and blew out all the candles except one for good luck. At the end of the day, my smiling face was captured on film.
This was going to be my special year. 2020 was considered to be a year of new beginnings and renewals. My horoscope said that a woman born in the Year of the Rat would be very organized and dedicated to her family. I was that woman who planned all the family events throughout the year. Even my birthday was a New Year's Day celebration, I cooked many of the Japanese foods. I remembered my wish for a healthy body and mind to enjoy life with my family and friends.
John and I looked forward to celebrating our 40th Wedding Anniversary at Lake Michigan and Mackinac Island. We wanted to visit the famous Henry Ford Museum, Rouge Factory, Fort Mackinac Music House Museum, Frederick Meyer Gardens, and Sculpture Park. We were so excited to see more of America together. Then we had to shelter in place on March 15th because of the covid-19 pandemic.
Life changed forever for us. We had volunteered and exercised at the senior center, danced at the Nikkei Socials events, attended our place of worship and enjoyed our retirement with family and friends. Now with the stay at home order, we could no longer gather or visit our favorites places. We became isolated with no place to go.
The coronavirus spread across America including the Great Lakes areas where our trip was to take place. The death rate also increased from March to April and targeted people of minority, people over 65 years-old and people with underlying medical conditions such as heart disease, cancer, and diabetes. My husband had a heart condition, my oldest son was an essential worker, and my youngest son worked from home. I was very worried and scared for them. All of us took precautions by wearing our masks, washing our hands for 20 seconds, practicing our social distancing of six feet and staying home with no gathering. We began phoning, writing letters, and sending emails to everyone. We gave each other support because we are all in the pandemic together. I became less afraid and worried.
As time passed, I missed my favorite places that gave me so much comfort in times of need. In the month of May, the senior center, the Nikkei Socials events and my church were still closed. I could no longer gather or participate with my friends. I needed to find new ways to be with them and to feel normal again. I learned to access my exercise classes on line and became physically healthy. I received emails from the Nikkei Socials and reconnected with my friends once more.
What I really missed the most was my place of worship. OCBC (Orange County Buddhist Church) was my gathering place for 29 years. I missed hearing the chanting of the Sutras (book of worship), singing of the Sangha (congregation) members, and listening to the words from the Dharma talks (sermons) on Sundays at 10 a.m. The Reverend talked about the teachings of Buddhism in everyday life. She would convey to the Sangha members that we all lived each moment together by sharing the same air, water, time, and space, therefore we are all interconnected in this world. Our church was a place of hope and comfort in this world of the pandemic. In June, OCBC opened live on their website. I can once again participate on Sundays at 10 a.m.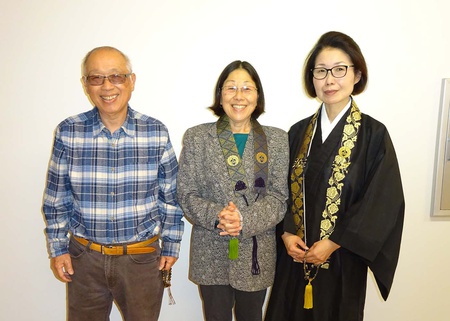 My memories of my late parents, Yoneto Nakata and Yaeko Niikura, gave me the inspiration to enjoy living again. Dad was a World War II Veteran of the U.S. Army and volunteered for the MIS (Military Intelligence Service). He died at the age of 29. Mom was a widow at 21. I was only six months-old. My parents showed so much strength and perseverance to survive in a world of uncertainty.
I realized that I also live in a world of uncertainty and can learn to survive this pandemic through my parents' love for life. I believed that my birthday wish came true. I was healthier physically by exercising, mentally stronger by the support of my family and friends, received more hope and comfort from my church, and gained inspiration to survive from my parents to move forward in life. 2020 was a special year of new beginnings and renewals. I learned to reconnect and reimagine my new life and to enjoy living again. Now, I look forward to more birthdays and many wishes to come.